Climbing Mount Everest May Not Be as Deadly as It Once Was
Two climbers died on Mount Everest this year as the mountaineering season in Nepal for the world's highest peak draws to an end.
On average, around five climbers die on the 29,03-foot (8,848-meter) mountain every year, according to the global news agency AFP.
But the Nepalese government brought in tough new rules requiring more training and experience after a huge spike in deaths in 2019 — which saw some 11 climbers die trying to reach the summit — and it's hoped the changes will lead to a sharp drop in fatalities over time.
Nevertheless, mountaineering is a dangerous activity due to the threat of falls, hypothermia, frostbite, avalanches, and deadly altitude sickness.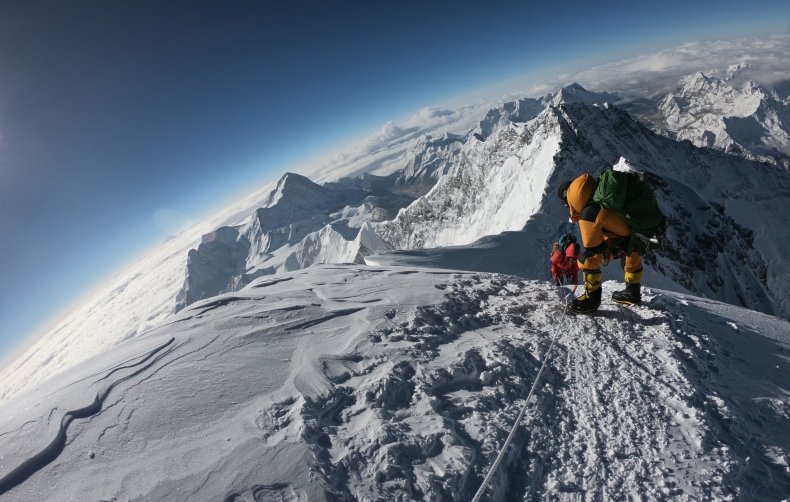 Two climbers died on Everest this year, including Ngimi Tenji Sherpa, a Nepalese climber who was found dead on April 13 close to a relatively safe area known as the "football field." The 38-year-old's body was recovered from the mountain, and Pasang Tsering Sherpa, a spokesperson for the company Beyul Adventures, said: "There were no accidents, and initial medical check suggests high-altitude sickness."
While experienced Russian climber Pavel Kostrikin, 55, died at Camp I on May 7, after being brought down from Camp II where he fell ill at 20,997 feet (6,400 meters). No further details were provided about his death, according to Reuters. He had reportedly attempted to summit the peak twice before, but was forced to turn back due to exhaustion.
In August 2019, the Nepalese government ruled that climbers who wanted to tackle Everest must now have climbed at least one Nepalese peak of more than 21,325 feet (6,500 meters) before getting a permit. They must also be accompanied by a trained Nepalese guide, and submit a certificate proving they are in good health and have good physical fitness.
The move was sparked after one of the deadliest seasons in living memory when 11 climbers were killed on Everest earlier that year. The spike in numbers was widely blamed on severe overcrowding on the mountain, as bad weather allowed just a short window of time to attempt to reach the summit.
A photo taken by a climber went viral around the world, as it showed a huge line of climbers forming an hours-long queue in -22 F along a thin strip of the mountain known as the "death zone" in a bid to reach the top. It was impossible to overtake the slower climbers or turn back, and some died as their oxygen cylinders ran out while others froze.
A Nepalese panel made up of government officials and climbing experts was set up to address safety concerns after the tragedy. The government had previously been criticized by some guiding companies for allowing any foreigner who paid $11,000 to climb Everest, despite many having little experience of such brutal terrain.
After the new rules were brought in, there were no deaths in 2020 simply because no permits were granted to climb the peak due to the COVID-19 pandemic. There were four deaths in 2021, the first year the new rules came into effect. While there were two deaths this year. Typically, May is the only month with weather that allows attempts to reach the top of Mount Everest.
Newsweek has reached out to Nepal's Department of Tourism seeking comment on whether the new rules are having an effect on safety.
A scientific study in 2020 – before the new safety rules came into effect - found that the death rate for those climbing Everest has actually remained unchanged for 30 years when considered as a percentage of the number of people trying to climb the mountain.
Researchers from the University of Washington and the University of California, Davis, revealed that 1 percent of climbers die on the mountain, and that rate has stayed steady since 1990, although the success rate of those trying to reach the top has doubled. Better success rates are thought to be due to more effective weather forecasts, improved equipment, and fixed lines to which climbers can clip themselves along established routes.
More than 300 people are thought to have died on Everest with around 200 bodies remaining on the mountain due to the difficulty in recovering them.
A teenager from Naperville, Illinois, became the youngest American woman to reach the top of Mount Everest earlier this month when Lucy Westlake reached the summit.
She avoided injury, but a climber who made history in May 2019 as the first Arab male to climb Mount Everest made headlines around the world when he made a video showing the frostbitten fingers he suffered on another expedition. Fahad Badar was forced to have his digits amputated shortly after the footage was filmed in October 2021.