'Ms Marvel' Creator Bisha K. Ali Hopes Kamala Khan Will Lead Young Avengers
For some time Marvel fans have been speculating about whether the Young Avengers will appear in the Marvel Cinematic Universe (MCU), and Ms Marvel creator Bisha K. Ali is hoping to see it become a reality.
Ali, the show's creator, head writer and executive producer, spoke to Newsweek about where she'd like to see Kamala Khan (Iman Vellani) go in the MCU, saying she'd make a great leader for the Young Avengers.
"This is not Marvel canon, this is Bisha canon not kind of sanctified by Marvel, but I would love to see her kind of put together this team of [...] these new characters that are coming up," Ali said. "Like America Chavez, [I'm] hoping for Miles Morales personally, like all these characters coming together with young people and having a huge part of it.
"I don't know, in some ways she's like a perfect natural leader, because you just listen to her, you just are so on board with her straightaway. You can see in our show as well, from the beginning of her plan for her and Bruno she's strategizing, and at the end she's strategizing against Damage Control who are coming in."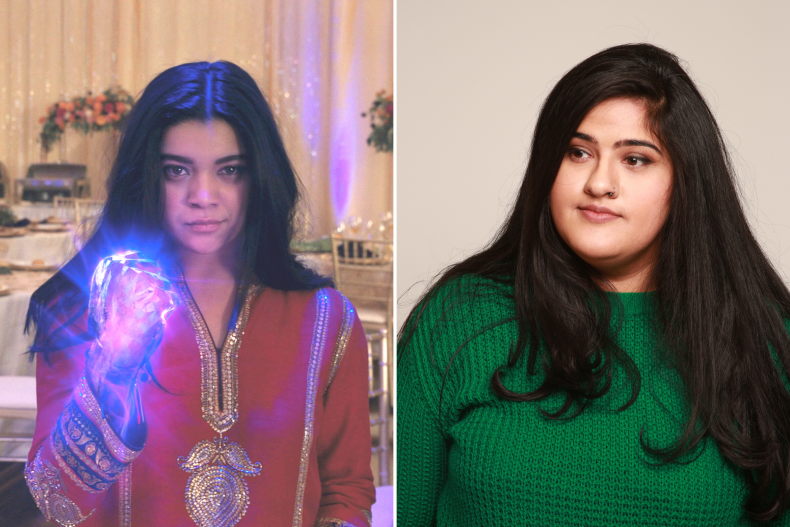 "She's kind of leading this team of people, but she's also listening to everyone and looking at what their superpowers are individually, and people who are powerless, humans, and she brings the best out of people.
"So, I have this, I, Bisha, have a hope for her kind of being the leader of kind of the Young Avengers going forward and how they can contribute, and they are really the next generation of what the MCU is.
"And I can't wait to see her grow into that, and I don't know how it will play out in actuality in the Marvel Universe, but I can't wait to see her future."
On the Show's Representation
Ms Marvel follows Kamala as she discovers she has cosmic powers after inheriting a bangle from her great-grandmother, with the character coming into her own and accepting her gifts to become the MCU's first Muslim superhero.
Ali talks about Kamala with such passion and warmth that it is obvious how the character came to be so loveable, because the creator put so much thought and care into creating a hero who could represent so much to so many.
Reflecting on the response the show has had, and the praise it has gotten as a positive portrayal of Muslim people where so many Hollywood productions have failed, Ali said it was both "very emotional" and "gratifying" to witness.
"I feel a lot of gratification from people, especially from those who have never seen themselves on screen portrayed in a way that is celebratory and in a way that provides depth and goes to places that maybe they haven't even been able to go to before," she explained.
"And I'm in a little WhatsApp group with all the writers in the writer's room, and kind of shared screengrabs of like, oh, 'this teenager tweeted about [the show], she finally spoke about this with her parents, she's watching her family and it opened up so many different conversations for them.'
"Or people who were anxious about watching the show, because they're so used to poor representation of people like them, they almost were bracing for the pain of what could happen, of how we can mess up and, you know, it's never gonna be perfect, we can't represent a billion people, that's an impossible ask and something I will never be able to do anyway.
"But, the fact that people are able to see themselves in it, that's been really gratifying and, I think, certainly very emotional for us in the writer's room."
On Delving into the History of the Partition of India
One interesting part of Ms Marvel that certainly makes it stand out in the MCU is its examination of the Partition of India, which in 1947 saw British India become divided into two states: India and Pakistan.
It's a subject that impacted Kamala's family, but also serves as an important moment in her journey of self discovery when she travels to Pakistan and is then thrust into the past and has to help her own grandmother with her powers.
When asked about the importance of including the historical moment in the Disney+ show, Ali said: "Working with the kind of writers I like to work with, and me being this kind of writer, is what feels scary and what feels painful to me [...] let's chase it.
"Let's chase what is the hard thing to talk about, what feels really personal and feels like the thing that's uncovered, that we're uncovering through the process of writing, and then we get to share and put it on screen. I get excited by that, again I'm just excited by the prospect of painfully digging it myself.
"It didn't really feel like a choice in some way, it kind of felt like this is the direction this character is gonna go in. This is what she's trying to figure out.
"I've seen, done very well, I've seen lots of us versus them narratives in terms of how does one survive as a historically marginalised person living in the West, which is wonderful, but I feel like I want to do something new, I want to do something different, I'm not really concerned with them, I'm really concerned about the us of it.
"So I'm looking at us, and we're looking at ourselves and we're looking at what we don't touch on in our own living rooms, but it's actually not that far away from us emotionally and has a direct impact on that.
"Let's poke at that, let's scratch at that, this pain that's there, and I'm really so lucky with the writers we have in the writers room, and especially Fatimah Asghar who is this incredible poet filmmaker who spent so much of her work thinking about Partition. So it was brilliant to have her, we were both so excited to kind of go headfirst into this painful topic, because that's just our nature as writers."
She went on: "Everyone in the room wanted to go from a place of love, certainly what I wanted to do is come from a place of compassion and we weren't really looking at how other media have done it in the past, we know, we've consumed it.
"We weren't saying we want to do this as opposed to what other people are doing, we want to do what we want to do, we want to do, what we want to celebrate, we want to show sides of it that feel natural to us because we live in those communities or are from them, or spend loads of time in them, and all of that came very naturally."
The way in which the show represents the partition is so based in reality that director Sharmeen Obaid-Chinoy ensured real scenes were recreated and real conversations were included, particularly the train scene Kamala appears in, Ali added.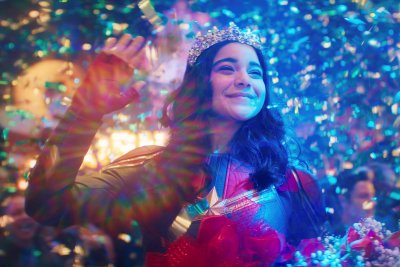 During her trip to Pakistan, Kamala also encounters another hero named Kareem (Aramis Knight) , also known as the Red Dagger, who is part of the vigilante group the Red Daggers.
Ali shared how much more she wanted to explore the characters and even said she hoped there could one day be a spin-off centered on Kareem and the group.
The creator said: "I mean, we just adore them, we adore the character Red Dagger, we adore the kind of world building and kind of building that out of what it means to be a hero somewhere else and what a different kind of hero could look like.
"What I love is that Kamala is getting her lessons on herodom from Pakistanis in Pakistan, as opposed to teaming up with any of the existing Avengers or even getting those lessons from Carol Danvers in this season.
"I'm so happy that she's getting her, I think some of it has got lost in the [edit], training stuff with them, to kind of get to that next level with the Red Dagger I just love that for her, that felt so juicy and delicious."
On 'The Marvels' and a Possible 'Ms Marvel' Season 2
Speaking of Carol Danvers, Brie Larson's Captain Marvel does make a brief appearance in the show's post-credit scene. While it's only a small moment, Ali said it was important to wait to include the hero, otherwise it would have "derailed" Kamala's story.
Ali explained: "I hoped that we'd be able to bring her into that moment, it was really important to me that we didn't really see them interact in the show because the show is so much about her defining who she is relative to her idea of what Captain Marvel is.
"And Captain Marvel coming in kind of would have, in real life, would have been amazing and fun and so joyful, and I'm sure we'll have that moment in The Marvels. But, it kind of would have derailed that journey, this sense of self and really establishing herself as Kamala Khan, Ms Marvel, before she goes to interact with her."
Ali added that while the show is leading into The Marvels, it was never intended to act as just a set up for the film, because it was more about Kamala's journey.
When asked if she'd return for a second season of the show, Ali said: "I don't know the answer to at the moment, I think because the finale just ended on Wednesday and, you know, it's 2022 and I first met on the show in like March 19, 2019, that's a long old chapter of one's own life in real time.
"So there's a sense, for me, that I had a really specific story that I wanted to tell, and a very specific journey that I want to express and the process of putting on screen is also a personal journey for me too.
"So, I don't know that I am necessarily the right person to tell more stories for Kamala. I'd love to come back to direct an episode or two, I'd be more than happy to do that because that's the next thing that I really want to be doing with myself and my career, but I don't know right now.
"I would be happy for someone else [to come in], because this the other thing [...] a community of people make this show and I'm more than happy for someone else to come and be like what's the burning story that you want to tell with this character? And, you know, I hope that this show and what we've created, and really worked hard to do in this season, [says to people] 'tell the stories that burn for you.'
"This is about the stories we tell each other and the way we listen to each other, I think at this point I'd be happy to see what somebody else had to bring to this character going forward."
Ms Marvel is available on Disney+ now.
Correction 6:29 a.m. ET: This article was updated to correct a typo in one of Bisha K. Ali's quotes.