Nigeria's President Buhari Greets Visitors in Rare Sighting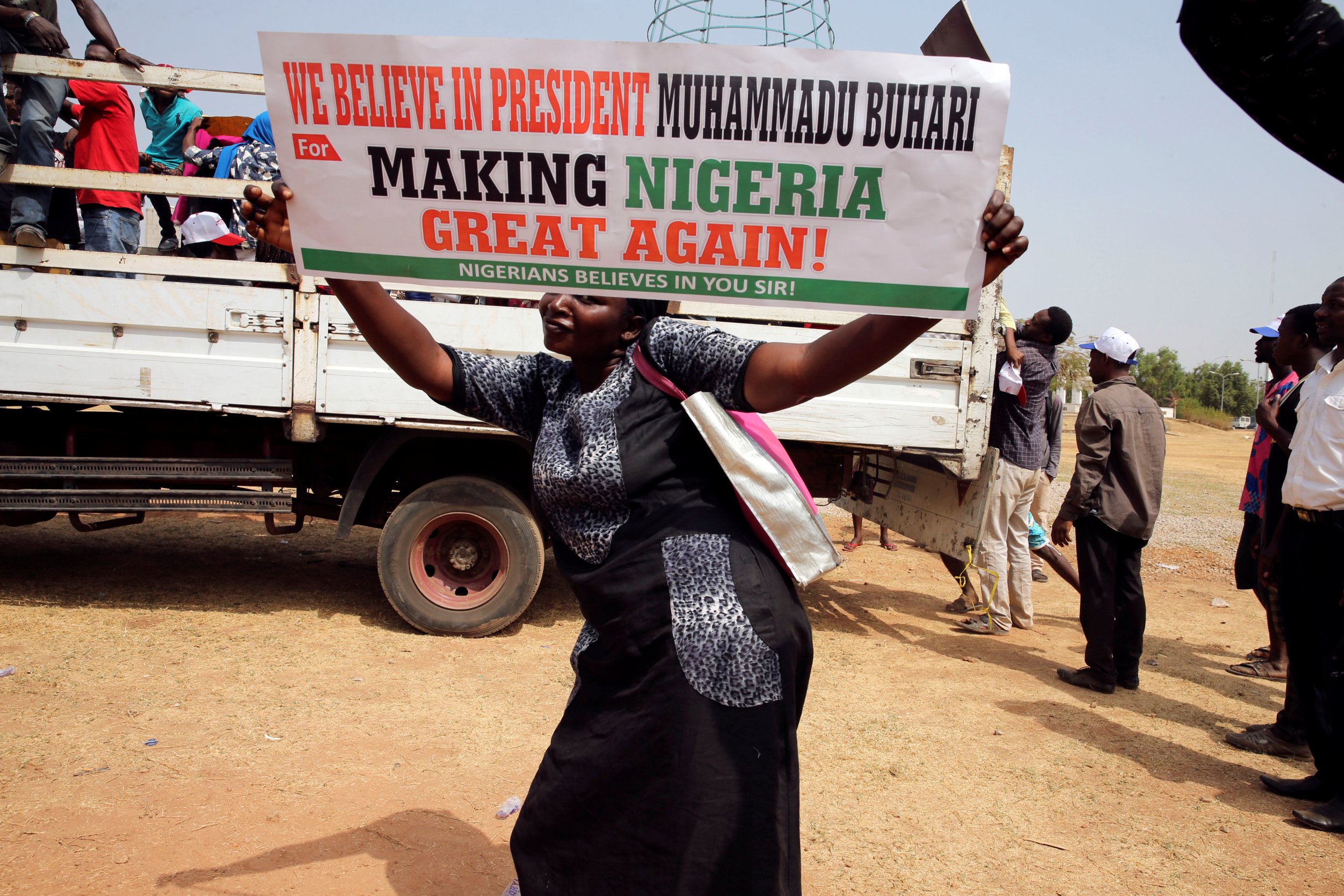 Sightings of Nigeria's President Muhammadu Buhari are growing increasingly rare.
The 74-year-old leader left his homeland on January 19 for what was initially described as a short vacation in the U.K., where he would undergo "routine medical check ups."
But Buhari remains in London, and Nigerians have been speculating feverishly about the state of his health. His spokespeople have denied on several occasions that he is critically ill—or even dead—while the country's vice-president, Yemi Osinbajo, has had to run the country for almost a month.
The Nigerian president was spotted for the first time in almost a week on Thursday, when he shared photos of a meeting in London with three high-profile Nigerian politicians: the president of the Senate, Bukola Saraki; the speaker of Nigeria's parliament, Yakubu Dogara, and Ahmed Lawan, the majority leader of the Senate.
Without specifying the purpose of the visit, Buhari said he was "grateful to Nigerians, Christians and Muslims alike, for their prayers and kind wishes for my health."
Saraki said: "The president I saw today is healthy, witty and himself," an apparent attempt to quash speculation about the state of Buhari's health. The Senate president added that, in the president's absence, "there is no vacuum in government and our system of democracy is working with all organs of government fulfilling their mandate."
Buhari's media adviser Femi Adesina tells Newsweek that the meeting was a business visit by the three politicians.
Buhari, a former military ruler, wrote to the country's National Assembly on February 5, asking to extend his leave as he was awaiting the results of medical tests. Since then, the Nigerian leader held a telephone call with U.S. President Donald Trump, in which Trump expressed support for the sale of U.S. aircraft to support counter-terrorism operations in the country.
Nigeria is battling Boko Haram, an Islamist militant group, in the northeast of the country. The group has killed thousands and displaced more than 2 million people during its seven-year armed insurgency. In the past, the United States has blocked arms sales to Nigeria due to concerns about the military's human rights record.
Trump invited Buhari to visit Washington at a "mutually convenient date," according to Buhari's spokesman Garba Shehu.
The Nigerian president also received two high-level officials in his All Progressives Congress (APC) party—Bola Tinubu and Adebisi Akande—at the Nigerian High Commission in London on February 9.