Nigeria's President Buhari Finally Returns After Seven-Week Medical Leave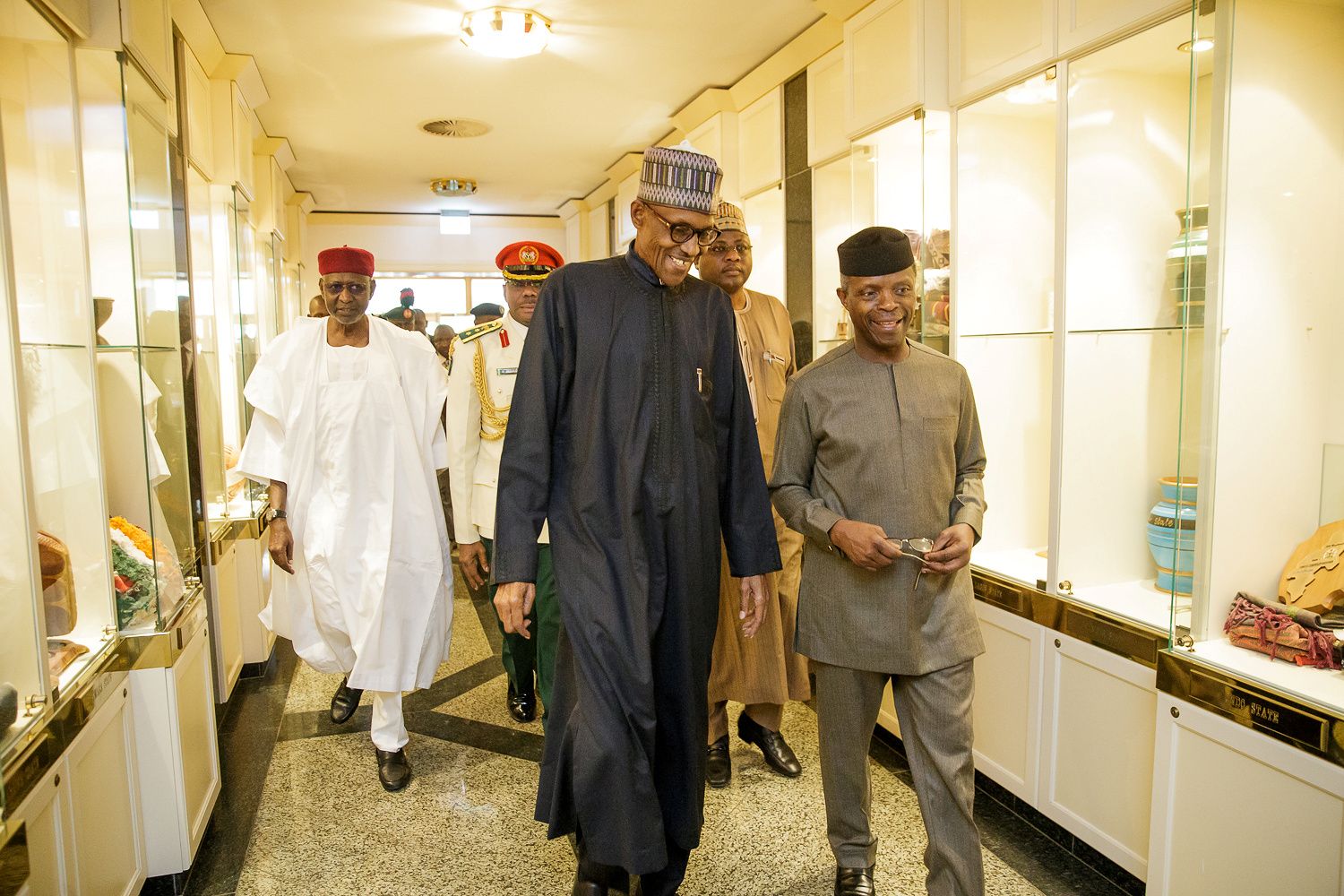 Nigeria's President Muhammadu Buhari returned to the West African country Friday after a near-two month medical absence, but sounded a note of caution that he may need further treatment in the near future.
The 74-year-old leader left Nigeria January 19 for what was originally planned as a short vacation, including medical checks. But Buhari extended his stay in the U.K. due to medical advice, prompting speculation in Nigeria that he was critically ill or even dead, rumors which were consistently denied by officials.
Nigeria's vice-president, Yemi Osinbajo, has been acting president in Buhari's absence, and has won plaudits for several symbolic trips to the conflict-ridden Niger Delta.
Buhari touched down at a Nigerian Air Force base in the northern city of Kaduna early Friday morning. After greeting several officials, the president flew to the capital Abuja and gave a public address.
"I am feeling much better now. There may, however, be need to have further follow-ups within some weeks," said Buhari in a video shared on his Twitter account.
Government officials have been cagey about the nature of Buhari's illness. He was originally due to return to Nigeria February 6 after having treatment in Britain, but wrote to the National Assembly to request an extension while he waited for medical test results and rested on doctors' advice.
"I couldn't recall when I last had a blood transfusion," said Buhari Friday, according to Reuters. When pressed for details on his illness, the president said: "Blood transfusions, going to the laboratories and so on and so forth."
Buhari added that he "deliberately came back toward the weekend so that the vice-president will continue and I will continue to rest." One of his advisors tweeted that Buhari had been joking, and Buhari's spokesman Femi Adesina said that the president would notify the National Assembly of his "formal" return to work Monday.
Nigerians on social media—including Buhari's wife, Aisha—welcomed the president back.
The president also acknowledged the country's economic challenges upon his return. Nigeria is currently mired in recession, caused largely by the global fall in commodity prices and militants in the Niger Delta decimating oil production in 2016. The country is one of Africa's biggest oil producers.
During his absence, Osinbajo, a lawyer from southern Nigeria, has finished work on an economic reform plan aimed at securing a World Bank loan. The vice-president has also made several trips to the Niger Delta—a region that Buhari has not visited since his election in 2015—and met with protesters demanding better security and economic conditions outside the state house in Abuja.
Buhari's absence had prompted comparisons with Umaru Musa Yar'Adua, who was president of Nigeria from 2007 until 2010. Yar'Adua left Nigeria for medical treatment in Saudi Arabia in 2009 and did not return for three months, leaving behind him a power vacuum. Even once back in Nigeria, Yar'Adua remained frail and died within three months of returning.
Buhari averted a similar political crisis that followed Yar'Adua's absence by formally transferring his powers to Osinbajo before leaving the country.