Doug Wardlow, the lawyer for MyPillow CEO Mike Lindell, has announced his intention to run again to become Minnesota's attorney general.
Wardlow, a Republican, ran against the state's current attorney general, Democrat Keith Ellison, for the same office in 2018 and lost by 98,948 votes, a margin of less than four percent. A Republican hasn't won the state's attorney general's race since Doug Head in 1966.
In Wardlow's campaign announcement video, released Wednesday, he targets Ellison as tolerating increased lawlessness and unfairly enforcing the governor's "tyrannical" COVID-19 restrictions on small businesses.
Comparatively, Wardlow says he will "defend law enforcement" and defend "constitutional liberties, including your right to bear arms and defend yourself."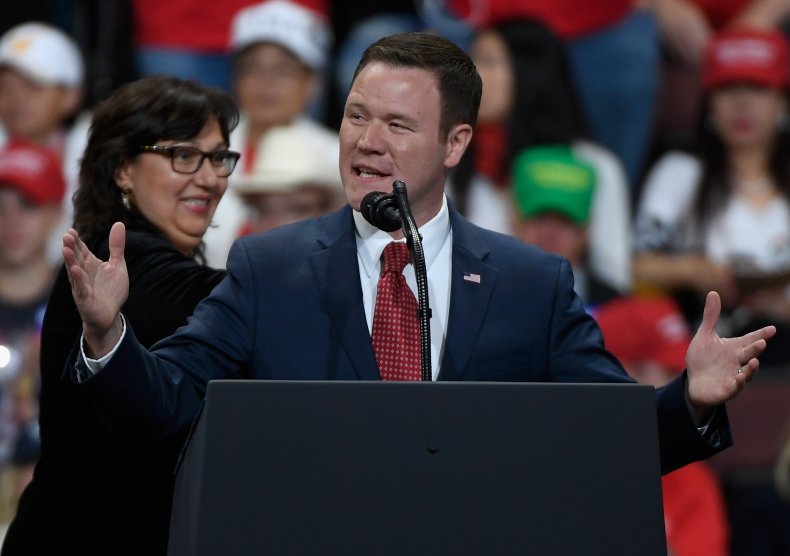 Wardlow, a 42-year-old born in Eagan, Minnesota, graduated from Georgetown University Law Center in 2004. He spent nearly half of his law career working at the private firm Parker Rosen LLC and was elected to the Minnesota House of Representatives in 2010. However, he lost his 2012 reelection bid to Democrat Laurie Halverson.
Before launching his 2018 campaign to become Minnesota's attorney general, Wardlow also worked for Alliance Defending Freedom (ADF), a Christian legal group that largely opposes LGBTQ rights.
During Wardlow's 2018 campaign, Ellison's Democratic-Farmer-Labor Party unearthed a 2013 audio recording of Wardlow speaking against same-sex marriage. In the recording, Wardlow accused the "radical left" of seeking to "redefine the marriage and undermine the family," adding, "You cannot have liberty with marriage redefined to include homosexual marriage."
Also during his 2018 run, Wardlow sent out mailers calling Ellison "one of the most dangerous men in America" and saying Ellison "pals around with radical Islamic groups and defends known terrorists." Ellison became the nation's first Muslim congressman in 2006.
Four clergy members from four different religious faiths criticized Wadlow's mailer as Islamophobic, according to KARE, although Wardlow disagreed.
In the video announcing his most recent run for attorney general, Wardlow criticized Ellison for endorsing the state's Democratic Representative Ilhan Omar, a fellow Muslim who is also a supporter of the "defund the police" movement.
Ellison told a HuffPost reporter last June that he doesn't support the movement, even though he does support police reform. In a July 2020 interview with Progressive.org, Ellison said he thinks people mischaracterize the "defund the police" slogan in order to discredit police reformers and social justice activists. He has said there's a need for government officials to understand how to maintain peace without abusing human rights.
"I think what [the police reform movement is] saying is, 'Do you really need four guys with guns to investigate a fake $20 bill? Is that what we need?'" Ellison said, referring to the four police officers who killed Black Minneapolis resident George Floyd.
Wardlow's video also accuses Ellison of presiding over a rise of crime throughout the state.
The National Association of Attorneys General (NAAG) says that state attorney generals operate as the state's legal representative in court—predominantly handling environmental, civil and only "serious statewide criminal prosecutions," rather than lowering crime rates statewide, a role which often falls to legislators and police officials.
Newsweek reached out to Wardlow's campaign for comment.
Following Wardlow's announcement, Minnesota Democratic-Farmer-Labor Party Chairman Ken Martin released a statement calling Wardlow "a right-wing extremist who will do anything for political power," who has "only gotten more extreme and more dangerous," according to the Star Tribune.
Martin also criticized Wardlow's work for Lindell, saying "[he] provides legal advice to a man who wants to use the United States military to stage a coup and forcefully overturn a free and fair election."
Lindell is currently facing a lawsuit from Dominion Voting Systems over his baseless claims that the company's voting machines switched votes from former President Donald Trump to then-candidate Joe Biden during the 2020 presidential elections.
In January 2021, Lindell expressed hope that Trump would instruct the military to help him stay in office before Biden's inauguration.