Naked Florida Man Leads Police on Car Chase After Stealing Truck, Cops say
A Florida man was arrested completely naked, after stealing a pickup truck and leading cops on a chase along the highway, police said.
Footage captured the moment Richard Blose, 40, was cuffed by officers from the Melbourne police department outside a house in Cocoa, wearing no clothes.
Video, shot from a helicopter, shows Blose stepping out of the car and lying face down on the grass with his legs in the air, on December 15, at around 8am.
Reports from Fox35 Orlando claim Blose jumped a fence at a car dealership, Fiat of Melbourne, before going into a paint shop.
The site claims, citing the arrest affidavit, that he was seen on surveillance cameras at around 5 a.m. wandering around the dealership and sitting on the roof of another car for 30 minutes.
Blose is said to have been spotted by an employee in the paint booth, naked. It's claimed he then damaged a motorcycle and another car, before finally getting in the Ram and driving off.
Police are said to have got in touch with the truck's owner, enabling them to locate the Ram.
Cops eventually tracked down and pursued Blose, who is said to have driven north on Interstate 95, reportedly striking a guardrail repeatedly before exiting the highway.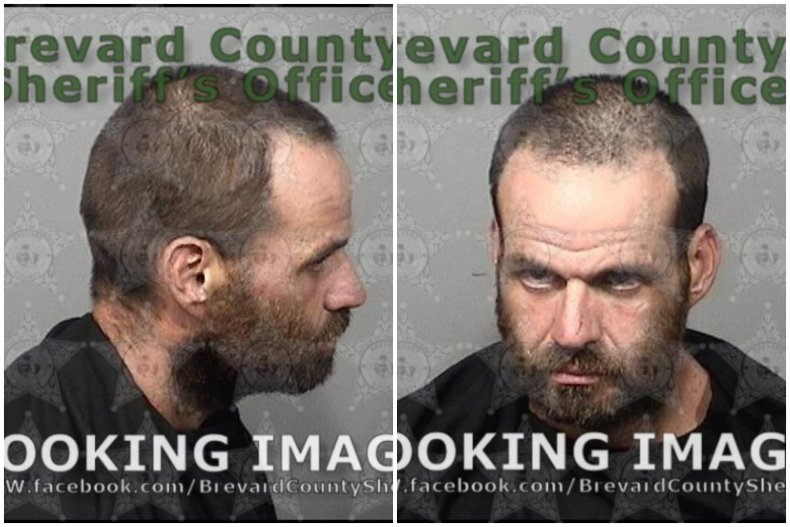 Melbourne Police spokesman Shaun Hill explained more about the events, saying: "He disappeared approximately 20 to 30 minutes after the incident occurred.
"One of our lieutenants located the vehicle. That's when we worked with the Brevard County Sheriff's Office, got their helicopter up in the air.
"I would say once he exited the vehicle, I believe they had multiple officers on-scene and making contact with him, announcing: 'We're the police department!' along with the sheriff's office. He understands that he was stopped," he said, according to Fox35.
Hill added: "You always hear about Florida; it's very exciting. We'll just leave it at that. It's an exciting case and that's where it goes from there."
Website Spacecoastdaily, which shares a daily roundup of mugshots and charges from various enforcement agencies, indicates Blose is facing a slew of charges.
They include unoccupied burglary to a structure, unoccupied burglary to a conveyance, grand theft of a motor vehicle, criminal mischief, leaving the scene of a crash with property damage, driving with a suspended license and violation of probation.
It appears he was currently out on bond on a charge of exposing himself last month, after being arrested on November 16, again in Cocoa by the Melbourne Police Department.