House Republican Nancy Mace warned her GOP colleagues they will lose in 2024 if they continue to "walk the plank" on issues such as abortion, birth control and efforts to impeach President Biden.
The South Carolina congresswoman, who was elected in November 2020, was responding to comments by fellow House Republican Marjorie Taylor Greene, who is urging her party to block any additional government funding unless an impeachment inquiry is held into Biden. Without additional funding the government is currently due to run out of money on September 30, resulting in a shutdown that would see many federal agencies forced to close.
Asked by CNN's Kaitlan Collins whether "making [GOP] moderates vote for this would put them at risk" Mace replied: "Oh, 100 percent it puts them at risk."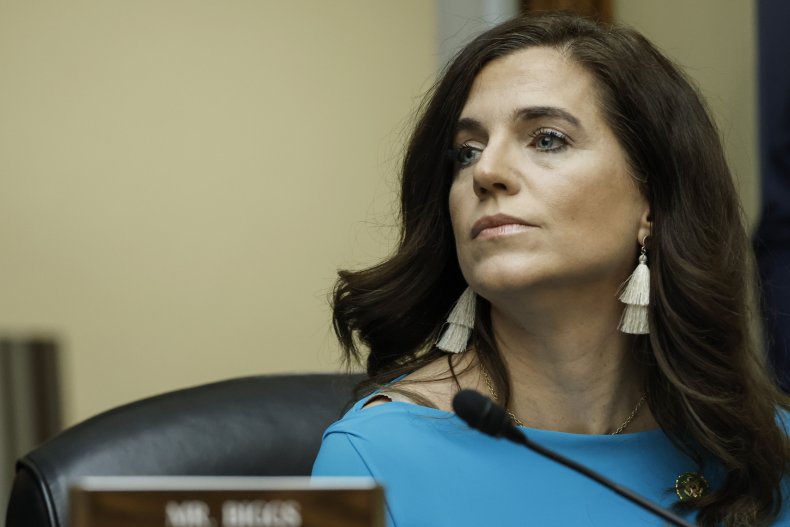 "Biden district Republicans are the reason Republicans have the slim majority that we have today and if we want to keep that majority we have to keep those folks in their seats," she said.
"So you don't do that by making Republicans in moderate districts walk the plank on abortion, walk the plant on women's issues, walk the plank on birth control, walk the plank on an impeachment vote. Those are all reasons why we will lose next year if we continue down that path."
Mace said she does support holding an impeachment inquiry into Biden focused on whether he benefitted improperly from his family's business activities, but isn't ready to back an impeachment vote itself at this point.
"I think there's a difference between an impeachment vote and an inquiry. An inquiry would give us another toolbox specifically to look at Joe Biden's bank records," the congresswoman said.
"Everybody's screaming about the evidence, where's the evidence? The bank records hold all of the evidence and if the American people—Kaitlan, if you could see the suspicious activity reports that I have seen on the Biden family you too would probably support an impeachment inquiry just as a tool to get more information on, specifically the bank information of Joe Biden and his family members...I'll support an impeachment inquiry, an impeachment vote is totally separate but an inquiry I would support at this juncture."
Mace also said she will vote against more government funding, as "Republicans and Democrats have spent too much," but insisted she isn't making any connection between this and a potential impeachment inquiry.
After winning control of the House at the November midterms Republicans launched a number of committee inquiries to investigate the Biden family's business activities, with a particular focus on the president's son, Hunter Biden.
Speaking in 2019, Biden insisted he had "never spoken to my son about his overseas business dealings."
This was apparently contradicted by Devon Archer, one of Hunter's former business associates, who appeared before the House Oversight Committee on July 31.
Following his testimony, the committee tweeted: "Archer's testimony confirms Joe Biden lied to the American people when he said he had no knowledge about his son's business dealings and was not involved."
According to the committee, then-Vice President Biden "joined Hunter Biden's dinners with his foreign business associates in person or by speakerphone over 20 times."
Speaking to Newsweek in response, a White House spokesperson commented: "It appears that the House Republicans' own much-hyped witness today testified that he never heard of President Biden discussing business with his son or his son's associates, or doing anything wrong.
"House Republicans keep promising bombshell evidence to support their ridiculous attacks against the President, but time after time, they keep failing to produce any. In fact, even their own witnesses appear to be debunking their allegations."
Appearing on MSNBC's Inside with Jen Psaki on Sunday, House Republican Ken Buck said he hasn't seen proof that Biden has committed any impeachable offence.
"The time for impeachment is the time when there's evidence linking President Biden—if there's evidence linking President Biden, to a high crime or misdemeanor. That doesn't exist right now," Buck said.