Nancy Pelosi Dismisses GOP Criticism of Stimulus, Cites 'Bipartisan' Support Across U.S.
House Speaker Nancy Pelosi celebrated the passage of Congress' latest coronavirus relief package on Sunday, disregarding Republican lawmakers' unanimous opposition to the legislation.
The Democratic congresswoman, who represents California's 12th district, called the stimulus package "transformative" and noted that its implementation earned support from voters across political parties during a morning appearance on ABC News' This Week.
"The fact is that it's strongly bipartisan across the country. It's only the Congress of the United States where the Republicans have refused to meet the needs of the American people," Pelosi told moderator George Stephanopoulos of the American Rescue Plan Act, a $1.9 trillion economic stimulus bill that President Joe Biden signed into law on Thursday.
Despite all Republican members of the U.S. House and Senate voting against its passage, polling data released last week indicated that 75 percent of American voters—including nearly 60 percent who identified with the GOP—supported the bill.
"You can be sure that all of their states and communities will be benefiting from this, and they won't be complaining about it back home," Pelosi continued Sunday in reference to Republican criticism of the bill, which promises another round of direct payments to eligible Americans and additional aid to states, alongside other funding priorities.
Republican lawmakers have denounced the stimulus package as too broad, suggesting it does not offer targeted solutions that address the pandemic's economic fallout. Amid its passage, some also voiced concerns about the possibility that increasing the federal deficit to finance this relief effort could lead to inflation down the line.
Pelosi told Stephanopoulos that she "totally [disagrees]" with opposition rationales from her GOP colleagues during Sunday's interview. Treasury Secretary Janet Yellen similarly said last week that she does not believe inflation to be a likely byproduct of the stimulus legislation.
Wyoming Senator John Barrasso, a Republican, claimed that only a small portion of the $1.9 trillion funding will be used to support COVID-19 relief during a subsequent This Week appearance on Sunday.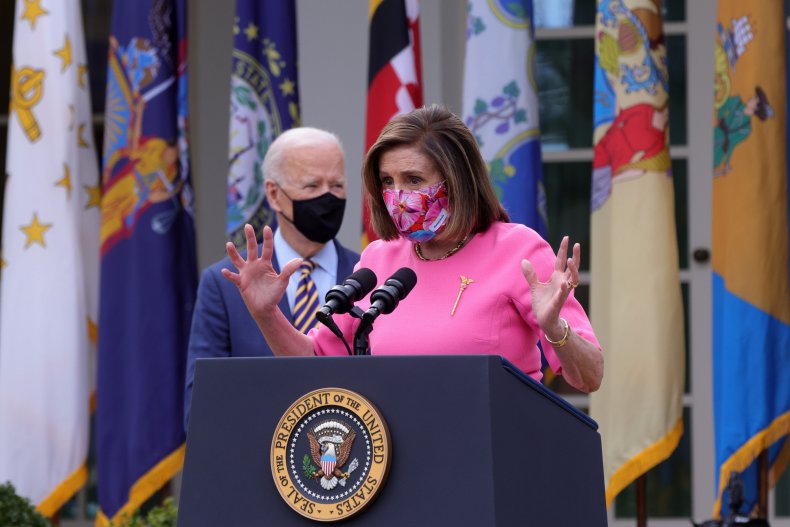 "To call this COVID relief is really false advertising," Barrasso said. "Only 9 percent of the money goes to actually defeating the virus. Only 1 percent of the money goes for vaccines."
A breakdown of the relief legislation shows the majority of funds are allocated to support stimulus payments, expanded unemployment benefits, COVID-19 vaccination programs, and aid to state and local governments, K-12 schools, and small businesses—according to the Tax Foundation, a think tank based in Washington, D.C.
Barrasso has publicly criticized the American Rescue Plan Act before. One of the senator's previous critiques argued against the bill's eligibility criteria for direct payments on grounds that undocumented people might receive checks, which is not true.
Newsweek reached out to Pelosi and Barrasso's offices for further comments, but did not receive replies in time for publication.