Nancy Pelosi Doesn't Drink But Cawthorn Accuses Her of 'Alcoholism' Anyway
A Republican Representative under fire for disparaging Ukraine's president is now claiming that House Speaker Nancy Pelosi is an alcoholic despite the leading Democrat's previous statements that she does not drink.
North Carolina Representative Madison Cawthorn made the claim about Pelosi's "drinking" at a campaign event that was captured on video by Twitter account @PatriotTakes. Cawthorn revived a debunked claim about Pelosi at a time when he has come under criticism for calling Ukrainian President Volodymyr Zelensky a "thug."
The video posted by PatriotTakes, which partners with progressive advocacy group MeidasTouch, shows Cawthorn leveling the claim at Pelosi while speaking at a recent campaign event.
"Rules for thee but not for me, I guess that's Nancy Pelosi's campaign slogan," said Cawthorn, to laughter. "I'll tell you I have to work with her every single day, so please do pray for me. The theories of alcoholism are very true, and it's very sad."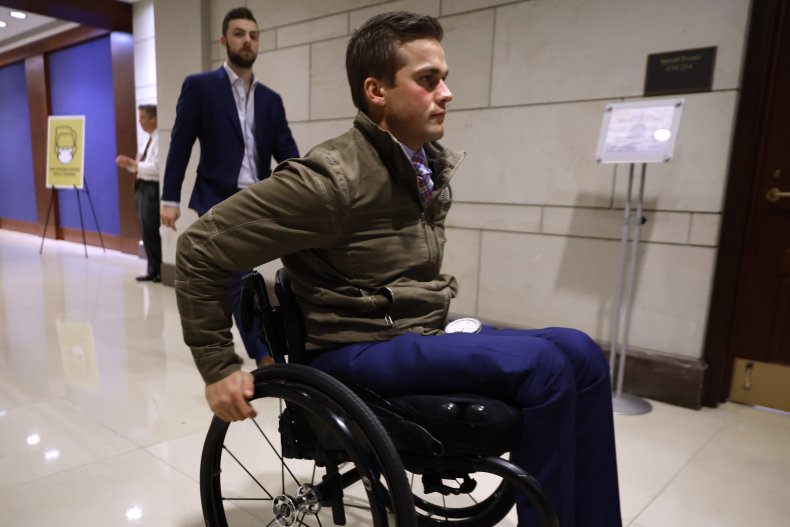 Previously, videos have circulated on social media claiming to offer "proof" that Pelosi, a teetotaler, has a problem with alcohol.
In summer 2020, a video claiming to show Pelosi "blowed out of her mind" surfaced online. According to fact-checking website Snopes, the video was slowed down, edited and given a false caption to make viewers think Pelosi was drunk and slurring her speech during a press event. Pelosi has been subject to several other false reports of her being drunk in public and engaging in embarrassing behavior, according to the website.
In response to a widely circulated image falsely claiming to show Pelosi drunk in 2020, a spokesman for the California Democrat told USA Today that she does not drink.
Cawthorn has been widely condemned after a video surfaced of the first-term congressman disparaging Zelensky, who the U.S. public has rallied behind following Russia's invasion of Ukraine.
"Remember that Zelensky is a thug," Cawthorn said in a video obtained by North Carolina news station WRAL. "Remember that the Ukrainian government is incredibly corrupt and is incredibly evil and has been pushing woke ideologies."
Luke Ball, Cawthorn's spokesman, defended his remarks, saying the congressman "was expressing his displeasure at how foreign leaders, including Zelensky, had recently used false propaganda to entice America into becoming involved in an overseas conflict." Ball added that Cawthorn supports Ukraine against Russian aggression.
Republican Senator Joni Ernst lectured Cawthorn during a Senate floor speech last week. Republican representative Adam Kinzinger said Zelensky is "three times" the man Cawthorn is. North Carolina's The Winston-Salem Journal published an opinion piece on Saturday calling Cawthorn "deplorable."
Newsweek has reached out to Cawthorn and Pelosi for comment.