Nancy Pelosi Defends Government Shutdown Vacation: Trump 'May Not Realize This, but Hawaii Is Part of the U.S.'
Congresswoman Nancy Pelosi, the Democrat from California who is set to retake the House speaker's gavel after the 116th Congress is sworn in, defended her holiday trip to Hawaii during the government shutdown in a prerecorded interview with NBC News Thursday morning.
Taking a swipe at President Donald Trump, she suggested he "may not realize" that Hawaii is part of the United States.
The presumptive incoming speaker was photographed December 27 at the Fairmont Orchid, a luxury Hawaiian resort and spa on the Kohala Coast where rooms can range from more than $600 per night to more than $5,000 per night.
The Washington Free Beacon obtained a picture of Pelosi at the island resort.
"I observed the Christmas holiday for a few days, and I cut in half the time I would have had with my family," Pelosi told NBC's Savanah Guthrie.
Pelosi had previously suggested, prior to the government shutdown in December, that such a shutdown would benefit the president by allowing him more time to play golf. Trump canceled a planned Christmas and New Year's trip to his South Florida exclusive club, Mar-a-Lago, because of the shutdown. Members of Congress flew home to their districts, concluding that a solution on a spending bill would not be reached until the new Congress.
"The fact is we all stood ready and told our members we would give them 24 hours notice to be where they need to be," Pelosi said. "The president may not know this, but Hawaii is part of the United States of America. Maybe he does not realize that."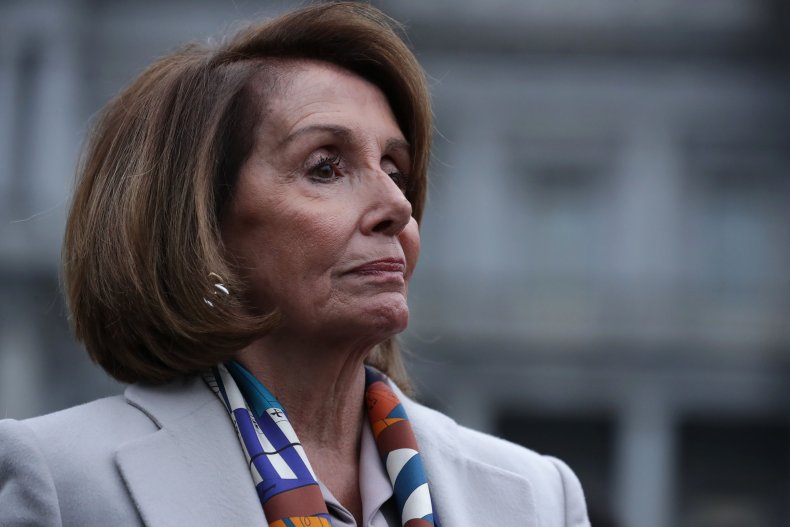 Pelosi was slammed by Republicans over the holiday season for her trip.
Kellyanne Conway, counselor to the president, told Fox News the congresswoman should come back to Washington, D.C., for "less hula, more moola for the [Department of Homeland Security] and Customs and Border Patrol, funding our border security."
During a cabinet meeting Wednesday, Trump told reporters that Democrats "chose Hawaii over Washington," and he was waiting to strike a deal to reopen the government. He also said he was prepared to have the government shut down for "as long as it takes" because "I think the people of this country think I'm right."
Pelosi plans to vote on a spending bill package in the House that would end the government shutdown. The package would fully fund the closed parts of the government, minus DHS, through the fiscal year ending September 30, while funding DHS through February 8. It would not provide money for Trump's southern border wall, making it the same bill the GOP-controlled Senate passed last month prior to the president's demands for $5 billion in wall funding. It would also provide more than $1.3 billion for border security, such as fencing, cameras and other technology.
The measure will likely not be taken up in the Senate, and the White House has classified such spending bills as a "nonstarter." Pelosi reiterated Thursday morning that Democrats will provide money for border security but will give "nothing for the wall."
Speaking with Guthrie, Pelosi told the news anchor she also would not rule out future impeachment proceedings against Trump.
"We shouldn't be impeaching for a political reason," she said. "And we shouldn't avoid impeachment for a political reason."
Pelosi added that she wanted to wait for special counsel Robert Mueller's final report before taking further action, similar to what Democrats on the House Judiciary Committee told Newsweek last month.