Nancy Pelosi's Taiwan Trip Sparks Protest in Her Hometown
House Speaker Nancy Pelosi's planned controversial stop in Taiwan prompted protests in her hometown of San Francisco, where anti-war activists and leaders of the city's Chinese community demonstrated against the Democratic congresswoman's trip.
On Monday, ahead of the visit, roughly 100 people gathered outside Pelosi's office at the San Francisco Federal Building to urge her to cancel the stop on her Asia trip, which protesters said would unnecessarily inflame a "potential war" with China.
Demonstrators—who were seen holding signs that read "U.S. hands off Taiwan," "Stop the provocations," and "No war on China"—urged Pelosi to cancel the trip to Taiwan, which had not been confirmed at the time of the protest. They asked her to, instead, "focus on the real challenges of inflation, climate crisis and economic distress facing the American People."
However, the pressure from American protesters did apparent little to change Pelosi's mind. The House Speaker touched down in the capital of Taipei on Tuesday morning.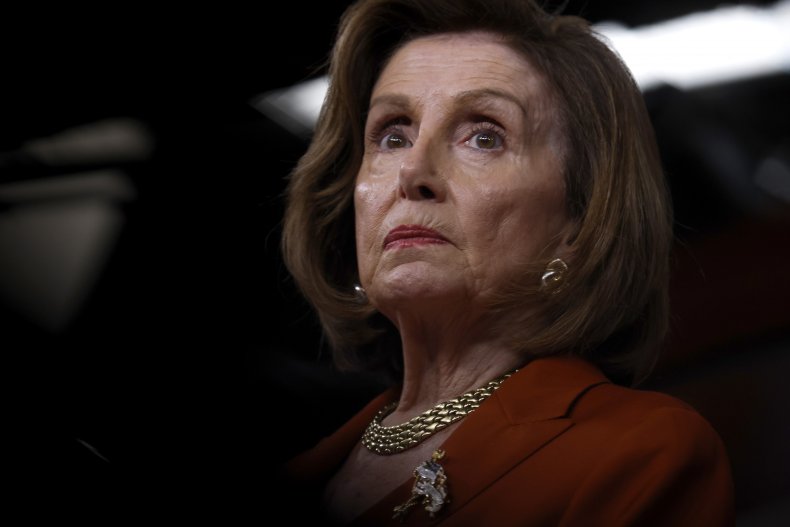 Although Pelosi's visit has drawn bipartisan support from lawmakers who want to see the Democrat defend Taiwan, President Joe Biden has cautioned that the stopover is "not a good idea." And China has warned that it would respond with "forceful measures" if she goes through with the trip.
The issue of Taiwan's independence has long been contentious. China has insisted that Taiwan remain part of Beijing under the One China Policy and in recent weeks, U.S. officials have stressed that the Biden administration, like those before it, does not support Taiwan's independence.
Last week, Chinese President Xi Jinping told Biden over the phone, "Those who play with fire will perish by it. It is hoped that the U.S. will be clear-eyed about this," according to a readout.
However, Pelosi has also faced immense pressure to make the trip from lawmakers, including Republicans, who said the Democratic congresswoman should not let China dictate her travels.
Tuesday's stopover makes Pelosi, an outspoken critic of China's human rights abuses, the first House Speaker to visit Taiwan since Newt Gingrich went in 1997. Pelosi traveled to the island nation in 1999 but did not hold her leadership post at the time.
The division over Pelosi's trip to the Indo-Pacific region was also apparent at the protest on Monday, where a small group of counter-protests also gathered and accused the main demonstration of supporting communism.
"Big protest at the Federal Building going on right now. Chinese mainlanders shouting that there is no Taiwan, it's only one China," journalist Roland Austinat tweeted. "My hats off to three or so counter-protesters, standing next to them with actual hand-written signs."
Julie Tang, a retired San Fransisco Supreme Court judge, told the San Francisco Standard that, as a longtime supporter of the House Speaker, she was "disappointed" about Pelosi's trip.
"We have donated to her, we've supported her throughout these years, but we are so disappointed that what she's doing is totally against the welfare and the well-being of the community—in particular Chinese Americans," Tang said.
Tang added: "She does not listen to us. She's going with the flow, going with pushing U.S. hegemony to contain China. For what? We don't get anything out of it."
Update 08/02/22 10:58 a.m ET: This story has been updated to reflect Pelosi arrived in Taiwan.