Senate Minority Leader Mitch McConnell said a national abortion ban could be "possible" if the Supreme Court overturns Roe v. Wade.
The future of abortion rights in the United States could be upended later this year, as the Supreme Court could overturn the landmark case that guarantees the right to seek an abortion, according to a court opinion leaked by Politico earlier this week. If the court overturns the case, it would leave the issue of abortion to the states.
In an interview with USA Today published on Saturday, however, McConnell, a Kentucky Republican, said Thursday that a national ban on the procedure would be "possible" if the court overturns the case.
"If the leaked opinion became the final opinion, legislative bodies—not only at the state level but at the federal level—certainly could legislate in that area," he said. "And if this were the final decision, that was the point that it should be resolved one way or another in the legislative process. So yeah, it's possible."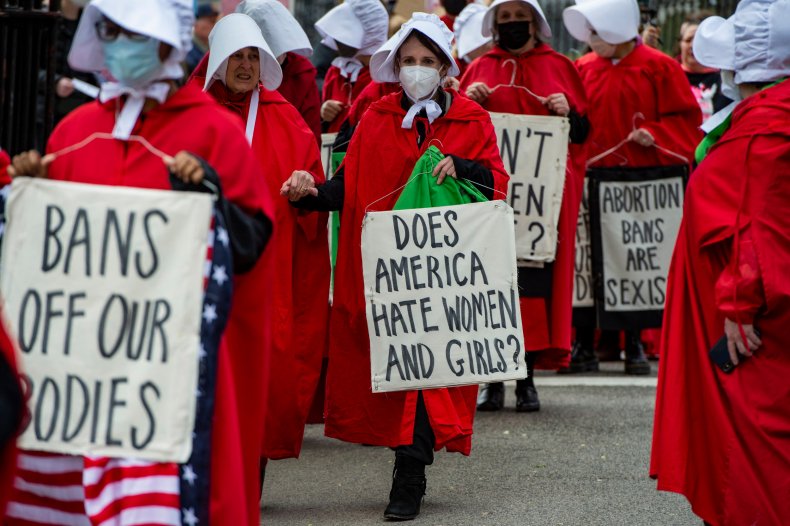 Such legislation would face steep odds in the Senate, where the filibuster would require a minimum of 60 votes to pass a law banning abortion nationwide. It would be difficult, if not impossible, for Republicans to win enough votes to do so.
However, the Senate minority leader shot down the idea of overturning the filibuster to pass the law.
"No carve out of the filibuster—period," he told USA Today. "For any subject."
Democrats would be unlikely to support a bill to ban abortion, and some Republicans have spoken out against the idea as well. Missouri GOP Senator Josh Hawley said that he would not back a federal ban and that such a decision should be decided by individual states instead.
It could also be met with resistance from many voters, who largely support Roe v. Wade. A new poll, conducted by Yahoo News and YouGov, released Saturday showed that only 31 percent of Americans would support the court overturning the case. Meanwhile, 51 percent said they believe it should not be overturned.
Many conservative states already have laws in place, known as "trigger laws," that would ban abortions immediately or soon after if the Supreme Court overturns Roe v. Wade. Several of these laws were passed in recent years, as the balance of the court shifted to judges that Republicans believed would overturn the case.
On the other hand, Democratic-led states including New Jersey and Vermont have codified abortion rights into state law, therefore guaranteeing abortion rights in those states. Democrats are also pushing to pass a federal law codifying abortion rights, but that bill would be unlikely to pass due to the filibuster.