National Guard Activated in 30 States Over Fears of Inauguration Violence
At least 30 states across the country are activating National Guard troops, with the FBI warning armed protests are being planned at all state Capitols this week.
"As of this morning [Tuesday], 30 states have activated National Guard troops totaling at least 6,675 across those states. In support of DC there are more than 25,000 in and around the capital," a National Guard spokesperson told Newsweek.
The preparation comes days before President-elect Joe Biden's inauguration and almost two weeks after the January 6 insurrection at the U.S. Capitol that left five people dead, including a police officer.
Last week, the FBI warned that armed protests could take place at state Capitols across the U.S. ahead of Biden's inauguration on January 20, according to an internal FBI bulletin reported by The Associated Press.
"As of 10 January, armed protests are being planned at all 50 state capitols from 16 January through at least 20 January, and at the U.S. Capitol from 17 January through 20 January," the bulletin said.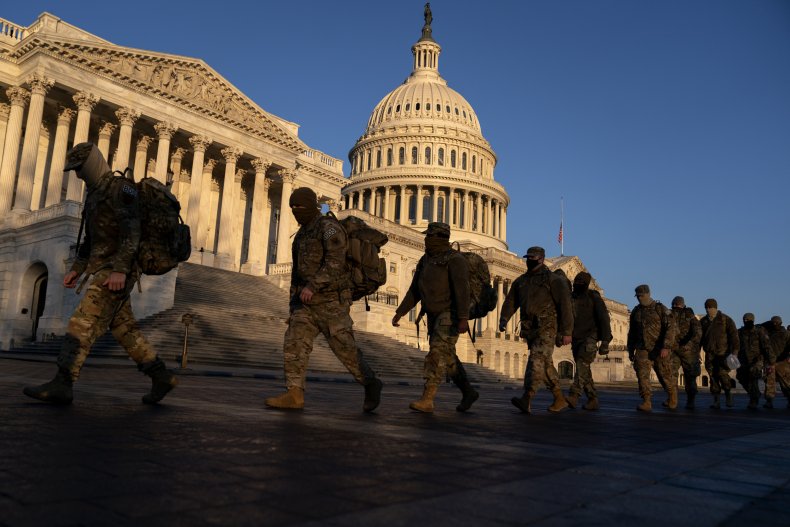 Law enforcement say they have identified a number of threats from pro-Trump extremists who are preparing to "storm" state, local and federal government courthouses and administrative buildings over false claims that the election was stolen.
From California to Michigan, dozens of states will be bolstering security—including some declaring states of emergency and summoning the National Guard—in order to subdue any potential violence.
California Governor Gavin Newsom last week announced that he was deploying 1,000 California National Guard troops to help protect the state capitol, in addition to the already large numbers of law enforcement officers and security measures expected to be in effect.
"In light of events in our nation's capital last week, California is taking important steps to protect public safety at the State Capitol, and across the state," Newsom said in a statement. "Our State Operations Center is actively working with federal, state and local law enforcement partners in assessing threats and sharing intelligence and information to ensure those disgraceful actions are not repeated here."
Newsom has signed a General Order authorizing the deployment of 1,000 California National Guard personnel to protect critical infrastructure, including the State Capitol in Sacramento.
Michigan Governor Gretchen Whitmer also announced that the National Guard would be activated from Monday to Wednesday to provide additional security and crowd control measures.
"Last week's horrific scene on Capitol Hill was an attack on our democracy and shows that we need to be adequately prepared for acts of violence as President-elect Joe Biden is sworn in as our 46th president of the United States," said Whitmer, who faced a kidnapping plot against her in October and saw armed militia breach the state Capitol in May.
Ohio Governor Mike DeWine authorized 580 National Guard members to remain in Columbus to protect citizens, public buildings and private property from "civil unrest," according to a statement from DeWine's office.
"People have the right to protest. They do not have the right to be destructive," DeWine said during a briefing on Tuesday last week. "They do not have the right to hurt other people... We all saw what happened at the U.S. Capitol. And we know we are very concerned."
DeWine previously sent 1,000 soldiers and airmen from his state to provide assistance to federal authorities in Washington, D.C.
Authorities in Texas have also warned of armed protests across the state.
"The Texas Department of Public Safety is aware of armed protests planned at the Texas State Capitol this week and violent extremists who may seek to exploit constitutionally protected events to conduct criminal acts," Texas Department of Public Safety Director Steven McCraw said in a statement. "As a result, DPS has deployed additional personnel and resources to the Capitol and are working closely with the Federal Bureau of Investigation and the Austin Police Department to monitor events and enforce the rule of law."
Over in Minnesota, Governor Tim Walz told reporters he plans to deploy the Minnesota National Guard after deploying more than 130 soldiers to Washington.
"Recent reports of planned armed protests around the country and at our State Capitol must be met with a strong and unequivocal response," Walz said in his executive order.
In Oregon, Governor Kate Brown activated the Oregon National Guard over fears of possible violence, with Oregon State Police confirming in a statement on Wednesday that the guard would be used as necessary.
"The recent events at our Nation's Capitol building and at our own statehouse illustrate the need for law enforcement to be prepared and appropriately staffed for any large gatherings," Oregon State Police Superintendent Terri Davie said in a statement.
Other states where National Guard troops have been activated include Connecticut, Delaware, Florida, Colorado, Indiana, Georgia, Illinois, Kentucky, Maine, North Carolina, Louisiana, Maryland, New Mexico, Nevada, Oklahoma, Oregon, Pennsylvania, Rhode Island, Tennessee, Utah, Washington and Wisconsin.
On January 6, pro-Trump rioters stormed the Capitol building in Washington D.C. The rioters broke through windows, fought with police, occupied congressional offices and delayed the certification of Electoral College votes cementing Joe Biden's victory. Federal prosecutors have since said that the rioters planned to "capture and assassinate" elected officials.
After the siege, there have been fears that another attack could take place before or during Biden's inauguration on January 20.
The FBI has indicated that "online chatter" suggests violence is being planned, according to FBI Director Chris Wray.
In a widely-shared message posted to Parler—a social media site largely used by far-right conservatives —a QAnon supporter with a significant following said that armed "patriots" would travel back to the Capitol the day before the inauguration.
Army General Daniel Hokanson, chief of the National Guard Bureau, told reporters that the Guard is looking at issues across the country. "We're keeping a look across the entire country to make sure that we're monitoring, and that our Guards in every state are in close coordination with their local law enforcement agencies to provide any support requested," he said.
Experts expressed concern to Newsweek that the inauguration event itself may not necessarily be the primary focus for President Donald Trump loyalists seeking to disrupt the transition of power.
"Soft targets, crowded places, and critical infrastructure remain an attractive target to domestic terrorists and to those who wish to embarrass the government," Brian Harrell, former Assistant Secretary for Infrastructure Protection at the Department of Homeland Security, told Newsweek.
Multiple states have increased security or shuttered their capitol buildings in anticipation of potential violence.
Capitols in Texas, California, Virginia, Indiana, Illinois, Oregon, Ohio, Pennsylvania, Kansas, Utah, Washington, Wisconsin and Maine are among those that will be closed to the public on Inauguration Day.
Biden will be inaugurated as the 46th president of the United States on Wednesday, January 20 in Washington, D.C.
Newsweek has contacted the National Guard for comment.