A year on since George Floyd was killed by former police officer Derek Chauvin in Minneapolis, a coalition of NBA players has called for the U.S. Senate to pass an act that would set nationwide standards for policing to increase accountability among police officers
In a statement released on Monday night, the NBA's Social Justice Coalition said passing the George Floyd Justice in Policing Act would be a fitting way to honour the memory of Floyd and of those who "have been victims of police brutality".
The bill seeks to introduce national standards for policing, as well as ban chokeholds and "qualified immunity" for law enforcement.
Having passed in the U.S. House of Representatives in March with bipartisan support, the bill is now pending in the Senate and the coalition called for "elected representatives of both parties to work together [...] and present it to President [Joe] Biden for him to sign into law this year."
Floyd died on May 25 last year in Minneapolis after being apprehended on suspicion of passing a counterfeit $20 bill at a store.
His arrest was caught on camera by a bystander, whose video showed Chauvin kneeling on Floyd's neck for almost nine minutes.
The footage, in which Floyd can be heard saying "I can't breathe", went viral and sparked nationwide protests against racial inequality and police brutality. On April 20, Chauvin was found guilty of second-degree unintentional murder, third-degree murder and second-degree manslaughter.
"Almost exactly one year ago, George Floyd was murdered by a police officer in Minneapolis," the coalition, whose members include players, coaches and several team owners, said in a statement.
"Like millions around the world, NBA players, coaches, governors, officials, and staff throughout our organizations were outraged to see the horrifying and unlawful actions of the officer who pinned Mr. Floyd's neck to the ground under his knee for 9 minutes.
"Mr. Floyd's death added new fuel to the protests, marches, and urgent calls for racial justice and reform locally and nationally."
Passing the George Floyd Justice in Policing Act on the first anniversary of Floyd's death was an "opportunity to honor" his memory and remember those who lost their lives to police brutality, the coalition added.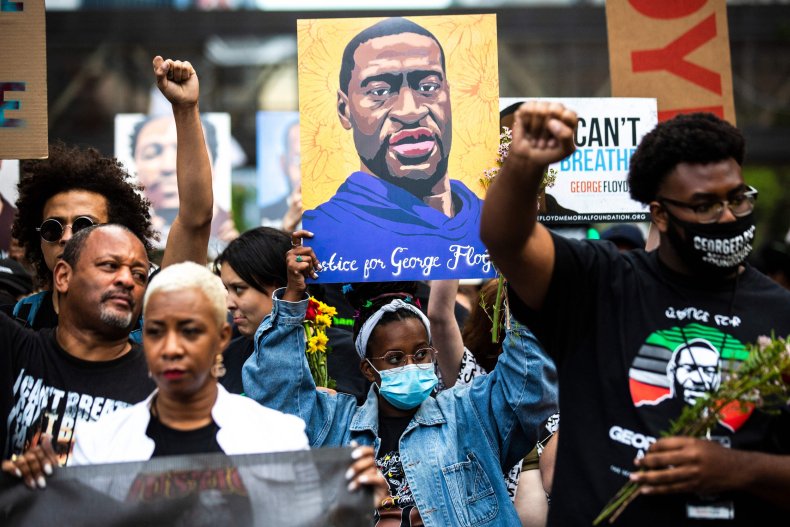 "Because police actions are governed by a diverse array of state laws and local policies, the Floyd Act takes unprecedented strides towards consistency—reforming at a federal level the practices that failed its namesake," the statement read.
Following Floyd's death, several NBA players joined demonstrations in support of the Black Lives Matter movement (BLM). The league was at the forefront of social justice campaigns and threw its weight threw its support behind the BLM movement—although the NBA repeatedly made clear it supported the movement's broader values, rather than the organization directly.
The NBA agreed to allow players to wear social justice messages on their jerseys during last season's playoffs and displayed the movement's logo on the courts. Players were also allowed to take a knee during the national anthem.
Its support for social justice protests did not come without criticism.
In October last year, president Donald Trump and Senator Ted Cruz (R-TX) suggested the NBA only had itself to blame for the low TV ratings that blighted the NBA Finals. The six-game series between the Los Angeles Lakers and the Miami Heat drew an average of 7.5 million viewers, a 51 percent decline from the previous year.
Cruz claimed the NBA had "decided to insult half of its fans" with its social justice stance, which Trump suggested had caused fans to tune out as there was "zero interest" in the NBA Finals.
Speaking to GQ in December, however, NBA commissioner Adam Silver refuted the suggestion.
"Some people might suggest that the words Black Lives Matter are causing massive amounts of people to tune out the NBA.
"There's absolutely no data to support that."
In their statement on Monday night, the NBA's coalition vowed to continue fighting for nationwide social reforms.
"As members of the NBA family, we will continue to use our influence to support common-sense policy reform in our communities across the nation so that equal justice is afforded to all," it said.
Uncommon Knowledge
Newsweek is committed to challenging conventional wisdom and finding connections in the search for common ground.
Newsweek is committed to challenging conventional wisdom and finding connections in the search for common ground.
About the writer
Dan Cancian is currently a reporter for Newsweek based in London, England. Prior to joining Newsweek in January 2018, he was a news and business reporter at International Business Times UK. Dan has also written for The Guardian and The Observer.