'NCIS' Reveals How and When Jack Sloane Will Leave
NCIS is about to lose one of its main cast members as Maria Bello exits after four years and 70-plus episodes of playing Jack Sloane. Though the announcement that Bello was leaving was announced a few months ago, the February 9 episode of the CBS procedural was the first to set up exactly how Sloane will go. It also hinted at what this will do for Gibbs (played by Mark Harmon), with whom she has always had a will-they-won't-they type of relationship.
Though NCIS Season 18, Episode 7 (titled "The First Day") mostly focused on Jimmy Palmer (played by Brian Dietzen) and the loss of his wife Breena to COVID-19, it did also set up Sloane's departure, coming very soon to CBS.
In the episode, Gibbs learned that Sloane was packing up her office. The forensic psychologist then told him, "I think it's time I slowed my life down a bit... maybe go to Costa Rica... just be." Exactly what Gibbs feels about his sparring partner-turned-confidante leaving the NCIS team, however, was not revealed.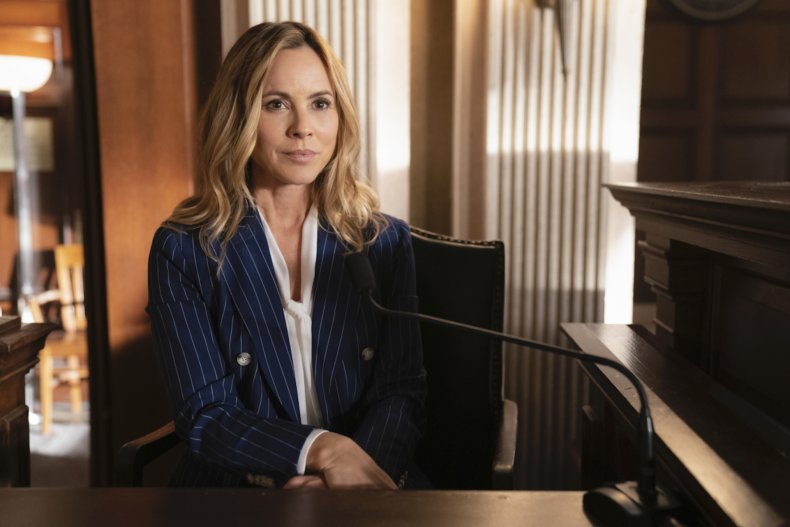 Fans, however, are set to find out very soon how Sloane's exit will play out and how Gibbs deals with it. When Bello announced she was exiting the show, it was confirmed that the actor had signed on for eight episodes of Season 18. As she has appeared in all seven episodes of the show so far, this presumably means that Episode 8, set to air on March 2, 2021, will be her final episode on the show.
The official CBS synopsis certainly suggests that the upcoming episode, titled "True Believer," will be Sloane focused. That logline reads: "When Sloane's name is discovered in Afghanistan at the site of an abandoned bus with a dead driver, Gibbs accompanies her on a trip to find a group of girls who were kidnapped from the bus. Also, McGee (Sean Murray), Bishop (Emily Wickersham) and Torres (Wilmer Valderrama) track down a hacker who emailed compromising information to the Taliban."
In a TVLine interview, NCIS co-showrunner Frank Cardea said: "When we're trying to figure out how to exit a character, one thing we always ask is: 'What does that character deserve?' And the character of Sloane is a very strong character, and a passionate character, so we're going to really have her go on something worthy of that."
That same interview also teased that the Gibbs-Sloane flirtation will get some closure. He said the final episode will address, "ongoing wonderment about what's going on between her and Gibbs."
Bello's exit from NCIS was confirmed in November 2020, when the A History of Violence actor's three-year contract for the show expired and was not renewed. She did agree, however, to film eight episodes of NCIS Season 18 in order to give her character a proper exit.
NCIS Season 18 airs Tuesdays at 8 p.m. ET / 7 p.m. CT on CBS.