'NCIS New Orleans' Canceled: When the Final Episode Will Air
NCIS: New Orleans is ending in 2021, with the current Season 7 set to be the last ever season of the CBS show. The network has now revealed exactly when the canceled show is set to end – and fans do not have much longer to enjoy the adventures of Dwayne Pride (Scott Bakula) and the rest of the NCIS: NOLA squad.
When the final episode of NCIS: New Orleans will air
NCIS: NOLA is set to have 16 episodes. The March 28 edition of the CBS show will be the 11th of these, meaning there are just five more instalments of the crime drama to go.
CBS, however, will spread these remaining episodes out among the coming months. This means that the as-yet-untitled NCIS: New Orleans Season 7, Episode 16 will air on Sunday, May 16.
This was confirmed by the show's own Twitter account. In February, a post read, "seven seasons totaling over 150 episodes and memories to cherish for a lifetime but the song isn't over yet. #NCISNOLA fam, we still have stories to tell. There's a new episode this Sunday and be there with us for the series finale on May 16th."
The series finale is set to air in NCIS: NOLA's usual timeslot on Sunday at 10 p.m. ET / 9 p.m. CT.
Among the treats that viewers have to look forward to is the return of Callie Thorpe as Sasha Broussard. A regular on the show until 2015, a Season 6 episode saw the crime family member securing early release from prison. Now, she returns to cause trouble for Pride again, with TV Line teasing, "Sasha will come back to drop a bombshell that just might change the newly engaged Pride's life, forever."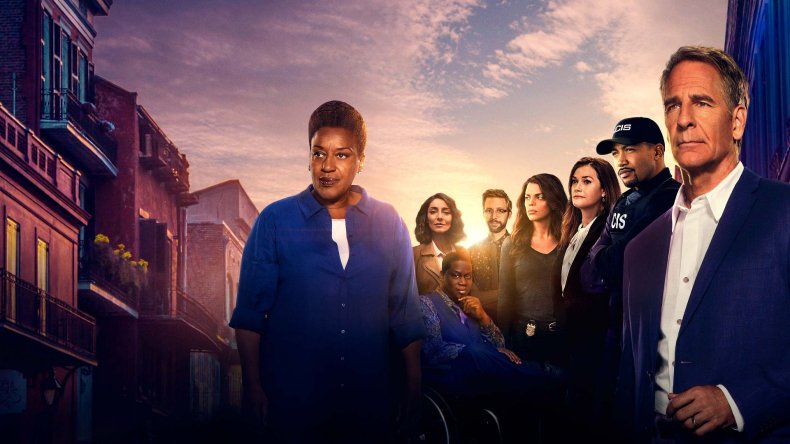 Per IMDB, Thorne will make her reappearance in the April 4 episode "Once Upon a Time."
The news of NCIS: New Orleans' cancelation comes amidst rumors that the mothership NCIS is set to end too, after Mark Harmon is reportedly set to step back from next season and appear in only a few episodes.
While New Orleans leaves the CBS line-up, another NCIS may be taking its place. TV Line reported in February that the network is in the early stages of creating NCIS: Hawaii, which could slot into NOLA's place on Sunday nights after NCIS: LA.
The latest episode of NCIS: New Orleans, meanwhile, is Season 7, Episode 11, "Stashed." The synopsis for that episode reads, "Sebastian's life is in danger when a criminal he put behind bars escapes police custody. Carter is tasked with keeping Sebastian in protective custody and Carter and Hannah's flirtation is fun gossip fodder for Tammy and Sebastian."
NCIS: New Orleans Season 7 airs Sundays at 10 p.m. ET / 9 p.m. CT on CBS. Seasons 1-7 streaming now on Paramount+.