'NCIS New Orleans': Who Played Pride's Mom on 'NCIS NOLA'?
NCIS: New Orleans Season 7 celebrated Mother's Day on May 9 with an episode that featured the fourth appearance on the CBS show of Pride's mom Mena. Mena was diagnosed with Alzheimer's last season, and the most recent episode saw her memories starting to fade. She also asked Pride to hold his wedding to Rita (Chelsea Field) while she was still alive and fairly lucid, which seems to set up a Pride and Rita wedding in the upcoming series finale.
Who plays Pride's mom on NCIS: New Orleans?
On NCIS: NOLA Season 7, Episode 14, titled "Illusions," Mena Pride is played by the Golden Globe-winner Joanna Cassidy. She previously played the character three times in previous seasons.
Her appearance in the CBS procedural is actually the second show she has appeared on alongside Pride actor Scott Bakula. Previously, they appeared together in Star Trek: Enterprise, in which Bakula was the lead Jonathan Archer, and Cassidy played a Vulcan who aided Archer after he was captured by a dissident group.
Despite the fact that Cassidy is playing Pride's mom, there is not that great an age difference between them. Bakula is 66 (born in 1954), while Cassidy is 75 (born 1945)— an age difference of nine years.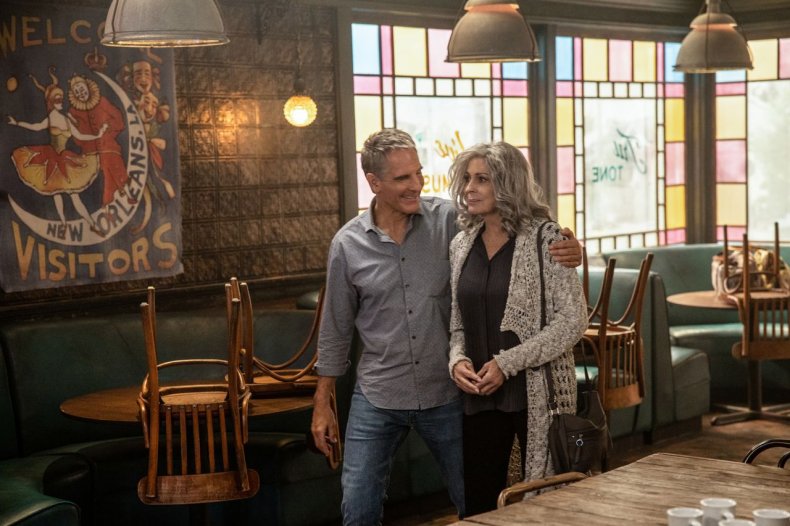 Cassidy has been working in TV and film since 1968, when she made an uncredited appearance in the Steve McQueen classic Bullitt. Her most famous film roles are the replicant Zhora in Blade Runner, Bob Hoskins's girlfriend Dolores in Who Framed Roger Rabbit, plus Christina Applegate's boss in Don't Tell Mom the Babysitter's Dead.
As for her TV work before NCIS: NOLA, Cassidy has been nominated for two Emmys: one for Six Feet Under, and another for '80s comedy Buffalo Bill. Her performance in the latter also won her a Golden Globe. Her more recent TV appearances were in Amazon's Too Old to Die Young, TV Land's Younger and the Bravo series Odd Mom Out.
She made her first appearance on NCIS: New Orleans in the Season 5 finale in 2019. At the time, Bakula told TV Insider: "Casting Joanna Cassidy, obviously in real life she's not old enough to play my mother, so that is part of the story that I'll tease with that. She's kind of the missing link for Pride in terms of his heart and his heartbreak, and we're going to use her in a very unusual way. But hopefully there'll be more after this season with her and again, the road to finding his mother really opened up when he lost his dad."
In that finale, it was revealed that Pride was seeing his mother as a hallucination. In Season 6, however, Cassidy played the character again in an episode in which Pride and Rita went to visit her.
At that time, NCIS: NOLA showrunner Christopher Silber said of the character in an interview with Parade, "she is someone who's struggling with mental illness. She had a breakdown years ago that she never fully recovered from, and yes, we are going to delve into that past, learn how she got that way. That's part of the journey that Pride's going to be going on through the season."
NCIS: New Orleans Season 7 continues Sundays at 10 p.m. ET / 9 p.m. CT on CBS. All episodes so far are streaming now on Paramount+.