'NCIS' Season 18, Episode 11 Featured Mark Harmon's Real-Life Wife
NCIS Season 18 continued after a short hiatus with Episode 11—and the CBS show had a very special guest star. After the scandal in the NCIS team that led to the suspension of Gibbs (played by Mark Harmon), the show introduced a new character named Marcie Wallace.
Wallace is an investigative journalist who is trying to get the inside scoop about the scandal at NCIS. In the episode, which is streaming now on CBS and Paramount+, the reporter ambushes Gibbs and tries to get a quote from him.
If you thought that there was a hint of romantic sparks between Gibbs and Wallace, that is because the new character is played by Pam Dawber, the real-life wife of Mark Harmon. They have been married since 1987.
Though they have been married for over 30 years, this episode, titled "Gut Punch," is only the second they have starred together on screen. They last starred together in 2000's I'll Remember April, a war drama starring Haley Joel Osment and The Karate Kid's Pat Morita.
Per Dawber herself, however, the makers of NCIS have been trying to get her on the show for a while. The Mork and Mindy actor told Entertainment Weekly: "The show has been on for a hundred years, and they have come at me a few times. Either I just didn't want to do it or I didn't appreciate what it was they wanted me to do. Or it was near Christmas and it was like: 'I can't do this. I've got my parents coming into town.'"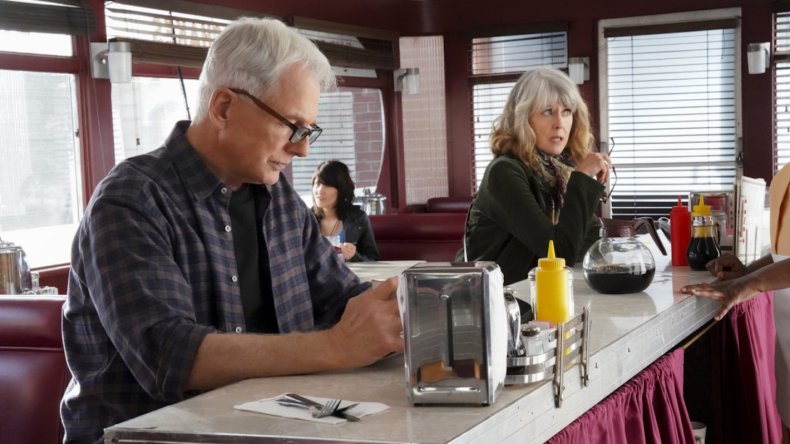 Now that she has signed up to the CBS show, she is sticking around. The character is set to have a four-episode arc on the series—and seeing as Season 18, Episode 11 ended with Gibbs telling her all, it is likely to be a dramatic one.
However, fans should not expect a romance between the pair. Dawber told EW: "I talked to the writers and the producers before I signed on and said: 'If this is a romantic interest, I'm not interested.' They said not at all, that's not where we're going with this."
Asked by People about the secret to their marriage in 2019, Harmon said: "We were both in our thirties when we got married, so hopefully the stupid stuff we did earlier. That's probably the closest I have to what the key is."
Dawber, meanwhile, told Entertainment Tonight that it is the fact that she no longer accepts many roles that has kept their marriage alive so long. She said: "I don't think two people can work all the time in show business and stay married."
Speaking to Entertainment Weekly, meanwhile, Dawber addressed rumors that her appearance on the show was one last bit of fan service before Harmon's rumored departure from the show. She said, "That has nothing to do with anything. This is just a good storyline. I'm not going to go tip the hat on anything, but they don't think like that over there. A good storyline is a good storyline, and honest to God, we don't even know how it's going to end."
NCIS Season 18 continues Tuesdays at 8 p.m. ET / 7 p.m. CT on CBS. All episodes so far are streaming now on Paramount+.