'NCIS' Season 18, Episode 11 Preview: What Will Happen in 'Gut Punch'?
NCIS Season 18 left fans with a massive cliffhanger last episode as Gibbs (played by Mark Harmon) was suspended from the team. Episode 11 of the CBS show picks up after that shock dismissal and reveals how the team will continue without their lead man.
Titled "Gut Punch," the episode has been teased with a number of sneak peeks and trailers in the two weeks that NCIS has been off air. Here's what we learned from those promos and clips.
The official synopsis for NCIS Season 11, Episode 18 reads: "Vance [Rocky Carroll, who also directed the episode] assigns McGee [Sean Murray], Torres [Wilmer Valderama] and Bishop [Emily Wickersham] to COVID compliance duty at a foreign affairs summit, where they discover a link to another NCIS team's murder case."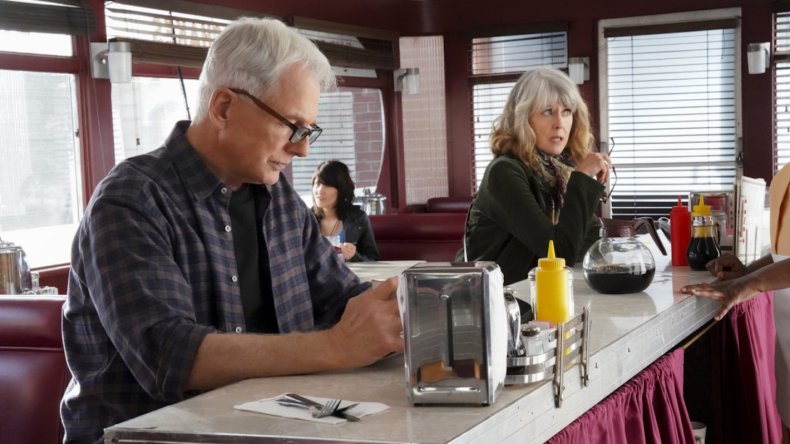 As revealed in one of the sneak peeks, that other NCIS team is the one run by the agents who are usually on the night shift, but have been reassigned after the events that led to Gibbs' suspension. That team features the cocky, obnoxious Dale Sawyer (Zane Holtz) and the more officious Veronica Tyler (Victoria Gabrielle Pitt).
NCIS fans may recognize Tyler as the agent who was forced to steal a corpse in the Season 18 premiere "Sturgeon Season" after her daughter was held hostage. Sawyer, meanwhile, is a new character, played by Valderama's former co-star from From Dusk Till Dawn: The Series.
Per TVLine, our main NCIS team will have to "play nice and work with other agents" in the episode. However, it seems that things will not go to plan. Though the trailer saw Vance ordering the NCIS team to follow the orders of the night shift agents, another sneak peek sees McGee stumble upon a clue in the other group's case and debating whether they should investigate. "This is not our case, we can't do that...right?" we hear McGee ask Torres and Bishop.
Though Gibbs took a suspension last episode to protect the team, it seems that more punishment may be ahead for the agents. Another clip sees Sawyer tell Bishop: "There haven't been any consequences – I mean, Gibbs took it on the chin but his disciples barely got a reprimand...why?"
As for Gibbs himself, he will appear in the episode, when viewers will learn how he is spending his enforced time off. A clip sees him in a diner reading the paper, when he is ambushed by investigative journalist Marcie Warren—played by Harmon's real-life wife Pam Dawber. "Your bosses are refusing to return my calls, "she says to Gibbs, so I thought I'd go straight to the source." Gibbs does not seem willing to help her, however, and leaves the diner.
However, it seems like she is not done chasing her source. Dawber has been confirmed for a four-episode arc in NCIS Season 18, where she is playing "a seasoned investigative journalist who uses her savvy wit and down-to-earth people skills to aid in her tireless pursuit of truth" per Entertainment Weekly.
If that was not enough drama, the trailer also puts McGee, Torress and Bishop in a potentially explosive situation. We see them in a room which McGee says is "wired to blow." Viewers, however, will have to tune in to see how the team gets out of it this time.
NCIS Season 18 airs Tuesdays at 8 p.m. ET / 7 p.m. CT on CBS; All episodes so far are streaming on Paramount+.