'NCIS' Season 18 Episode 8: How and Why Jack Sloane Left the Show
NCIS Season 18 has been dropping hints for the last few episodes that Jack Sloane (played by Maria Bello) was ready to move on, with the forensic psychologist saying she was moving to Costa Rica. However, her final episode (Episode 8, "True Believer") revealed a change of plans.
The Sloane-centric episodes of the CBS procedural began with Sloane telling Gibbs (Mark Harmon) that she had put an offer on a Costa Rican house. This announcement, however, was interrupted by news from Afghanistan that the Taliban had hijacked a school bus—and someone had written on its window "SLOANE NCIS."
This of course meant that Gibbs and Sloane had to go investigate, especially as she revealed the message was likely left by Darya, a woman she had bonded with while Sloane was held hostage in the country.
Later in the episode, Darya was found dead, with her body found with a note reading, "Go home or there will be more blood."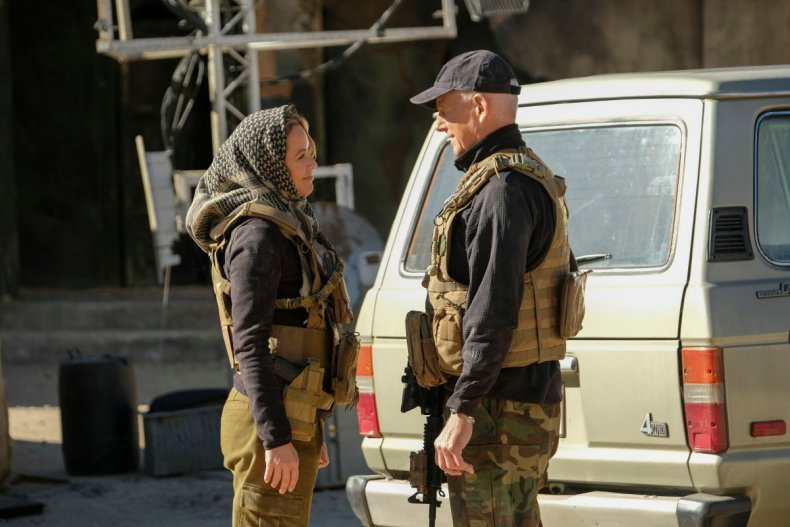 When Sloane wants to go out on a solo mission to avenge her friends, Gibbs tries to stop her, leading to a discussion about her leaving:
Sloane: "You can't ground me when you don't like the plan"
Gibbs: "I can when I want you around"
Sloane: "On NCIS, or on the planet?"
Gibbs: "Both."
Eventually, the pair find the girls that had been taken hostage from the bus. Sloane, meanwhile, reveals that with Darya dead, she is not going to Costa Rica but is staying in Afghanistan to continue her friend's humanitarian work.
In her goodbye speech to Gibbs, she says: "I have loved my time with NCIS... You don't need me anymore... I don't belong behind a desk. Never did. And you're right, I was running, and I don't want to anymore. I want to make a difference here."
For NCIS fans disappointed that Bello's exit means that her simmering sexual tension with Gibbs will come to an end, the show's writers gave the character a literal kiss-off, with Gibbs leaning in for a kiss when she says he can visit anytime (setting the character up for a return, of course, if Bello ever decides to return to the show).
Why is Maria Bello leaving NCIS?
Though NCIS' last major departure was Pauley Perrette, who left the show amid her accusations of abuse on set (which the series has denied), Bello seems to have left the show on good terms.
Bello has simply chosen not to renew her contract, with the two-time Golden Globe nominee signing up for three years back in 2017, then agreeing to appear in eight episodes of Season 18 in order to give the show time to give her character a proper send-off.
On her Instagram, Bello shared a picture from her final scene on the show, captioned, "Dear Gibbs—my pal.—Did we or didn't we? Who will ever know. They will only know that we loved each other dearly and were grateful for our time together with our crew. Love. Jack Sloane."
NCIS Season 18 continues Tuesdays at 8 p.m. ET / 7 p.m. CT on CBS.