Nearly 20% of U.S. Population Infected With COVID, 168K New Deaths by May, Model Estimates
The COVID-19 pandemic is at its peak in the U.S., according to estimates in a report released Friday by the Institute for Health Metrics and Evaluation (IHME) at the University of Washington.
Seventeen percent of people in the U.S. have been infected with COVID-19 in the week prior to January 21, the same day President Biden announced a 200-page national response strategy for the pandemic. He's also called on Congress to pass a $1.9 trillion pandemic relief package dedicated to stimulating the economy. COVID-19 has been raging in the U.S. for nearly one year and has caused over 410,000 deaths as of Sunday, Johns Hopkins University's tracker reported.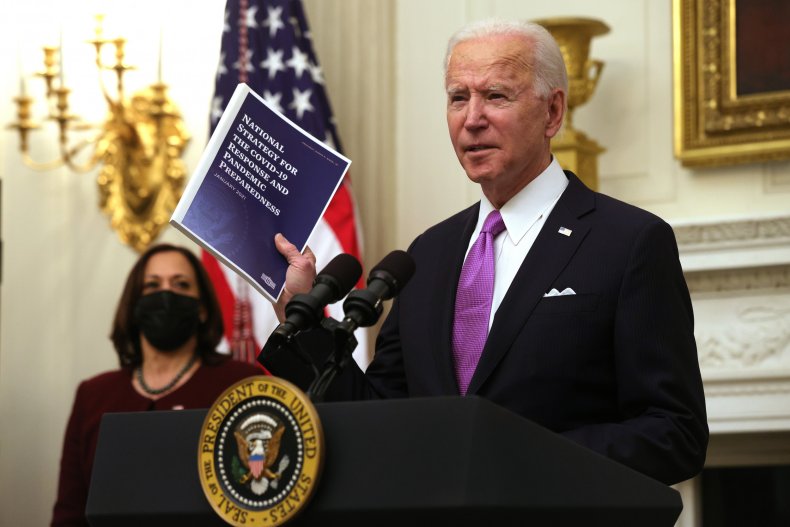 The report suggests that the pandemic will get worse before it gets better. According to IHME's estimates, the number of daily reported cases decreased to 243,500 in the week prior to January 21—but the number of daily reported deaths increased to 3,240 per day in the same time frame. While this death rate is projected to stay consistent through the spring (around 3,000), an additional 168,000 deaths are projected from January 19 to May 1.
White House Chief of Staff Ron Klain predicted at least another 100,000 deaths will occur by the end of February, The Wall Street Journal reported, especially as the fast-spreading second variant continues to accelerate infection rates.
"We believe things will get worse as we get into January," Dr. Anthony Fauci, director of the National Institute of Allergy and Infectious Diseases at the National Institutes of Health said to National Public Radio earlier this month. He added that most people will be able to get a COVID-19 vaccine by April, but a return to "normality" won't be possible until the fall.
There are a number of available strategies to combat the spread of the virus. Some of these solutions laid out in Biden's plan include clearer public health guidance, mask mandates, and expanded testing.
IHME's report takes a few of these strategies into account and measures the efficacy of each in reducing the number of projected daily deaths by May 1. Across all methods, the number of daily deaths are projected to trend downward in the spring. The decrease in overall deaths is most significant if universal mask use is implemented.
Through an executive order, Biden has already launched his "100-day Masking Challenge," which mandates mask-wearing on federal property. And according to a recent ABC News/Ipsos Poll, most adults expressed support for Biden's mask mandate.
IHME did find that mask usage was over 50 percent in all states, with nearly 80 percent of people wearing a mask when leaving home.
Most deaths occurred in individuals aged 90. The estimates found that deaths will still curb down if other prevention methods are used, but by a far less significant margin. The least effect methods are easing social distancing mandates and not getting a COVID-19 vaccine. About half of people included in the report said they would accept getting a vaccine.