With Neera Tanden Likely Doomed, Progressives Pin Hopes on Shalanda Young
The chances of confirmation for Neera Tanden as director of the Office of Management and Budget (OMB) are becoming increasingly unlikely, but progressives are already pivoting to back a new potential nominee.
House Democratic leaders are reportedly mounting a campaign to replace Tanden with longtime congressional aide Shalanda Young. Young is currently nominated to be the deputy OMB director, and the left wing of the Democratic Party is hoping the White House will try to elevate her to the lead role.
The Biden administration has made promises to diversify the Cabinet, and the nomination of Tanden meant she would have been the first woman of color to head the agency. However, as a confirmation now seems unlikely given the opposition from Senators Joe Manchin and Susan Collins, Young, a Black woman, could give Biden a second chance to fulfill his commitment with a historic first appointment to the OMB.
Young has already broken ground as the first Black woman to serve as the staff director of the House Appropriations Committee. Her key role in recent budget negotiations required her to work alongside Republican lawmakers, most notably Senator Richard Shelby,who said he would back her nomination if Tanden's fails.
"I believe she would be good in that role," Shelby said in a Wednesday statement. "She's smart, she knows the process inside out, and she's an honest broker who has demonstrated the ability to work with both sides and get things done."
He added, "She would have my support, and I suspect many of my Republican colleagues would support her as well. But that's up to the Biden administration."
Young's track record as someone who can work with members of Congress on both sides of the aisle would not only further Biden's pledge to pursue bipartisanship. It would also set her up for a much smoother confirmation hearing than Tanden's, which has been controversial since its announcement.
"I think [Biden] will try and pick somebody who's not going to be a lightning rod," University of Virginia political science professor David Leblang told Newsweek.
That, combined with the progressive support Young would receive, could make her the ideal nominee to replace Tanden, who is disliked by many supporters of Bernie Sanders for her previous criticisms of the Vermont senator and her push against progressive priorities like a $15 minimum wage.
"I don't think [Biden] is going to pick somebody who is a centrist," Leblang said. "What's interesting is that the current nominee was criticized by the left because they saw her as being too close to Wall Street. I think he's got to pick somebody who is going to make Wall Street breathe a sigh of relief but also speak to the distributional concern that the left has."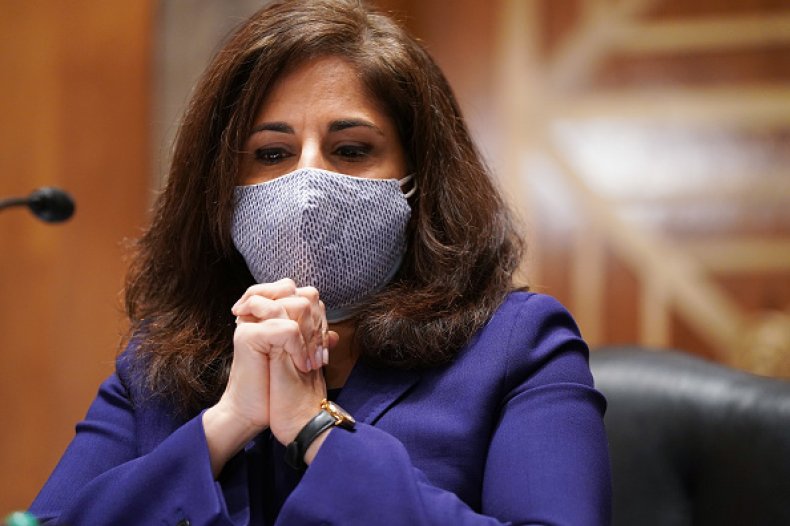 On Wednesday, the chairwoman of the Congressional Black Caucus, Joyce Beatty, confirmed to The Hill that the group is ready to push for Young to lead the budget office if Tanden isn't confirmed.
Young, the staff director for the House Appropriations Committee, had reportedly earned the support of House Speaker Nancy Pelosi, House Majority Leader Steny Hoyer and House Majority Whip Jim Clyburn for the position before the White House nominated Tanden in December.
Young's lack of a social media presence could also help her avoid the obstacles Tanden faced for her combative and prolific tweets against several senators who now will determine Tanden's fate.
The only obstacle Leblang sees to the administration promoting Young to OMB director is its commitment to Tanden's nomination. Despite growing concern that Tanden will fail to secure the votes for confirmation, White House press secretary Jen Psaki has continually defended Biden's pick.
In a Monday tweet, Psaki wrote, "Neera Tanden=accomplished policy expert, would be 1st Asian American woman to lead OMB, has lived experience having benefitted from a number of federal programs as a kid, looking ahead to the committee votes this week and continuing to work toward her confirmation."
Asked by reporters last week if Biden would pull the nomination, Psaki said, "I think we are going to find the votes and get her confirmed."
Leblang noted even after Manchin announced he would vote against Tanden, Biden "stood by her. He's got some skin in the game, and elevating the deputy at this point in time might be interpreted as a sign of political weakness."
Newsweek reached out to the Committee on Appropriations for comment but did not hear back before publication.
This story was updated at 2:13 p.m. with comments from Senator Richard Shelby.