Neil Gorsuch's Supreme Court Nomination: What Happens Next?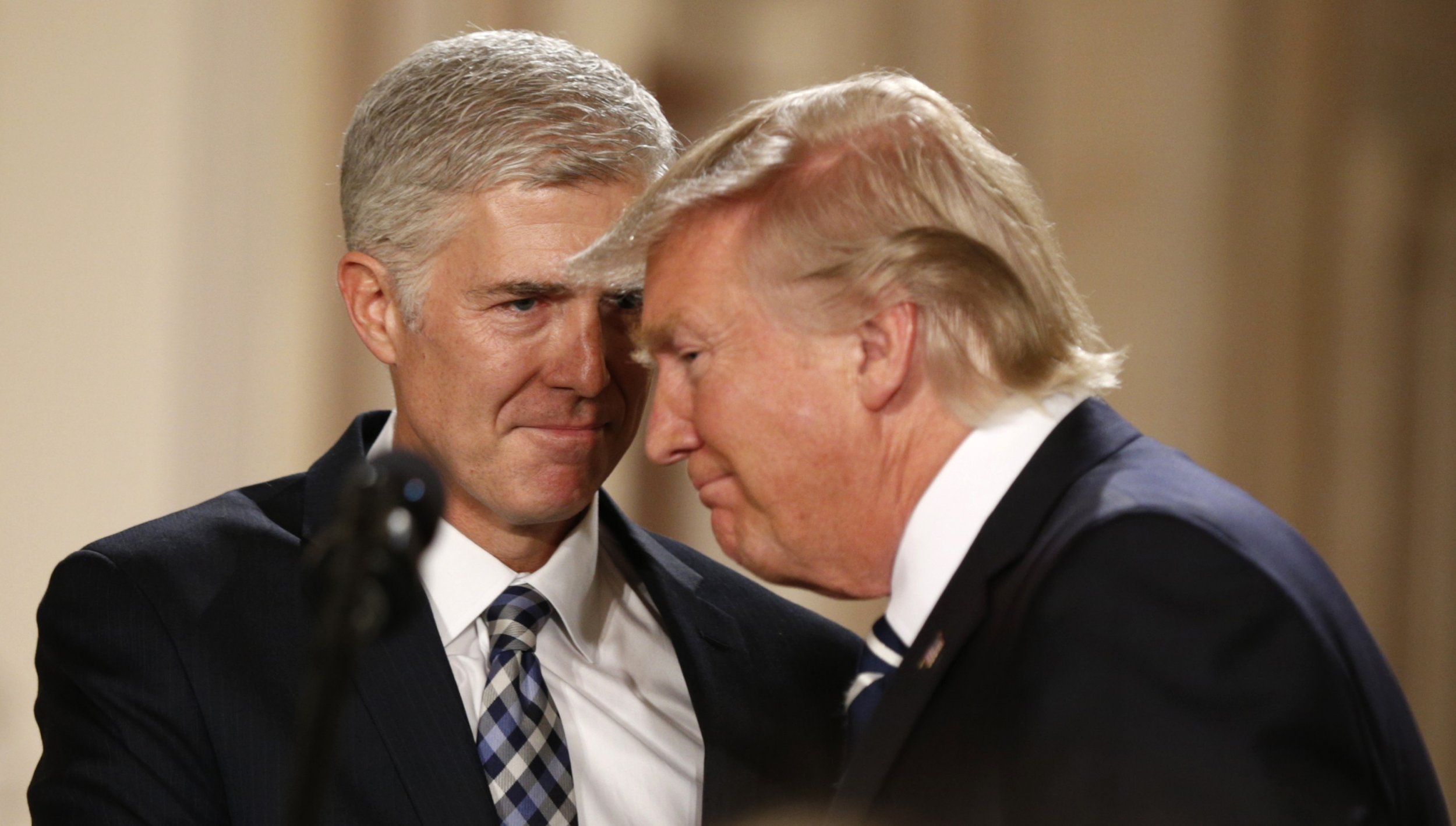 President Donald Trump on Wednesday told Senate Republicans to invoke the so-called nuclear option if Democrats fulfill their promise to attempt to block the confirmation of federal Judge Neil Gorsuch to the Supreme Court. Trump announced his much-anticipated decision about the nominee Tuesday night—less than two weeks into his presidency—after floating 21 potential choices last year during the election campaign.
Related: All you need to know about Neil Gorsuch
Confirmation Hearings in Several Weeks
Senate Judiciary Chairman Chuck Grassley (R-Iowa) told CNN that he hopes to hold Gorsuch's confirmation hearings in about six weeks. Trump has predicted that his nominee will be "approved very, very quickly."
There is a 52-48 party divide in the Senate, with the GOP in the majority. Sixty votes are needed to confirm Gorsuch, meaning eight Democrats would have to join the Republicans to break an expected filibuster. Many Republicans are putting pressure on 10 Senate Democrats from states that Trump carried in November and who are up for re-election in 2018.
If they fail to win over enough Democrats, Senate Majority Leader Mitch McConnell (R-Ky.) could invoke the nuclear option: lowering the traditional 60-vote threshold so Gorsuch could be confirmed by a simple majority. He so far has seemed reluctant to do so but also is determined to confirm the nominee. Senate Democrats last invoked the nuclear option to end a filibuster against certain executive and judicial nominees in 2013, when they had the majority.
Asked Wednesday whether the White House would be comfortable with the Republicans using the nuclear option, Press Secretary Sean Spicer said, "The president made very clear that the decision is something that we would rather not have to go down, but also that it ultimately is up to Senator McConnell."
Democrats' Roadblocks
Gorsuch, 49, is a conservative much in the mold of the late Justice Antonin Scalia and likely will be confirmed in a few months—but not without a fight from Democrats. He has not written extensively on some of the most controversial issues facing the court, including abortion, gay rights and gun rights. But he's known to have strong opinions on religious liberty, a view that appeals to most conservatives. If the Senate confirms him, he would restore the Scalia-era balance to the country's high court, with five conservative and four liberal justices.
In 2006, the Senate unanimously confirmed him to the 10th U.S. Circuit Court of Appeals in Denver. But one could argue that politics in 2017 are much different. For weeks, Chuck Schumer, the Senate's leading Democrat, has vowed to fight "tooth and nail" to block any nominee who didn't appeal to both his party's members and Republicans. Otherwise, he insisted, Democrats would filibuster—or block—the nominee, even if that means holding the seat open for years.
Democrats argue that the GOP-controlled Senate did just this for 10 months with Barack Obama's nominee, Merrick Garland, with the hope that a Republican would be elected president. Many Democrats view the situation as a seat stolen from Obama, while some in the media have described those feelings as bitter over Garland's treatment by Republicans. Spicer said on Wednesday "they have a right to feel the way they do."
The morning after Gorsuch's nomination, Schumer spoke on the Senate floor, calling on his colleagues to fulfill their constitutional duty in examining the judge's record "robustly, exhaustively and comprehensively." The minority leader reiterated that Democrats will insist on a "rigorous but fair process."
"We have a responsibility," he added, "to reject it if we do not."
Ahead of Trump's announcement, Senator Jeff Merkley (D-Ore.) on Monday said he planned to filibuster any Trump pick who wasn't Garland. Other Democrats haven't been as outspoken about a filibuster but say they reserve the right to do so once they review Gorsuch's record. At least seven others have publicly stated they won't filibuster.
Meanwhile, Gorsuch on Wednesday went to Capitol Hill with Vice President Mike Pence and met with lawmakers, including McConnell. Former Senator Kelly Ayotte (R-N.H.) will assist the White House in its push on Gorsuch's nomination by introducing him to senators and shepherding him to meetings.
Republicans' History
Many Republicans have criticized Democrats' threats to hold up the confirmation and have pointed out that not one Democrat opposed Gorsuch's confirmation in 2006. A dozen of those Democrats were in office when he was confirmed without opposition. Spicer argued that neither of the two Supreme Court justices nominated by Obama—Sonia Sotomayor and Elena Kagan—were subject to the 60-vote threshold. "They received bipartisan support because Republicans, despite some political and philosophical differences, viewed them as mainstream and qualified," Spicer told reporters Wednesday. "Judge Gorsuch should receive the same fair treatment."
He added, "The question is, Are they going to live up to the same standards that they imposed on Republicans when they had nominees in a Democratic White House?"
But the GOP has its own history of supporting nominees for lower positions and then opposing them for seats on the Supreme Court. Take McConnell, Grassley and Senators John McCain (R-Ariz.) and Richard Shelby (R-Ala.). All four supported Sotomayor's nomination as a district judge for the Southern District of New York in 1992 (she was approved by unanimous consent) but then opposed her nomination to the Supreme Court in 2009.
Senator Orrin Hatch (R-Utah) supported Kagan's nomination for solicitor general in 2009 but then a year later voted against her Supreme Court nomination. (The solicitor general is responsible for arguing cases before the Supreme Court.)
Also, before November's election McCain and other leading Republicans said they would unite to block any of Hillary Clinton's Supreme Court nominees if she won.