What Is a Nematode? Alexandria Ocasio-Cortez Likens Donald Trump to Parasite During Seth Meyers Appearance
In her latest television appearance, Rep. Alexandria Ocasio-Cortez likened President Donald Trump to a parasite few people would have heard of, and wondered aloud about why Fox News was so obsessed with her.
The host of Late Night With Seth Meyers asked the congresswoman on his show on Thursday night about the time she did well in a school science competition when she was a teenager.
She told Meyers how science was "her first passion" and described how she had studied microbiology, in particular how antioxidants impacted on an organism known as the C. elegan, of the nematode phylum, The New York Post reported.
The NBC host interrupted by joking that meant she had something in common with President Donald Trump. "I think he did that too…" Meyers began to say, but Ocasio-Cortez interrupted with, "Because he's a nematode?"
The nematode phylum of the animal kingdom encompasses a diverse range of creatures, also known as roundworms. There are around 20,000 named species, but likely many more have not been discovered. They are abundant across many ecosystems and live as parasites in animals and plants, or in free-living forms in soil and water environments, according to Encyclopedia Britannica.
The creatures can range in size from the microscopic, to up to 7 meters long, with the largest examples of parasitic forms being found in whales. The parasites can infect animals in almost every organ of the body, and common names for particularly aggressive types are the hookworm, lungworm, pinworm, threadworm, whipworm, and eelworm, Encyclopedia Britannica states.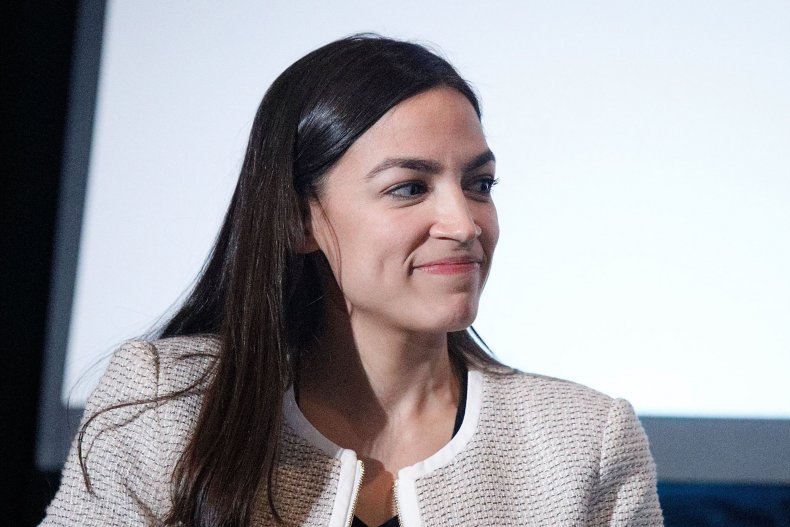 Earlier in the interview, the representative for New York's 14th district outlined her bewilderment at the amount of coverage she receives from Fox News.
"I mean, it's weird. Like, why are so many grown men just obsessed with this 29-year-old?" she said as the crowd laughed.
Ocasio-Cortez also said she was puzzled by claims put out by this week by Fox & Friends host and former Arkansas Governor Mike Huckabee that she was she was a "Manchurian candidate." This is a reference to the novel by Richard Condon about a brainwashed American veteran who unwittingly becomes a tool of a Soviet-led Communist conspiracy to take over the U.S. government.
Meyers jokingly asked her directly if she was one, to which she replied, "I'm not a Manchurian Candidate, but I do have amazing staff—and in no part thanks to the fact that we pay a living wage in our office…"
She added that some of her opponents across the aisle often believed what Fox was broadcasting about her, saying "one of the side effects of the Fox News lunacy is that other actual members of Congress believe it and see it uncritically," according to Daily Beast.
She recounted an incident when she was on the House floor about to vote, and someone came up to her and asked, "Is it true that you got $10 million from Netflix?" Ocasio-Cortez replied, "No… what else do you not know! This is concerning!"
This is likely a misunderstanding of the news that Netflix paid $10 million for the worldwide rights to Sundance documentary Knock Down the House, which followed the fortunes of progressive candidates in the 2018 midterm elections, including Ocasio-Cortez.
Ocasio-Cortez has also taken issue with Fox News over how its presenters say her name. She tweeted that hosts on the network often referred to her as "Cortez," rather than "Ocasio-Cortez," suggesting this was to make it sound more stereotypically Hispanic which in turn would stoke anxiety.
This week, Fox News host Laura Ingraham and guest Joe diGenova, suggested Ocasio-Cortez was putting on a Hispanic accent when introducing herself, which diGenova described as "that Latina thing."
Ocasio-Cortez quipped on Twitter that "if by 'the Latina thing,' she means I actually do the work instead of just talk about it, then yeah, I'm doing 'the Latina thing.'"