Couple Buy New House, Find 'Hidden' Basement Filled With Dead Owner's Stuff
A man has wowed the internet after sharing how he found a hidden basement in the new home his grandparents moved into.
Posted on Monday on Reddit's popular r/interestingasf*** forum, the post now has more than 85,000 upvotes and thousands of comments as amazed internet users ask questions and speculate about the hidden space.
Alongside five pictures, user Divlocket shared the caption: "The house my grandparents bought has a hidden basement that they weren't told about. It's full of boxes."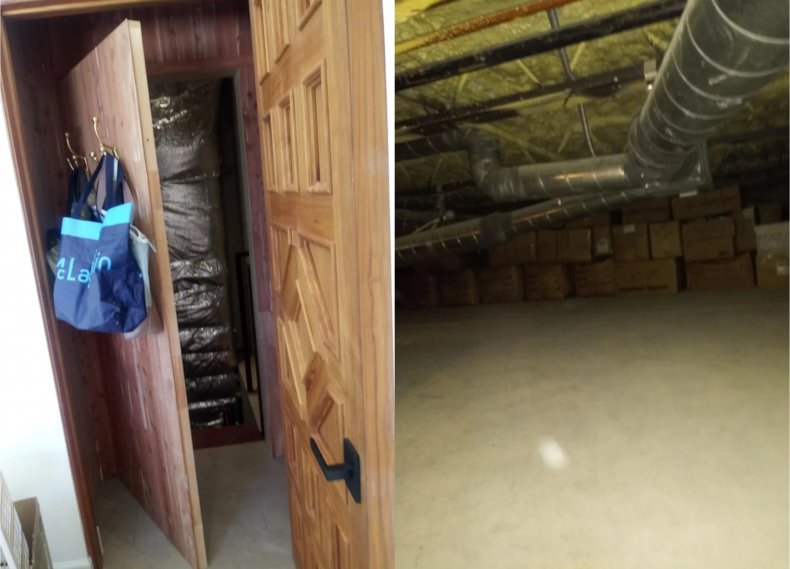 On the West Coast of the U.S., the home was built in 2018 and recently sold after the death of its original owner.
Divlocket told Newsweek: "The entrance was concealed in a closet with shopping bags hanging from hooks on it. I went to take a bag to go shopping, but it got tangled. After a minute of trying to untangle it, the door popped out a few milometers. I noticed this, and pulled some more, revealing the ladder.
"We have looked through about half the boxes, and they contained all sorts of items, most notably what I'm assuming is '60s memorabilia, photos, and clothes."
Far from the only people to find something unexpected in a new home, internet users have shared their discoveries including a window in the floor of a 19th-century home, a huge basement behind a hatch, and even some 60-year-old McDonalds in a bathroom wall.
"The family of the previous owner has agreed to come by sometime soon to sort through what they want to keep," explained Divlocket. "Sadly, I'm only staying here for another few days, before I return home to another country, so I don't know what will come of the remaining stuff and space. My grandparents have made it clear that they aren't comfortable selling the stuff, and quite frankly I agree. Making a profit off someone else's dead family is just weird."
The housing market in the U.S. has continued to boom despite the COVID-19 pandemic. Between 2019 and 2020, the number of house sales financed through a mortgage increased from 470,000 to 561,000, according to data from the U.S. Census Bureau. The average sale price of a new home in the U.S. in 2020 was $391,900, while in 2021 it reached an average of $453,700.
Reddit users were amazed by the discovery. One commenter said: "I don't know how it's possible for someone to find a hidden basement behind a wall panel and then boxes in said basement and not open every single one of those boxes."
Another Reddit user wrote: "Make a YouTube unboxing video."
"Damn that's cool," wrote one commenter. "So much extra space." While another joked: "If you find a doll don't touch it."
"As an Australian where we don't really have basements and attics—this is freaking terrifying," said another Reddit user.