When Joseph Rubino, 57, crashed his van last month, he most likely didn't expect to be arrested. But when cops found a stash of assault weapons and ammunition in the van, that's precisely what happened—and police found even more when they searched his home.
On July 24, Rubino was driving his white van when he lost control and crashed into a tree. Both Rubino and a passenger, Kenneth Coe, were seriously injured. But when police arrived on the scene to pull Rubino from the destroyed van, they noticed multiple assault weapons and ammunition.
Police obtained a warrant for Rubino's home, and a search turned up more ammunition and weapons—including a grenade launcher—as well as three kilograms of marijuana, 200 cannabis vape cartridges, "numerous THC edibles," 70 grams of methamphetamine, and boxes of bumper stickers and clothing with the S.S. Bolt insignia worn by the Schutzstaffel, the paramilitary organization from Nazi Germany. Police also found a document "containing racist material and purporting to be an instruction manual for owning a slave," according to prosecutors.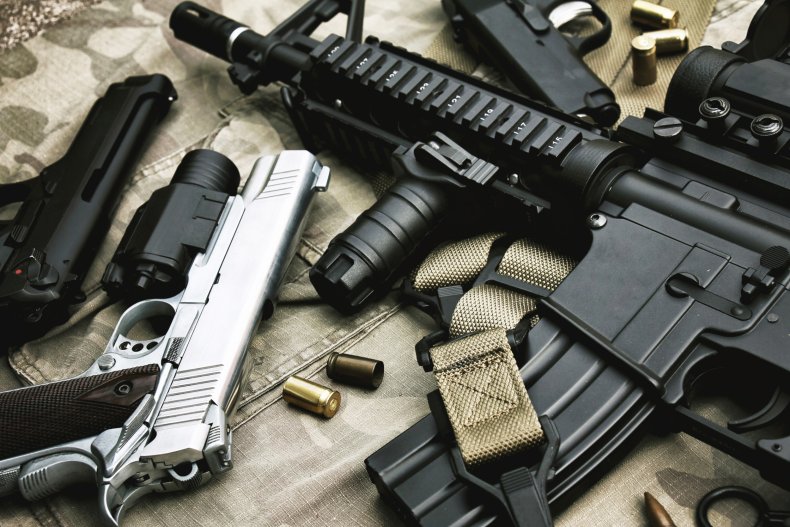 Rubino, from Lafayette Township, New Jersey was charged Tuesday in federal court with possession of firearms by a convicted felon, possession of firearms in furtherance of a drug-trafficking crime and possession with intent to distribute methamphetamine.
The methamphetamine charge carries with it a maximum sentence of 40 years in prison. While possession of a firearm by a convicted felon carries a maximum sentence of 10 years, possession of a firearm in furtherance of a drug-trafficking crime carries a maximum punishment of life in prison.
Coe, the passenger in the van at the time of the crash, was not charged. However, this May, Coe had his own run-in with the law. Coe was pulled over on May 20 at 3:25 a.m. for motor vehicle infractions. Police discovered a loaded handgun, multiple vials of a substance believed to be crystal meth and 12 grams of what is believed to be cocaine.
Rubino was convicted in 1999 for writing between $200 and $1,000 in bad checks, a felony. For that crime, he served three years of probation.
The charges come after a number of similar arrests of white nationalists. On August 8, Conor Climo of Las Vegas was arrested after the FBI discovered he had been making plans to attack a local synagogue. Climo had connections to neo-Nazi organizations, including the terrorist group Atomwaffen Division.
August 16 saw the arrest of James Patrick Reardon of Youngstown, Ohio after he posted a video to social media of himself firing a gun. The video was captioned "Police identified the Youngstown Jewish Family Community shooter as local white nationalist Seamus O'Rearedon." Reardon has pled not guilty.
These arrests come after the mass shooting in El Paso, Texas, where Patrick Crusius, 21, killed 22 people at a Walmart. Crusius told police he was targeting "Mexicans." A white supremacist manifesto linked with Crusius was also posted on website 8chan shortly before the shooting.