Six New Korean Shows and Films Coming to Netflix and More in October 2022
It's been another exciting month for K-dramas in September, with Narco-Saints, the gripping crime series starring Screen Actors Guild and Emmy award nominee Park Hae-soo (from Netflix's Squid Game and Money Heist: Korea - Joint Economic Area), taking the lead.
The pulsating show about a Korean drug lord running a cocaine drug cartel in Suriname shot to third place among Netflix's top television shows worldwide, just three days after its release on September 9, according to FlixPatrol, the streaming analytics company.
The series bagged the top spot of Netflix's top non-English television show ranking in the week from September 12 to 18 and stayed in the top 10 for three weeks this month, according to the streamer.
But there's plenty more drama to be had next month. Here we look at some of the compelling K-dramas and Korean films slated for release in October.
Bad Prosecutor
Release date: October 5
Bad Prosecutor sees D.O. from the K-pop band Exo play a young hot-headed prosecutor (Jin Jung) who's a bit of a law unto himself, dishing out justice in some unconventional ways.
A voice in a teaser video of the series on South Korea's KBS2 channel is heard saying: "Do you know what I've learned while working in this field? To catch punks like you...I have to be more evil...and stab you in the back even harder."
Flashing a sinister smile, Jin Jung is seen running, jumping and wielding a metal bat around while charging towards "the bad guys," asking "So, who's going first?"
Glitch
Release date: October 7
Glitch, starring Jeon Yeo-been (also spelled Yeon-bin) from Vincenzo and Ryu Kyung-soo from Hellbound, marks the latest series from the creators of the hit Netflix K-drama Extracurricular.
The new science fiction thriller sees a woman (played by Jeon) attempt to track down her missing boyfriend with the help of a UFO club that looks for those who have "disappeared in a mysterious beam of light." She later discovers a "wild conspiracy" while investigating her boyfriend's sudden unexplained disappearance.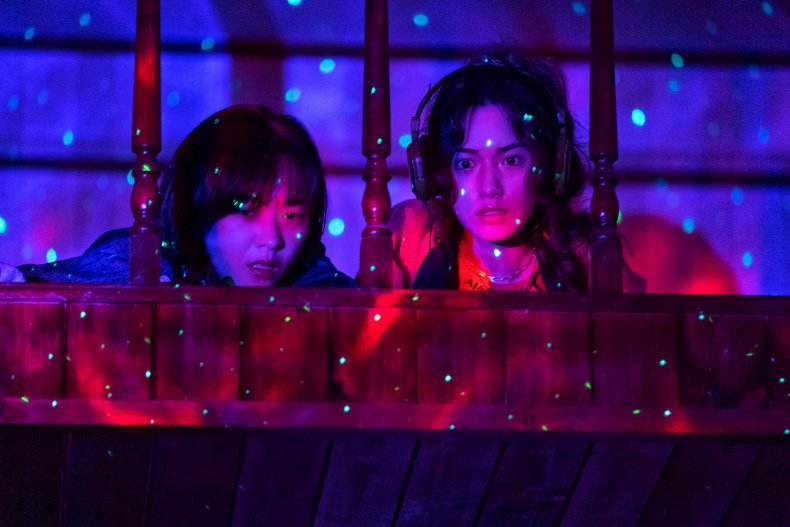 Decision to Leave
Release date: October 14
Decision to Leave, the latest picture from acclaimed Korean filmmaker Park Chan-wook, the visionary director of BAFTA-winner The Handmaiden and Oldboy, marks its U.S. premiere next month.
The new film sees detective Hae-jun (played by Park Hae-il, known from the Bong Joon-ho films The Host and Memories of Murder and this year's Hansan: Rising Dragon) investigate a mysterious death in the mountains. He later develops conflicted feelings of both suspicion and interest for the wife of the deceased, Seo-rae (played by Chinese actress Tang Wei from Lust, Caution by Ang Lee).
The latest film competed for the top Palme d'Or award at the Cannes Film Festival this year, while Park won the award for best director at the festival.
Yonder
Release date: October 14
This tale of love, death and the afterlife sees a widowed reporter (played by Shin Ha-kyun, from the Park Chan-wook films Sympathy for Mr. Vengeance and Joint Security Area) receive a mysterious email from his late wife (played by Han Ji-min, seen most recently in Our Blues on Netflix) who invites him to meet her in an unknown space.
"I'm here," the wife says from a television screen in the trailer of the series. "Honey, come here if you want to see me." The clip later shows the husband standing in a forest, as he moves through a translucent wall to later be met by his wife.
Their unfathomable reunion leaves the husband, who lives an empty life following the death of his wife, questioning his own existence.
The latest work marks the first Korean series co-produced by TVING (the South Korean streaming platform) and Paramount Plus (the American subscription video-on-demand service) under a recent partnership between South Korea's CJ ENM production company and Paramount Global (formerly known as ViacomCBS).
The Queen's Umbrella
Release date: October 15
The historical drama stars Kim Hye-soo (the veteran Korean actress seen recently in Juvenile Justice and Hyena on Netflix) as a queen during the Joseon Dynasty, the last kingdom era of the Korean peninsula.
The show from South Korea's tvN network sees a battle unfold in the royal courts as the queen attempts to mold her troublemaking sons into respectable princes under the strict royal education system of the Joseon era. The series portrays the lengths to which a mother would go to be an umbrella for her child and weather the storms that come their way.
20th Century Girl
Release date: October 21
This coming-of-age Netflix film is set in 1999. The movie sees a teenage girl (played by Kim You-jung, from Moon Embracing the Sun on Netflix) unexpectedly caught between love and friendship.
The girl agrees to keep an eye on the boy crush of her best friend (played by Roh Yoon-seo, from Our Blues on Netflix), who has to leave for the U.S. to receive heart surgery, and grows closer with the boy's best friend (played by Byeon Woo-seok from Record of Youth on Netflix) in the process.