Looking for your next K-drama binge? Netflix's gripping new series Hellbound from Yeon Sang-ho, the visionary director of Train to Busan fame, may become your next obsession.
The highly-anticipated Netflix show—premiering on November 19 at 3 a.m. ET (5 p.m. KST)—is slated to receive the baton from Squid Game following the unstoppable rise of the streamer's biggest series to date.
Offering an intoxicating cocktail of haunting visuals, a cinematic, fantasy/graphic novel-like feel, dark characters and an intriguing plot, Netflix's latest Korean series is uniquely transfixing in its own right.
Hellbound may very well be destined for success as, coincidentally, it also emanates some Squid Game vibes that only add to its appeal (more on this below), leaving viewers thirsty for more from both engrossing dramas.
Even ahead of its world premiere, the series received much buzz at the Toronto International Film Festival—North America's largest film festival—where it was the first Korean series to be officially invited to the event.
Last month, it was also the only Korean series to be selected for screening at the London Film Festival.
Hellbound thrusts viewers into a dystopian world where individuals are randomly sentenced to death and later transported to hell—entirely out of the blue—because of their "sinful" ways.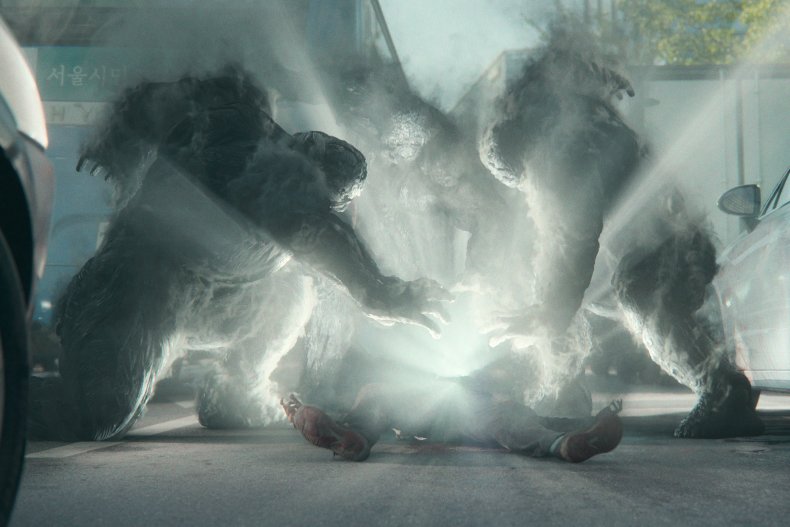 Each victim is issued a "decree" by an imposing, hologram-like ghostly presence that appears unannounced, declaring the exact date and time the person will die. The projected death date can take place anywhere from within seconds to several years later.
When that fateful date arrives, a "demonstration" takes place, which sees three formidable beast-like dark figures emerge to publicly annihilate the person and burn their bodies to ashes before their souls are dragged to hell.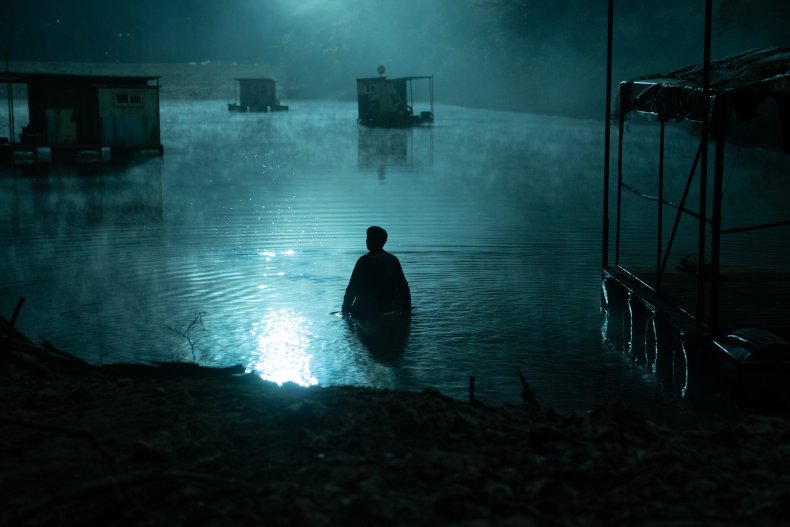 These so-called demonstrations are God's way of telling people they "must become more righteous," according to Jeong Jin-soo (played by Yoo Ah-in, known from the Korean films Burning, #Alive and other titles).
Jin-soo is the chairman of the New Truth, a religious cult that rises to power following the first-ever televised demonstration. The movement gains traction and its leaders become a law unto themselves, establishing a new world order under its ruling.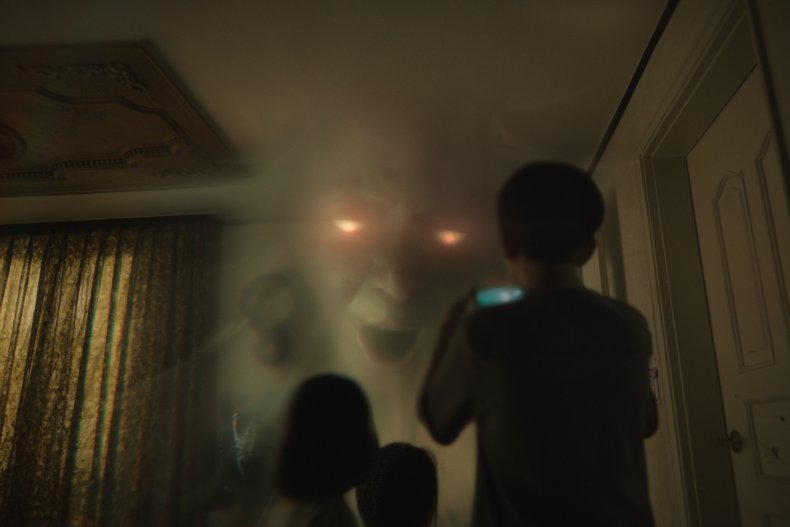 As this disturbing new universe unfolds, here are some fascinating elements of Hellbound that strike a Squid Game chord and will keep viewers at the edge of their seats.
**WARNING: Spoilers for Hellbound ahead**
One Man Playing God
Squid Game sees a single man (Oh Il-nam, contestant No. 1 who is later revealed to be the mastermind behind the deadly games) attempt to control the fate of hundreds in a God-like fashion within a survival competition.
Hellbound also sees God-like figures (in the form of New Truth chairman Jin-soo and his successor) establish control among the masses. They indoctrinate people with the belief that the only way to survive in the game called life (and escape receiving a death decree) is to become more righteous, according to their rule book.
And those who challenge their beliefs and break these rules risk their lives, similar to how anyone who broke the rules of the competition at any point in Squid Game was met by their death.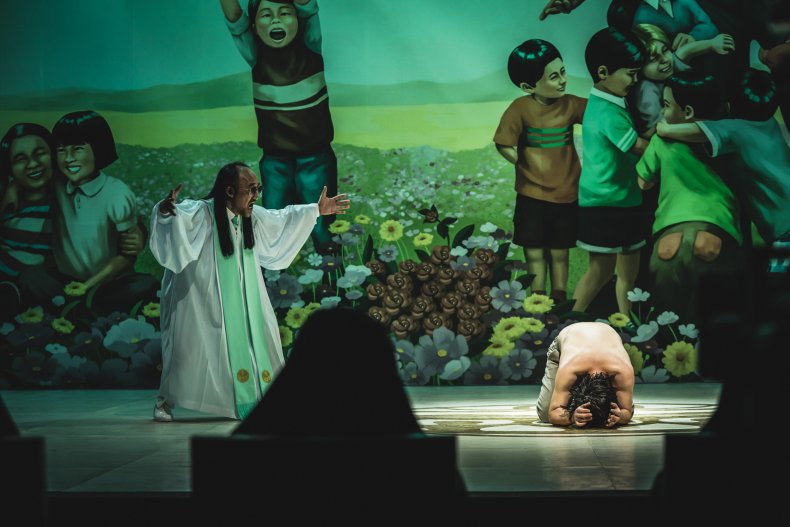 Green Uniforms
Similar to the iconic green tracksuits in Squid Game, the deacons and other staff members of the New Truth group wear identical zip jackets in a mint green hue.
However, the Squid Game tracksuits are worn by the game contestants, whereas in Hellbound, these green uniforms are worn instead by staff members and leaders.
The green outfits in Squid Game are reminiscent of the childhood gym uniform worn by Squid Game director Hwang Dong-hyuk.
But the green jackets in Hellbound may remind viewers of uniforms sometimes worn by friendly supermarket staff or factory workers, which contrasts the shady reputation and ways of the New Truth organization. This contrast was seen among staff members in Squid Game, whose uniforms are a playful hot pink color.
As in Squid Game, the New Truth staff uniforms may also be an emphasis on their lack of individuality, with its members blindly following the movement without questioning the legitimacy of the cult's claims (which come into question in a major way later in the series).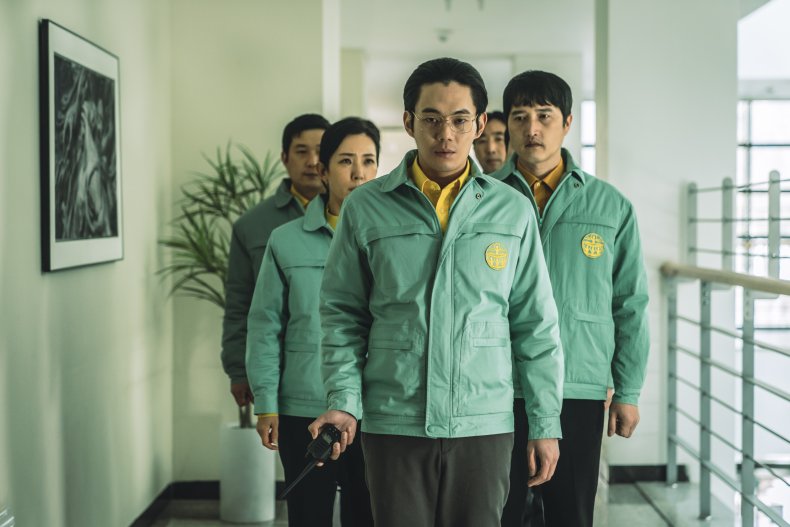 VIP Guests
During one episode, a group of guests referred to as "VIPs" are ushered towards a few seats set up outside the home of Park Jeong-ja (played by Kim Shin-rok), a struggling single mother of two who is the first victim to have her demonstration be broadcast live from her house.
Like the VIPs in Squid Game, the mysterious VIPs in Hellbound wear striking masks (ghostly, stark-white ones) as well as black head covers to hide their identities.
According to a policeman at the scene, it's implied these VIPs have paid to get a front row viewing of the bloody massacre that takes place as people are dragged through death's door and descended into hell by the beastly trio.
And in the same vein as the cash-strapped contestants in Squid Game, who risk their lives for the chance to bag a huge cash prize, Jeong-ja agrees to allow her demonstration to be broadcast in exchange for a handsome amount of money, which is arranged to be left for her children following her death.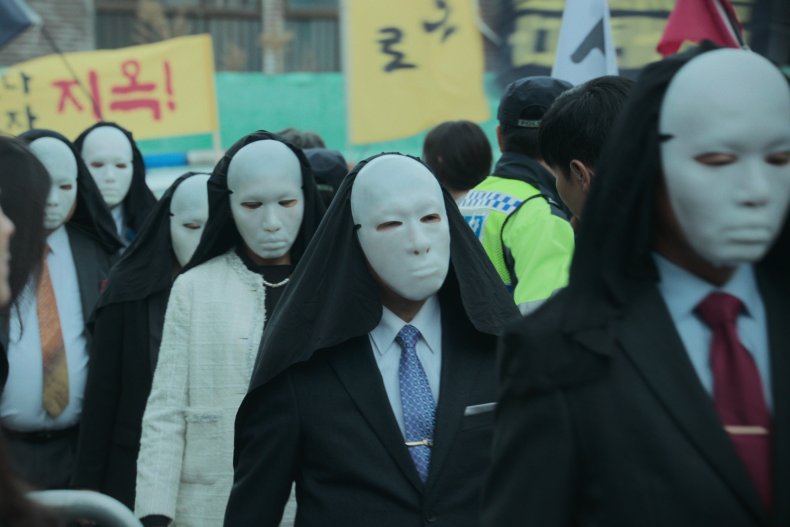 There's a Good Cop
Like Squid Game policeman Hwang Jun-ho, the investigation takes a personal turn for Hellbound detective Jin Kyeong-hoon (played by Yang Ik-june), who later realizes that his own daughter has joined the New Truth movement and is under the spell of its leader Jin-soo.
At one point, Kyeong-hoon's daughter goes missing (just as Jun-ho's brother disappears in Squid Game) and later discovers Jin-soo may have something to do with her disappearance.
Kyeong-hoon follows the tracks of the New Truth movement in his quest to find his daughter, similar to Jun-ho's search for answers to what happened to his brother, the Front Man character.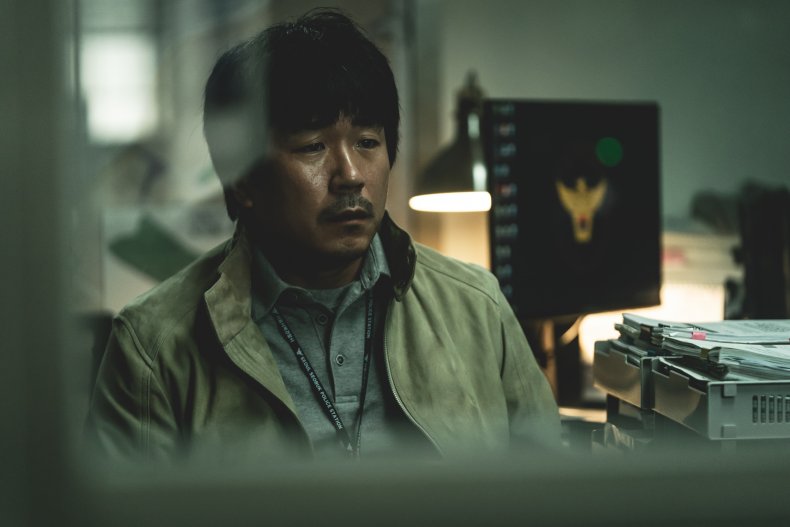 ...And a Bad Cop
Similar to the Squid Game's Front Man (who is a former cop like his brother Jun-ho), Kyeong-hoon's policeman partner is later revealed to be a secret supporter of another religious cult called the Arrowhead. The group assists the New Truth and the movement's causes.
The policeman's leak of information to the Arrowhead ignites a paradigm shift that turns the world upside down. After the first live demonstration, the corrupt cop publicly embraces his support for the religious cult, joining the New Truth followers in their collective bow towards the heavens.
The policeman's crossover parallels how the Front Man switches over to the dark side, going from being a desperate contestant trying to survive the contest to becoming the ringleader of the deadly games.
Hellbound is available to stream on Netflix.