Wi Ha-jun on Life After 'Squid Game' and His Dream Of Becoming the Next James Bond
Squid Game actor Wi Ha-jun, who plays detective Hwang Jun-ho, shot to international fame following the unprecedented global success of the engrossing Netflix K-drama.
Not only he has accumulated over 9 million followers on Instagram (including Dan Levy, Jimmy Fallon and French fashion designer Olivier Rousteing, the creative director of the luxury fashion house Balmain), he's wooed fans with his impeccable acting skills and built physique, recently showcased across the pages of Men's Health Korea.
But Wi's newfound fame may only just be the beginning of an even brighter future ahead, with his sights set on Hollywood—possibly even as the next James Bond.
Action Movies and Hollywood
Speaking to Newsweek in his first interview with a major U.S. publication, Wi explained: "If given the opportunity, I would definitely love to work in Hollywood."
Asked which Hollywood directors he'd love to work with most, the actor revealed: "It's too difficult to name one, as there are so many amazing directors.
"But I like action films, so I'd love to work with directors doing films like the 007, Mission Impossible as well as Fast and the Furious movies," Wi said.
Before the physicality involved with this genre becomes too demanding, the actor said: "I want to try as many action films as I can and showcase that type of acting.
"But it would also be nice to play to my rural island roots [Wi hails from Wando, an island/county in the South Jeolla province of South Korea] and try a role that requires using a bit of local dialect and accent."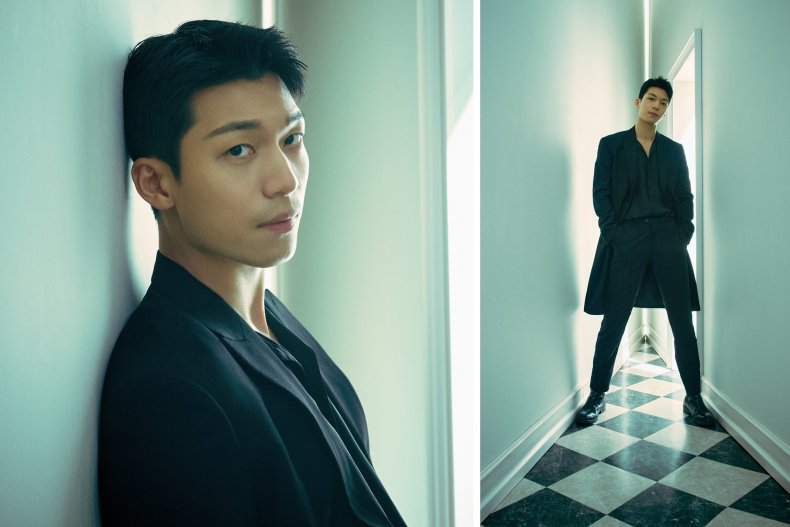 The Squid Game star has come a long way from his humble beginnings when he "didn't even have money for bus fare" as an aspiring actor. His career was marked at one point by countless failed auditions that led to "pervasive feelings of depression," the actor recalled.
Wi's life could have also taken another course, with his initial passion being dancing. "I've enjoyed dancing since I was in junior high. While I was in high school, some friends and I started a dance club and we used to perform at school events," the actor said.
His love for dance led him to consider becoming a K-pop idol. "Relishing the thrill of being on stage and receiving applause from an audience at the time, I did convince my parents to let me pursue a career within that field [the K-pop world] and we moved to Seoul for it.
"With the aim of just getting into a university that's somehow related to that field, I started attending an acting academy. And that's where I fell in love with acting and developed a real desire to excel at it," Wi recalled.
Wi Ha-jun on Life After Squid Game
Life has certainly not slowed down for Wi after Squid Game, with the actor currently shooting his next K-drama titled Bad and Crazy, which will air in December this year on South Korea's tvN television channel.
"I play this character called 'K' who is like this crazy alter ego of a detective in the series. It's a type of role that I've not tried before—comedic and cute but also full of wit," Wi explained.
Last week, Wi was also offered a lead role in another K-drama called Little Women, according to South Korea's Dispatch.
The upcoming series is from writer Jeong Seo-kyung (who co-wrote the screenplays for Park Chan-wook's BAFTA-winning film The Handmaiden, as well as Park's Thirst) and producer Kim Hee-won, who directed another hit Netflix K-drama—Vincenzo.
Wi's management agency told Dispatch the actor was "offered the lead role in Little Women" and they are "currently at the stage of reviewing" the offer.
Amid growing attention on him, how does Wi relax on his days off? "When I'm resting, I tend to just meet with friends to chat the day away. I don't have any specific hobbies at the moment, debating what I should pick up," the actor said.
Wi has found time to catch up on other K-dramas too. "I really enjoy the Netflix K-drama D.P. recently," the actor said. The series, released earlier this year in late August, explores the dark side of the Korean military.
"I've served in the army in a military police role [similar to the main characters in the series], so I could really relate to the show. I sympathized with the military deserters portrayed in the show and the reasons behind the difficult choices they had made, but also felt sadness for them.
"I thought it did a good job of unraveling these stories, which were heavy but also enlivened with several points of comic relief in the acting and direction of the series," the actor explained.
Squid Game fans will be glad to know Wi doesn't rule out the return of his policeman character in the series if there were to be a second season.
The finale of the series sees Jun-ho, who infiltrated the game facility disguised as a staff member, be shot down by the Front Man (the mysterious character who manages the deadly survival competition and is later revealed to be Jun-ho's brother), pushing him off a cliff.
"I believe the detective was not fatally wounded," since he was shot in the arm, said Wi, who's keen to see the backstory of Jun-ho and the Front Man unfold in a second series.
Squid Game is available to stream on Netflix now.