New Mom Trying To Get Baby To Sleep Blasted for Shouting at Dog Walkers
A woman has been criticized online after yelling at a couple of dog walkers having a conversation near her house at 7 p.m., with 87 percent of people voting on Mumsnet that she was being unreasonable.
In the post, user Stardust35 explains that she had recently been on an after dinner walk with her partner and their dog.
"We were just almost back to our house," she explains. "And another couple walking their dog were across the road. Both dogs were wagging their tails and wanted to meet so we crossed the road and the dogs were sniffing and saying hello."
She said that while chatting to the couple, "a woman whose house we were outside, opened the window and abruptly shouted 'can you be quiet I'm trying to get my baby to sleep. Can you go now please.'"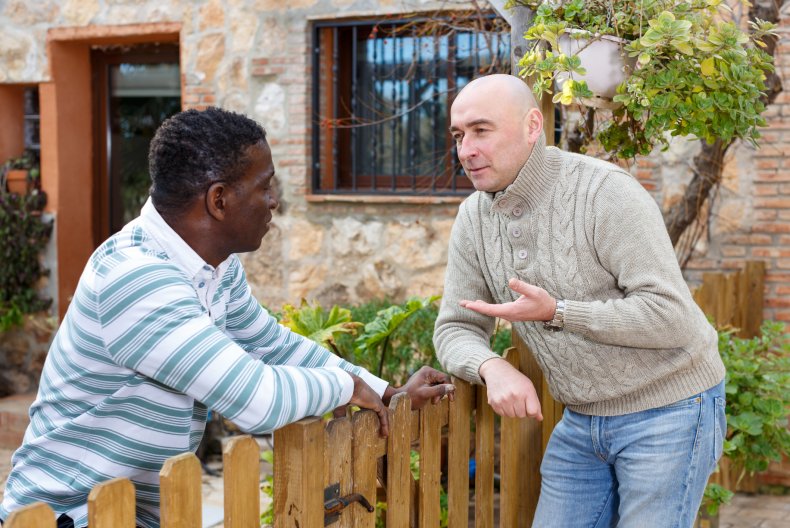 "Obviously we apologized and left straight away, but now I feel like an a**hole for disturbing her. It was about 7 p.m. and we were having a normal conversation. I understand we were outside her house. Maybe our voices were carrying more than I thought. Maybe she was just exhausted and stressed. Were we being unreasonable?" the user asked.
A 2019 survey by the Pew Research Center found that only 20 percent of 18-to-29 year old's say they know most of their neighbors, as opposed to 34 percent of people 65 and over.
Despite this low statistic, even in a world of digital communication, the study found that "neighborly interactions are still more likely to happen in person than via text or email." The survey found that Americans who know at least some of their neighbors are more than twice as likely to speak to them face-to-face several times a week (20 percent) than digitally (7 percent).
Interestingly, despite a sustained rise in crime in the U.S., "about two-thirds of Americans who know at least some of their neighbors (66 percent) would feel comfortable asking to leave a set of keys with them for emergencies." The survey found that there are differences in these attitudes according to race and ethnicity, "about seven-in-ten white adults hold this view (72 percent), compared with roughly half or more of Black and Hispanic adults (54 percent and 49 percent, respectively)."
The post gained over 160 replies, with the majority of Mumsnet users supporting the original poster. User MarchMolasses said: "You haven't done anything wrong. You were in the street talking to a neighbor. Wait till her DC start having meltdowns in public. I bet she won't apologize and say sorry will she?"
Although many users believed that the original poster hadn't done anything wrong, they also supported the new mother. User bellac11 wrote: "She was exhausted and stressed and once she thinks more carefully (or even posts here!!!), she'll realize she was unreasonable," while chillipenguin agreed: "Don't think anymore of it. Babies are stressful."