Lawyer Reveals Little-Known Hack To Get Brand New Pair of Nikes for Free
There's nothing like wearing a fresh pair of kicks, and also nothing worse than having to fork out a small fortune when they get scuffed and ripped.
But one woman, Erika Kullberg, has shared a little-known hack to TikTok, delving into the brand's warranty.
Kullberg revealed customers can get a new pair of sneakers—for free—up to two years after buying the original pair.
"What Nike doesn't want you to know about getting a free pair of shoes," she captioned the clip, shared last month, which has amassed a staggering 67 million views since being posted in November, and can be seen here.
In it she roleplays being a customer and a shop assistant, as she says: "Hi my shoe has a tear, can I get a new pair?"
Now pretending to be retail staff, she says: "You bought that almost two years ago, there's nothing we can do since it's been over 60 days."
She referenced the typical time-frame stores allow refunds and exchanges, usually if the item is in mint condition with a receipt.
"I'm not talking about the 60 day return policy, I've actually read your terms and I know that as long as it's been less than two years since the manufacture date (found here) it's covered under the warranty.
"And Nike will either give me a brand new pair or a gift card for the same value," she says, pointing to the date on the inside of the shoe.
In the roleplay, she gets a $100 gift card, as she claimed she's "a lawyer who reads the fine print."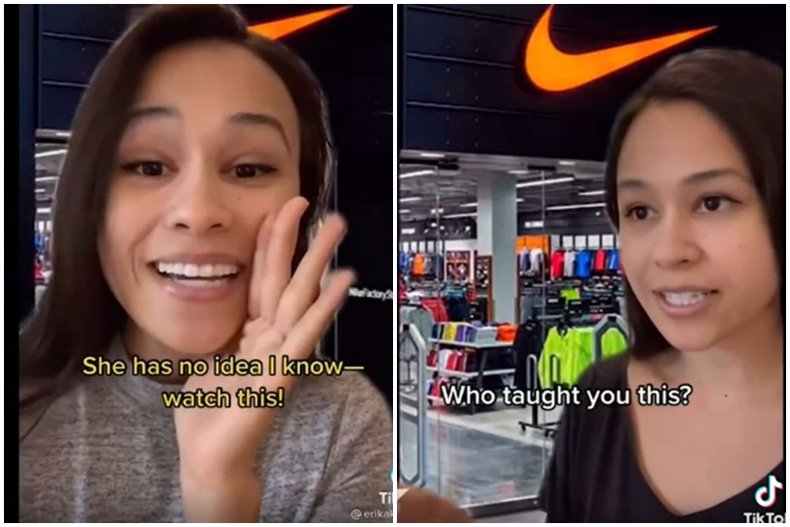 Kullberg told Newsweek: "People have loved the video. I've received many messages about how people have successfully used it to get a new pair of sneakers.
"Note that it's not just limited to sneakers—it also applies to apparel according to their website. It's limited to if the shoes or apparel develops a material or workmanship flaw, so this doesn't apply to normal wear and tear."
The brand's website backs up Kullberg's claims, although there are few conditions associated with a new pair of footwear, and the replacement policy doesn't seem to cover shoes that are simply worn and dirty.
It says: "We stand behind all of our shoes and gear. If your Nike shoes or apparel develop a material or workmanship flaw within two years of the manufacture date, we want to get you back in the game."
If you return a flawed pair within 60 days you'll get a full refund, the website states, but after that window—and before two years—you need to follow a few steps.
If ordered online you'll need to contact the brand directly, but if bought at a store or an authorized retailer, you'll need to head back to the shop where you bought them.
Nike stressed: "Some Nike products have specific written guarantees and/or warranties. In those cases, details and return information would be included on the label, hang tag, or warranty card that came with the item."
Fellow TikToker, Josh Rincon, also shared the tip to their own page, where they performed another shopper/staff roleplay.
"What Nike doesn't want you to know," he captioned the clip, which amassed 19 million views since being shared in October.
Footwear fans are in awe of the tip, with Valentine commenting on Kullberg's video, saying: "I worked at Nike and this is 100% true."
Chelsea Diaz joked: "Nike is going to re-write their entire fine print because of this."
Joro-kun added: "I can vouch for this. Got full price back on my KD9s after having them for 1.5 years even with the busted sole!"
Curious Thing commented: "This seems illegal."
While Nick wrote: "Who else going to goodwill looking for Nikes."
Newsweek reached out to Rincon and Nike for comment.