New Russian Su-57 Stealth Jets Deployed to Syria Despite Putin Promise of Drawdown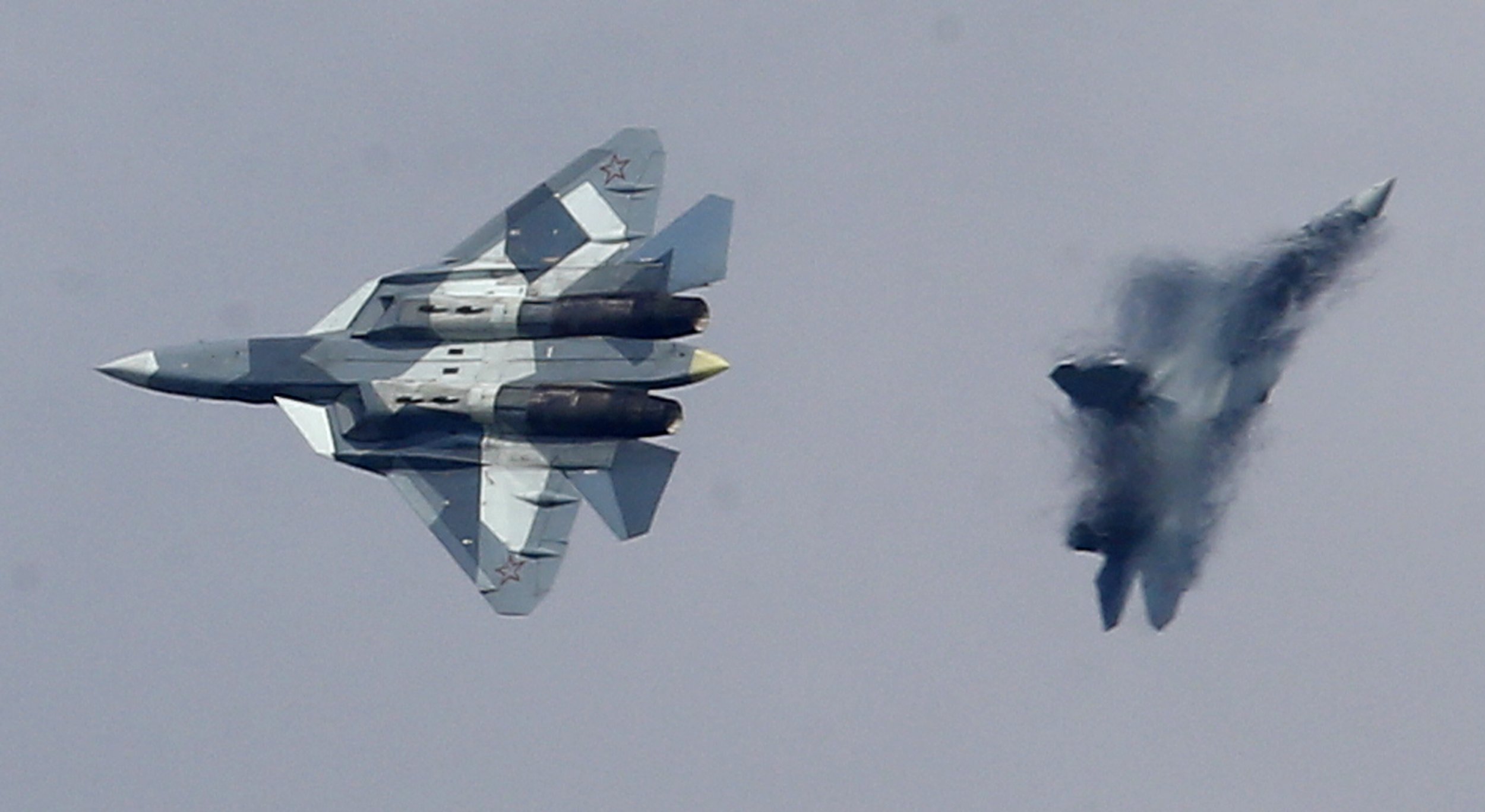 Russia has deployed its new advanced stealth fighter, the Su-57, to its Khmeimim air base in Syria.
The conflict offers Moscow the opportunity to battle-test its newest fighter despite Russian President Vladimir Putin's assertion last month that Russia would scale back its Syrian deployment.
The two Su-57 jets were filmed landing at a Russian air base on Syria's Mediterranean coast on Wednesday.
The fifth-generation fighter jets appeared in Syrian skies amid a renewal of violence in the seven-year war. Syrian government forces have been bombarding the rebel-held Damascus suburb of eastern Ghouta, killing hundreds of civilians and drawing international condemnation.
The jets' deployment came soon after a Russian ground-attack aircraft was shot down by Syrian rebels in Idlib province on February 3. The Russian pilot ejected from the aircraft but died soon afterward in a ground fight with militants trying to capture him.
The Su-57, also known as the T-50, has been designed to compete with the U.S. F-22 Raptor and F-35 Joint Strike Fighter aircraft.
"Not in keeping" with Russian drawdown
"The addition of fifth-generation fighters into Syria would certainly not be in keeping with Russia's announced force drawdown," said Eric Pahon, Defense Department spokesman, according to Military.com.
"We do not consider these jets to be a threat to our operations in Syria, and will continue to deconflict operations as necessary," he continued.
Russian-American cooperation in Syria has varied enormously in recent years. The two nations coordinated strikes against Islamic State militant group (ISIS) targets earlier in the war, but their support of different Syrian factions has brought them into direct conflict.
On February 7, a U.S. airstrike near the Syrian city of Deir Ezzor is reported to have killed dozens of Russians. The men were working for a Kremlin-linked Russian private military firm and fighting alongside Syrian government forces. Reuters reported that the total number of people killed in the strike could be as high as 300.
Russian and American jets have also intercepted each other over Syrian territory.
Douglas Barrie, a senior fellow for military aerospace at the International Institute for Strategic Studies in London, told the Guardian, "There is some operational merit in doing this, but there's also a publicity element," suggesting Russia might be showing off its new technology to potential buyers, such as India.
How involved the jets will be in day-to-day operations remains unclear. On February 8, deputy defence minister Yuriy Borisov said the military was ″beginning combat trials″ of the Su-57.
If they are used in combat, it could be risky, suggested Ruslan Pukhov, a defense analyst and director of the Moscow-based Centre for Analysis of Strategies and Technologies.
"If I were the minister of defence, I probably wouldn't do it," he told the Guardian. "If you lose one of these planes, it could make for big problems. And what happens if the technology falls into the wrong hands?"