New Witness Comes Forward Claiming She Saw Brett Kavanaugh Spike Drinks During Parties
Michael Avenatti says a second woman has come forward willing to testify that she saw Brett Kavanaugh spike drinks at high school parties to make girls "less likely to say no."
The attorney said the claim backs up previous allegations made by his client, Julie Swetnick, who said the Supreme Court nominee was present at parties where girls' drinks were spiked so they could be "gang raped" in a room by a "'train' of numerous boys."
In a letter to the Senate Judiciary Committee, tweeted out by Avenatti, the attorney urged senators to arrange an FBI interview with Swetnick to testify against Kavanaugh, as well as the redacted second witness.
"These women deserve to be heard and interviewed by the FBI before any vote on the nomination," Avenatti tweeted.
Kavanaugh has vehemently denied allegations against him, including a 1982 sexual assault claim by Christine Blasey Ford.
Avenatti had been critical of President Donald Trump well before Ford's allegations against his Supreme Court nominee. The California lawyer represented adult film star Stormy Daniels against Trump and the president's former attorney Michael Cohen over a non-disclosure agreement meant to keep Daniels quiet about an alleged affair with the president in 2006.
In her declaration, the second witness said she met Kavanaugh and his friend Mark Judge several times at house parties in the Washington, D.C. area between 1980-82. She said she knew them both very well because they had a lot of mutual friends and would socialize with the same people.
She claimed that during these parties, Kavanaugh and Judge would "drink excessively and be overly aggressive and verbally abusive" toward girls, including engaging in inappropriate sexual conduct.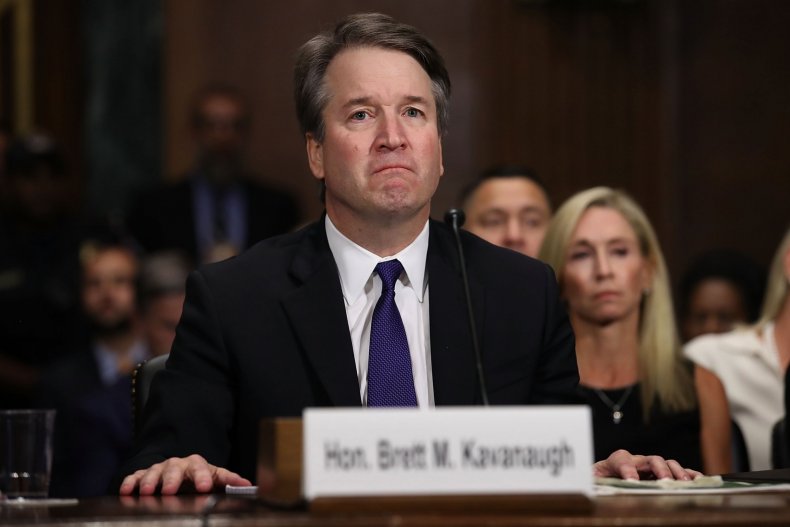 "I have seen Brett Kavanaugh's recent interview on Fox News regarding his alleged 'choir boy' existence during his high school years and lack of sexual activity," the woman said. "The claim is absolutely false and a lie based on what I observed firsthand. It is also laughable."
The woman claimed she personally witnessed Kavanaugh and others spike punch at parties with Quaaludes or alcohol. "I understood this was being done for the purpose of making girls more likely to engage in sexual acts and less likely to say 'No'," she wrote.
She added that she is willing and able to speak with the FBI about Kavanaugh's alleged misconduct if asked to do so.
The witness claims she is aware of other inappropriate conduct by Kavanaugh, but does not wish to discuss it as part of her declaration.
Following her original statement, Swetnick later said she could not be sure that Kavanaugh had spiked any girls' drinks during the high school parties, but did see him and his friends "giving red cups to quite a few girls."
"I don't know what he did. But I saw him by them, yes," she told Kate Snow during an interview with NBC News.
Kavanaugh denied the claims made by Swetnick, describing them as "ridiculous and from the Twilight Zone."
Another woman, Deborah Ramirez, has also accused Kavanaugh of thrusting his genitals in her face at a house party in the 1980s.