With his administration already facing an investigation over claims it withheld data on COVID-related nursing home deaths, New York governor Andrew Cuomo's fight for his political future got even tougher after a third woman accused him of making unwanted sexual advances.
Cuomo, 63, who had brandished a national image that he was leading his state through the coronavirus pandemic, is now under scrutiny from the Democratic Party for allegedly hiding the real number of COVID-related deaths in state care homes.
New York state attorney general, Letitia James, reported that Cuomo's administration had undercounted COVID-related deaths of state nursing home residents by the thousands.
The New York Post reported that one of Cuomo's aides, Melissa DeRosa, admitted underreporting the death tolls to prevent the Justice Department (DOJ) from going after the governor's administration.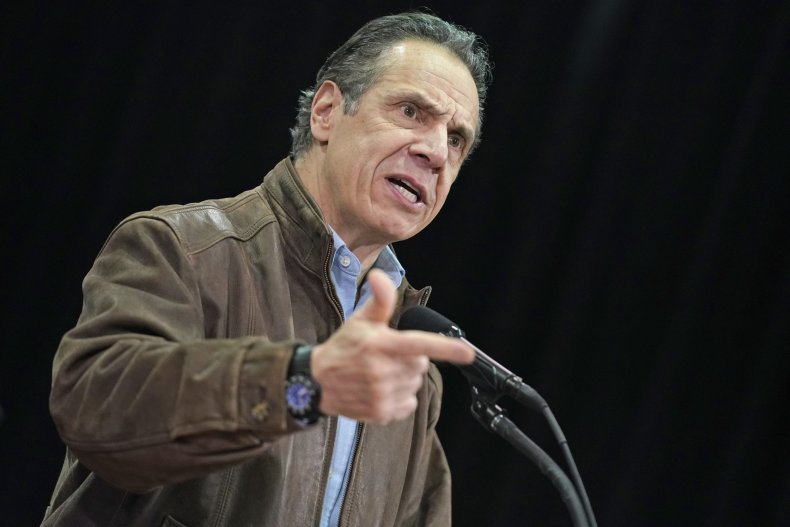 Meanwhile, Democratic Assemblyman Ron Kim, who has spearheaded the nursing homes claims and has called for Cuomo's resignation, told CNN that the governor called him and said he would threaten his career if he did not "cover up" what the aide had said.
Kim's accusation stemmed from an executive action Cuomo took in which he ordered "no resident shall be denied re-admission or admission to the NH [nursing homes] solely based on a confirmed or suspected diagnosis of COVID-19."
After this order, about 90,000 COVID patients were brought into nursing homes potentially contributing to the rapid spread of infection.
Instead of reversing this decision, Cuomo reportedly agreed to demands of the lobbying group for the nursing home industry, the Greater New York Hospital Association, to limit the prospect of malpractice suits.
The pressure on the governor mounted when three women in quick succession made sexual harassment claims.
Former aide Lindsey Boylan, 36, first accused the governor of sexual harassment in a tweet last December and last Friday gave further details in a post on the website Medium. She recounted how while working for the governor, she had faced unwanted sexual advances.
These allegedly included being asked to play "strip poker" while on a state-owned plane in 2017 and on another occasion, he gave her an unwanted kiss on the lips as she left the office.
She said in her post that Cuomo had "created a culture within his administration where sexual harassment and bullying is so pervasive that it is not only condoned but expected."
Reinforcing those claims was Charlotte Bennett, 25, a former Cuomo aide, who said that the governor made her uncomfortable with questions about her sex life and whether she would consider dating an older man.
"I understood that the governor wanted to sleep with me, and felt horribly uncomfortable and scared," Bennett told The New York Times.
Another woman, Anna Ruch, 33, also told The Times of alleged sexual advances. She said that she had met the governor at a wedding in September 2019 where he put his hand on her exposed lower back and she pulled away. "I was so confused and shocked and embarrassed," she told the paper.
After the latest allegations by Ruch, Rep. Kathleen Rice became the first Democrat in New York's congressional delegation to call for Cuomo to step down, tweeting: "The time has come. The governor must resign."
Newsweek has contacted Cuomo's office for comment. After Boylan's first complaint about his behavior, the governor said "it's just not true," and his office repeated the denial after her post on Medium.
After Bennett's allegations, Cuomo said in a statement he had never made advances towards her "nor did I ever intend to act in any way that was inappropriate."
On Sunday, without addressing specific claims, the governor apologized for any behavior that offended anyone, "I acknowledge some of the things I have said have been misinterpreted as an unwanted flirtation. To the extent anyone felt that way, I am truly sorry about that," he said in a statement.