Delivery Drivers Working During New York Floods Encapsulates Capitalism and Climate Change
Footage of delivery drivers working through flooding and severe weather in New York City has been criticised by many, who are arguing that it highlights issues with capitalism and climate change.
The remnants of Hurricane Ida, now a tropical storm, hit New York City on Wednesday evening, bringing high winds, heavy rains, flooding and a tornado warning, prompting people to stay indoors as subway stations and roads were flooded.
In reaction to the severe weather, New York City Mayor Bill de Blasio, who had already urged residents to remain indoors during the storm, issued a state of emergency for the region at just before midnight.
De Blasio urged New Yorkers to: "Stay off the streets tonight and let our first responders and emergency services get their work done. If you're thinking of going outside, don't. Stay off the subways. Stay off the roads. Don't drive into these heavy waters ... Stay inside."
However, a clip shared on Twitter on Wednesday evening appeared to show a driver for a food ordering company continuing to make a delivery during the extreme weather, with the footage seemingly showing them wading through a flooded road carrying a bag of food and dragging their bicycle.
The footage caused outrage on social media, with several Twitter users arguing that the clip highlighted the precarious working conditions for drivers employed with delivery companies.
High-profile Democratic New York City Representative Alexandria Ocasio-Cortez was one of many to criticize New Yorkers ordering deliveries during the storm, writing: "If it's too dangerous for you, it's too dangerous for them. Raid your cabinets or ask a neighbor for help."
She added: "Please do not be the person who orders delivery during a flash flood that the NWS has deemed a dangerous and life-threatening situation. It puts vulnerable people at risk."
The representative's comments were echoed by New York City Council member Carlina Rivera, who wrote: "If it's too dangerous for you, it's too dangerous for them. Protect our #Deliveristas — do not order takeout tonight."
Podcaster Cody Johnson reacted to the clip by tweeting: "Nice dystopia you got there. Be a shame if someone were to highlight it," while journalist Jeet Heer wrote: "File under: 'It is easier to imagine an end to the world than an end to capitalism.'"
Meanwhile, author Jathan Sadowski tweeted in reaction to the video: "The divide between those who serve and those who are served will only exacerbate in lockstep with climate change."
Extreme weather conditions have become more common in recent years, and a graph below provided on Thursday by Statista shows the cost of damage caused by weather-related disasters in the U.S. since 2001, with the period between 2001 to 2010 costing $1.67 trillion and the years of 2011-2020 costing $2.48 trillion.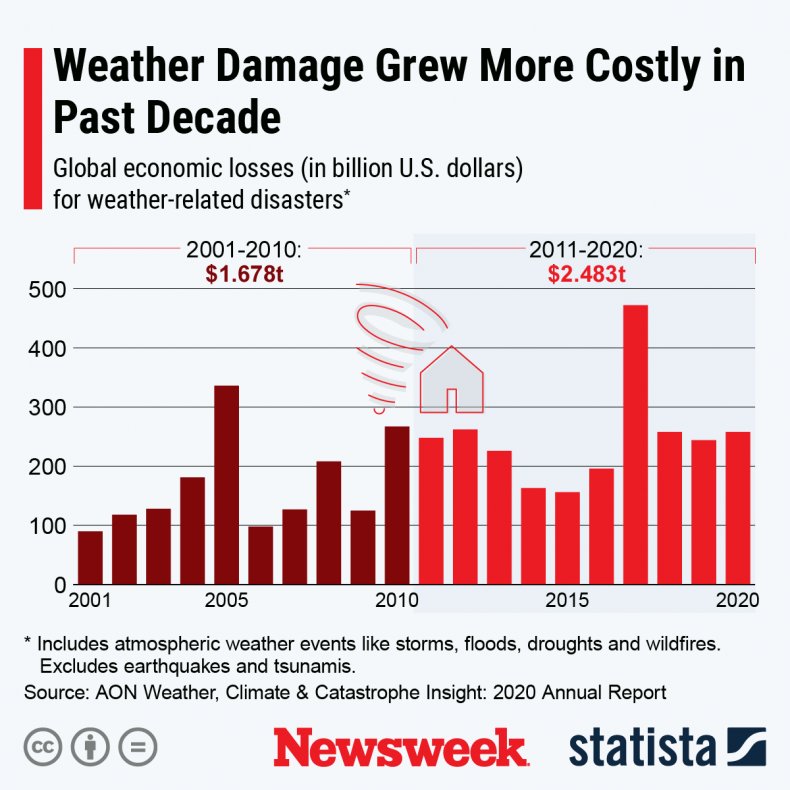 Polls undertaken in 2020 by researchers at Yale university found that 78 percent of people in New York believe that global warming is occurring and more than half said that the state's governor should do more to tackle it.
Several videos were posted on social media on Wednesday evening showing the devastation caused by Storm Ida, as basements and apartments became flooded in homes in the region.
Meanwhile, New York City's police department confirmed to NBC New York on Thursday morning that three people died in Queens during the flooding overnight.
They confirmed that a man, 22, and woman, 45, were found dead in the basement of their home in Jamaica, Queens, on Wednesday evening, while another woman, 48, was discovered deceased at her apartment at Grand Central Parkway near Horace Harding Expressway.
Another man was also found dead in his basement in Brooklyn on Thursday morning.