Protesters Shout at New York Diners at Taqueria 'Owned by F***ing White Men'
With emotions running high following the guilty verdicts of former police officer Derek Chauvin for the killing of George Floyd, video shared on social media shows a group of protesters in New York City heckling diners by chanting slogans such as "we don't want you here."
New York was among the major metropolitan areas that had braced for possible unrest, especially if the Chauvin verdict had gone the other way in the case that lit the fuse for nationwide protests and spurred a debate about racial inequality.
Following the convictions on Tuesday night, demonstrations were planned all throughout the city, especially in downtown Brooklyn and midtown Manhattan, CBS 1 News reported.
People shared on social media images of a large gathering in solidarity at Barclays Center in Brooklyn with many wearing "Black Lives Matter" (BLM) shirts and carrying signs.
New York journalist Nick Pinto tweeted updates of a march by the group NYC Shut it Down, which campaigns against police racism. Pinto described how protesters moved eastwards from the Barclays building to Vanderbilt Avenue, where they paused outside of Maya Taqueria "to castigate the outdoor diners."
Author Andy Ngô shared a video in which he describes the crowd as "BLM protesters." The video shows a man leading a call-and-response chant from what appears to be a platform outside a taqueria on Tuesday night.
The crowd repeats his chants as he starts with, "stay the f--- out of New York!" before going on to say "we don't want you here," and, "we don't want your f***ing money."
He then shouts, "we don't want your f***ing taquerias...owned by f***ing white men." He repeats a shout from the crowd of supporters , chanting, "tip 30 percent," a quip which prompted laughter and cheering from some in the crowd.
Newsweek has contacted NYC Shut it Down for comment. Maya Taqueria declined to comment when contacted by Newsweek.
Warning, the video below contains strong language.
As of Wednesday morning, the video by Eric Thomas had been viewed nearly 500,000 times. He tweeted other clips of a group crossing Manhattan Bridge shouting "one solution, revolution." Another video showed a crowd chanting "quit your job" as they passed by a group of New York Police Department (NYPD) officers.
Meanwhile, in Minneapolis, crowds cheered outside the courthouse where Chauvin was convicted of all three charges he faced in connection with Floyd's death: second-degree unintentional murder, third-degree murder, and second-degree manslaughter.
People also gathered outside Cup Foods, where Chauvin knelt on Floyd for nine minutes and 29 seconds, a place which is dubbed by demonstrators as "George Floyd Square."
Because the charges stem from a single act, under Minnesota law, Chauvin will be sentenced for the most serious charge, second-degree unintentional murder, the Minneapolis Star Tribune newspaper reported.
It carries a maximum sentence of 40 years but the "presumptive sentence" for this charge is 12.5 years, the paper reported, although prosecutors are likely to seek an "aggravated sentence" given the nature of the crime.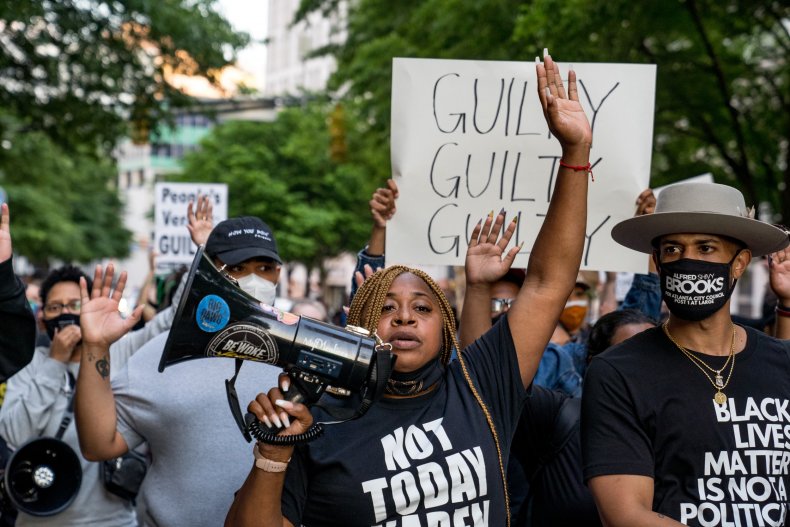 Update 4/21/21, 9:10 a.m. ET: The headline of this article has been updated for clarity. This story was later updated to include a "no comment" response from Maya Taqueria.