Chicago Vaccine Mandate Might Follow New York: 'We're Interested in This'
New York City's move to mandate COVID-19 vaccine proof for visitors to indoor venues is being watched closely by Chicago.
New York Mayor Bill de Blasio announced Tuesday that starting in August, the Key to NYC Pass scheme will require people wanting to go inside restaurants, gyms and theaters to prove that they have had at least one jab against the disease.
Coming fully into effect September 13, people will need to show proof of vaccination via the NYC Covid Safe app, the state's Excelsior app or the Centers for Disease Control's (CDC) paper vaccine card.
While the policy has got a mixed response from New York businesses, Chicago will be looking at how well the scheme worked, the city's Public Health Commissioner Dr. Allison Arwady has said.
"Certainly we're interested in this. We'll be watching to see how this plays out but we don't have a current plan to do something like that at the city level," she said, according to the Chicago Sun-Times.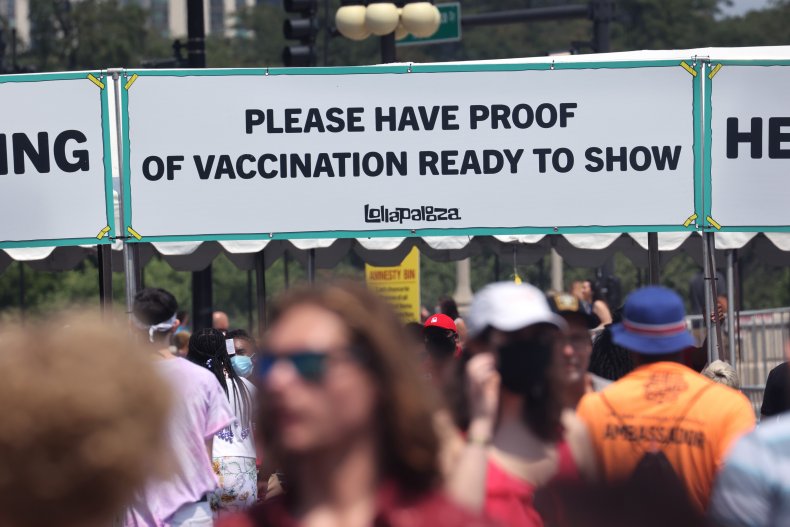 A number of Chicago businesses have put in place their own vaccination requirements for staff. Chicago's federal U.S. District Court and bankruptcy court have said staff and contractors had until August 16 to prove they had been vaccinated.
Just over 58 percent of people in Chicago have received at least one COVID jab as of Monday, according to statistics from the city government which is pondering its next move to lower new infections.
Arwady said her city is working with the Illinois Department of Public Health on developing "a more standard way to show proof of vaccination," suggesting Chicago would not go down the same route as New York, although it will watch how effectively it is implemented.
"It's a really big decision to try to impose something like that on an entire class of businesses," she told a City Hall news conference Tuesday.
Meanwhile, Chicago Mayor Lori Lightfoot faced criticism for allowing the music festival Lollapalooza, attended by hundreds of thousands of people downtown, to go ahead as the city averages more than 200 new COVID cases per day.
Dr. Emily Landon, the executive medical director of infection prevention and control at the University of Chicago Medicine, warned that the city was risking a major spike in cases.
She told NBC Chicago that the real concern was not that young people came into the city and got COVID at this event, but that "the real problem is them taking it back to places that have very low vaccination rates."
However, Lightfoot dismissed calls for the festival to be canceled, telling reporters, "we've been able to open but do it with care because of the vaccinations."
Newsweek has contacted the city of Chicago for comment.