New York Runway Show Unveils Fashion Designed for the Disability Community
As members of the fashion community descend on New York City this week, one group of models hopes the trip down the runway ahead of the official start to New York Fashion Week (NYFW) will create reverberations beyond trendsetting looks for next year's spring and summer seasons.
Thursday marks the debut of Double Take, a fashion show featuring clothing designed with the needs of the disability community in mind. This kind of clothing is known as adaptive fashion. Pieces of adaptive clothing feature specific design elements, such as magnetic fasteners in the place of buttons, which are added to help individuals with limited dexterity.
The outfits on display at Double Take will be modeled in part by people with spinal muscular atrophy (SMA), a hereditary disease that impacts the body's nervous system. The outfits were created by the style accessibility nonprofit Open Style Lab in collaboration with members of the SMA community. Fifteen people, including 11 who have SMA and four other SMA advocates, will model the clothing.
Participants say the show aspires to raise awareness about what adaptive fashion is and what it could be, with an eventual goal of expanding the volume and style options of manufactured adaptive clothing.
"Adaptive fashion is all about listening to this community that is often, unfortunately, not very listened to," Open Style Lab fellow Jenna Dewar told Newsweek.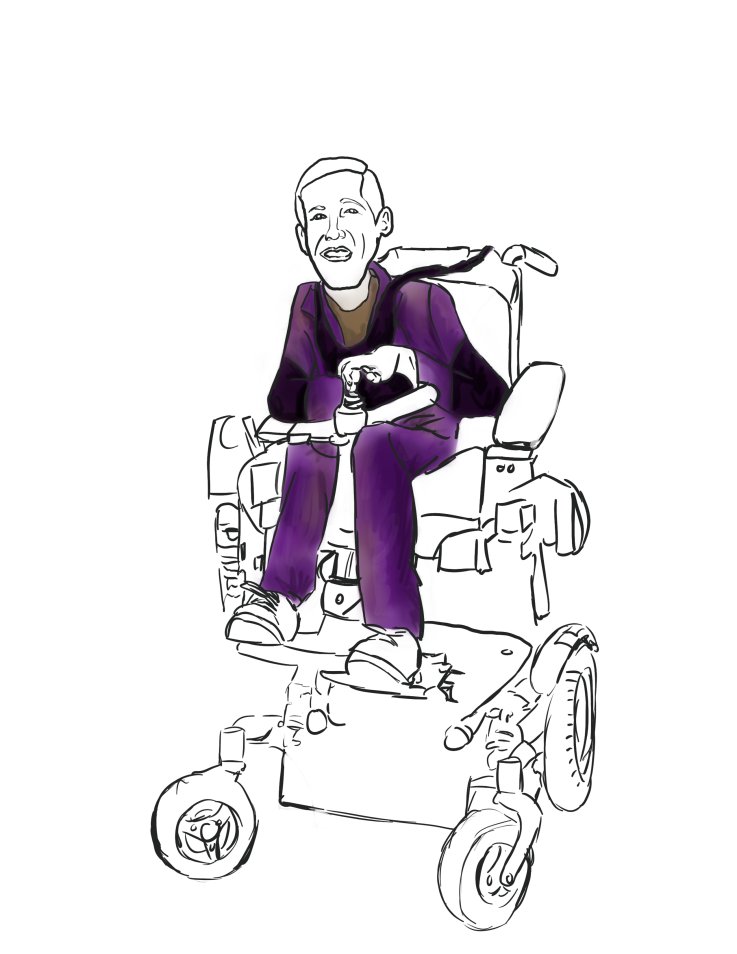 The above sketch shows the outfit that will be modeled at Double Take by Shane Burcaw, who has Type 2 SMA.
Andrea Saieh and Jenna Dewar, Open Style Lab 2022 fellows
Adaptive fashion is "looking to serve the needs of everyone—not just a specific group of people," said Andrea Saieh, another Open Style Lab fellow. Both Saieh and Dewar helped adapt the outfits that will be modeled at the show.
Double Take is not an official NYFW show but is partnered with IMG, the company organizing NYFW, and will be featured on the larger event's digital and social media channels. Double Take is sponsored by the biotech company Genentech through its SMA My Way program.
The idea for Double Take germinated "several months ago," according to Michael Dunn, Genentech's senior marketing director.
"The goal here was really to kind of kick off what will be Fashion Week with even more inclusivity, and encourage the fashion industry to take a second look at the way individuals are represented in the fashion world and ensure that we're highlighting the individuals with disabilities through fashion," Dunn said.
That goal of inspiring a "second look" ties into the show's name.
"We want people to do a double take—but not because of the individuals that have disabilities," he said. "The double meaning behind the name 'Double Take' is that we hope everyone does a double take and sees the style and the individuality of each participant in the show."
There has been a gradual increase in the inclusion of adaptive clothing at fashion events in London, Australia and even during NYFW itself over the last few years, but SMA advocates say accessibility remains limited. James Ian, a singer/songwriter with Type 3 SMA who will model a suit at Double Take, told Newsweek some existing adaptive clothing options take a dive in quality and stylistic appeal when compared with similar products that don't feature adaptive design elements.
"The important thing is to make adaptive fashion be wanted by everyone, to be aspirational," according to Saieh, who said she hopes Double Take "inspires young designers."
Raising awareness about the essence of adaptive clothing was also identified by the show's designers and models as key.
"I don't think people from the non-disabled community are very aware of adaptive clothing," Ian said. "I think there's still a lot of ground to cover in terms of educating the public, and then also just having enough variation that would appeal to lots of buyers."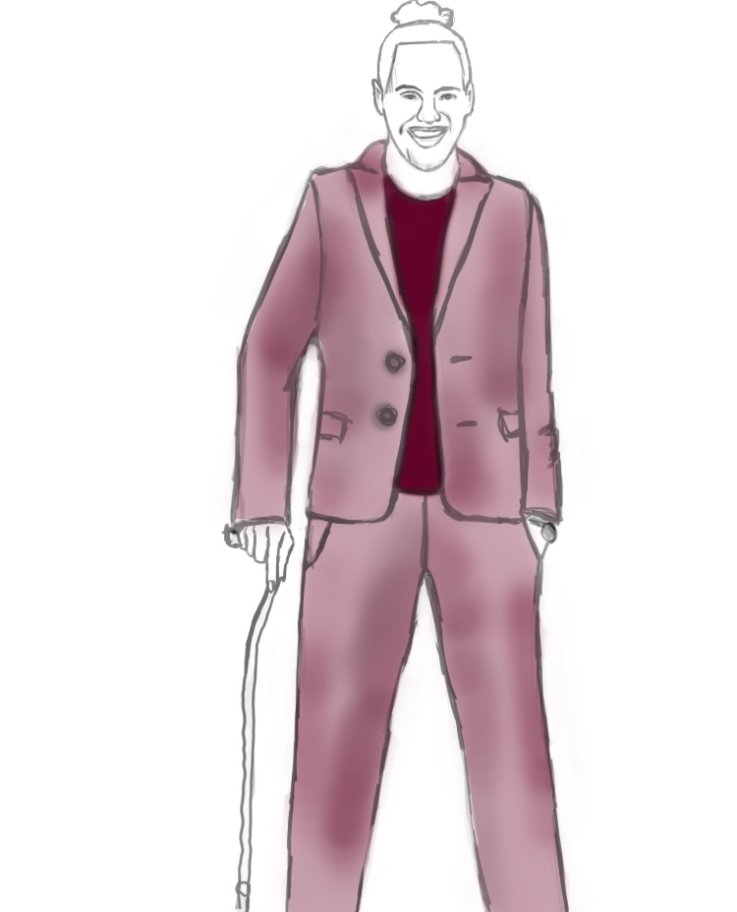 James Ian, a Double Take participant, will model the suit shown in the above sketch during Thursday's fashion show.
Andrea Saieh and Jenna Dewar, Open Style Lab 2022 fellows
Ian became involved with Double Take after creating the music video for his song "SPACES," another SMA My Way initiative that featured members of the SMA community. Ian said the clothing he wore during that video shoot inspired a larger conversation about fashion's role in self-expression and its potential to illuminate people with SMA.
The suit adapted for Ian will be "a really beautiful color pink," he said, with an embroidered wolf on the back. Ian said Saieh and Dewar suggested incorporating the wolf based on his love for the animal. The adaptive component of Ian's suit comes in the form of magnetic pants closures, which are intended to eliminate the struggles he has with clothes fasteners due to the limited dexterity of some of his fingers.
Saieh described Ian as "a rock star" and said she and Dewar "wanted to make sure he felt like one" while modeling the suit. The outfit's magnetic closures are important, she said, but the piece's style and personal importance to Ian also matter.
"I do believe that's something that's extremely important, and that a lot of people maybe don't think about when they talk about adaptive fashion: The style and the identity and that nonverbal communication that fashion gives each person," Saieh said. "That's why Jenna and I talked with James, about how he loves wolves and everything, and we made sure to include some wolves and make it very rock star."
In addition to Ian's suit, adaptive gowns will be among the styles modeled on Thursday. Dewar told Newsweek the show's portfolio will feature "some really exciting different styles" with "a lot of color." She said they are hopeful the designs will be attention-grabbing and will demonstrate that adaptive fashion "is amazing and actually provides so much more opportunities for innovation, and exciting things for the fashion world."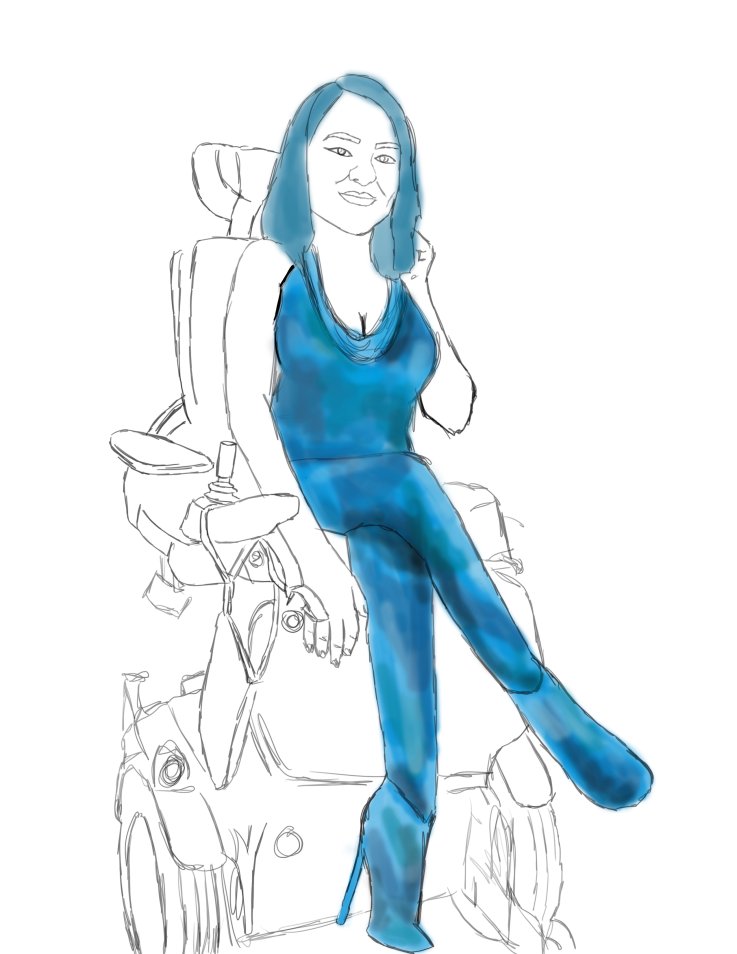 The above sketch shows the outfit that will be modeled at Double Take by Sawsan Zakaria, an actress and model who has Type 2 SMA.
Andrea Saieh and Jenna Dewar, Open Style Lab 2022 fellows
Ian said manufacturers have thus far largely bypassed opportunities to embrace the potential of the adaptive clothing market. Some major brands—Ian mentioned Tommy Hilfiger and Nike as examples—do sell an assortment of adaptive products. But he said there still "needs to be a lot more variety" to meet style and volume demands in the U.S., where one in four adults have a disability.
"They're really missing out on not making clothing for us, because there's a market there and we desperately want to be able to have those options," Ian said.
Looking beyond Thursday's show, Dunn said he hopes Double Take will have "an enduring effect" on the future of representation in fashion at all levels of the industry, a goal Dewar, Saieh and Ian said they share.
Ian said he hopes there will be "some continuation" of the idea behind Double Take for participants and that he wants the show to "uplift" members of the SMA community by demonstrating "their uniqueness, their individuality, their style."
"The SMA community has, time and time again, shown how talented it is to myself, to the world," he said. "I just really want the world to take notice of that and see that, and really utilize our talents and our creativity."
Double Take starts at 10 a.m. ET at 608 5th Avenue in Manhattan. The event will stream live on the YouTube channel of Shane and Hannah Burcaw, who will be modeling outfits in the show.