New York COVID Vaccine Sign Up Details and How to Book an Appointment
COVID vaccines are being made available to residents of New York at state vaccination sites, pharmacies, hospitals and health departments, but supply is limited. Here's how to check if you're eligible and how to book an appointment.
New York vaccine tracker and schedule
People with at least one vaccine dose: 3,033,922 as of March 2 according to New York State Health Department.
Percentage of population with at least one dose: 15.2 percent as of March 2 according to New York State Health Department.
People with completed vaccine series (two doses): 1,664,423 as of March 2 according to New York State Health Department.
Percentage of population with completed vaccine series: 8.3 percent as of March 2 according to New York State Health Department.
There are three COVID vaccines currently authorized for use in the state and available at no cost, the first is made by Pfizer/BioNTech, the second is made by Moderna and the third is made by Janssen Pharmaceuticals/Johnson & Johnson.
Governor Andrew Cuomo said on February 25 roughly 10 million New York residents were eligible for a COVID vaccine.
On February 25, Gov. Cuomo announced that the state's health care distribution sites had administered 91 percent of first doses received of those so far delivered.
It was announced last Monday that expanded guidelines for visitation of residents in nursing home facilities would begin on February 26. The full guidance on the state's nursing homes was published online here.
The New York State Clinical Advisory Task Force unanimously recommended use of JJohnson & Johnson's COVID-19 vaccine in New York State on March 1 after it was granted emergency use authorization (EUA) by the FDA's advisory committee.
"New York expects to receive approximately 164,800 doses of the Johnson & Johnson vaccine this week, pending final FDA authorization," a media release said.
"The added doses will supplement New York State's expected Week 12 supply of 422,780 first doses and 290,500 second doses from Pfizer and Moderna, for a total of approximately 878,080 doses," marking the state's highest weekly vaccine allocation.
Who is eligible for a vaccine in New York?
The vaccination program was expanded on Sunday to enable people with comorbidities and underlying conditions to use the Am I Eligible screening tool to schedule appointments.
Conditions include:
cancer
chronic kidney disease
heart issues
pulmonary disease
liver disease
sickle cell disease
severe obesity
diabetes.
The full list of conditions is available on the New York State Department of Health website and is subject to change.
People can prove their eligibility using a doctor's letter, or medical information evidencing comorbidity, or a signed certification.
Previously, the only groups eligible were doctors, nurses and health care workers, people age 65 and over, first responders, teachers, public transit workers, grocery store workers and public safety workers.
How to book a vaccine in New York
A site called "Am I Eligible" is currently being used to determine eligibility and schedule appointments at all New York State-based vaccination sites. However, the successful completion of the app's form does not guarantee access to a vaccine.
To obtain a vaccination via a state-operated site, residents have been told the site is the quickest way to book an appointment, however people are also able to contact the New York State COVID-19 Vaccination Hotline at 1-833-NYS-4-VAX (1-833-697-4829).
Once an appointment has been scheduled, residents will receive a confirmation email and barcode that needs to be brought to the site. After confirmation, residents are asked to complete a form online, and they will be given an official submission ID.
Residents need to bring a valid form of proof of eligibility. This can include an employee ID card, a letter from an employer, pay stub or a driver's license or passport. Insurance information will be required but it's for "administrative use only," officials said.
An appointment to get the second dose of the vaccine will be scheduled automatically when residents receive their first vaccine dose. They will take place at the same site, roughly three weeks later. Residents will be given a medical confirmation card.
This is a list of New York State-operated vaccination sites:
Aqueduct Racetrack - Racing Hall, 110-00 Rockaway Blvd, South Ozone Park, NY 11420
Dome Arena (DBA Roxbury Dome Partners LLC), 2695 East Henrietta Road, Rochester, NY 14467
Javits Center, 429 11th Avenue, New York, NY 10018
Jones Beach - Field 3, 1 Ocean Pkwy, Wantagh, NY 11793
Plattsburgh International Airport - Connecticut Building, 213 Connecticut Rd, Plattsburgh, NY 12903
State Fair Expo Center: NYS Fairgrounds, 581 State Fair Blvd Syracuse, NY 13209
SUNY Albany, 1400 Washington Ave Albany NY 12222
SUNY Binghamton, 10 Gannett Drive, Johnson City, NY 13790
SUNY at Buffalo South Campus - Harriman Hall, 3435 Main St., Buffalo, NY 14214
SUNY Polytechnic Institute - Wildcat Field House, 880 Wildcat Drive, Utica, NY, 13502
SUNY Potsdam Field House, 44 Pierrepont Ave, Potsdam, NY 13676
SUNY Stony Brook, 100 Nichols Rd, Stony Brook, NY 11794
Westchester County Center, 198 Central Avenue, White Plains, NY 10606
As of last Tuesday, appointments were booked through April 16 at state-run mass vaccinations sites, with the exceptions of:
New York State Fair - Booked through March 16
SUNY Potsdam - Booked through April 1
Rochester Dome - Booked through April 4
SUNY Stony Brook - Booked through April 13
The New York state government is also providing doses to select pharmacies. Under the federal program, employees of CVS, Walgreens and select pharmacies will vaccinate residents and staff in long-term care facilities, including nursing homes.
From the week commencing February 8, COVID vaccines will be available for the wider public at CVS, Walgreens in New York State, and Walgreens, Rite Aid, and Costco in New York City according to the CDC.
CVS said the supply is limited, with 20,600 doses available at 32 pharmacy locations. Patients are asked to register in advance via CVS.com, the retailer's app or by calling (800) 746-7287. Walk-in vaccinations without appointments will not be provided.
The CVS locations involved will include Bethpage, Clinton, Cooperstown, Eastchester, Glenville, Hudson Falls, Kingston, Mattituck, Owego, Queensbury, Saratoga Springs and Stony Point, Hamburg, Batavia and Westfield.
Walgreens said a limited number of COVID-19 vaccinations will be available in stores in New York from February 12.
It said: "Inventory is still limited and available to eligible individuals by appointment only at select Walgreens stores. Appointments can be made through Walgreens updated appointment scheduler at Walgreens.com/ScheduleVaccine when vaccine becomes available. Walgreens will not provide vaccinations on a walk-in basis at this time."
The New York-based chain Kinney Drugs is administrating vaccines to residents aged 65 and over, and appointments at locations can be made through its website.
Nine Wegmans pharmacies in the state have received a limited supply of the vaccines intended for residents aged 75 and older. Participating pharmacies include locations in Syracuse, Rochester and Buffalo.
Pharmacies in supermarket chains Price Chopper and Market 32 will also have access to doses of the Moderna vaccine for those aged 65 and older.
Pop-up vaccination sites have also been set up, with locations featured on the New York State Health Department website.
Eligible residents of New York City can make a vaccine appointment via the NYC Health + Hospitals website, or by calling a hotline number: 1-877-VAX-4NYC.
As reported by The New York Times, an Airbnb software engineer Huge Ma, 31, has created a website called TurboVax that collates vaccine information from city and state New York vaccination systems, and shares availability to Twitter in real-time.
Vaccine rollout across the U.S.
As of March 2, the U.S. had recorded over 28.4 million cases of COVID, with the disease linked to over 503,000 U.S. deaths, according to the CDC.
A total of 102,353,940 vaccines have been delivered to states, with 78,631,601 total doses administered. The CDC said 51,755,447 people have been given one or more dose, while 26,162,122 people had now received two doses.
The Pfizer/BioNTech and Moderna vaccines both require two shots to be effective. It is still unclear how long immunity after vaccination lasts, health officials have said.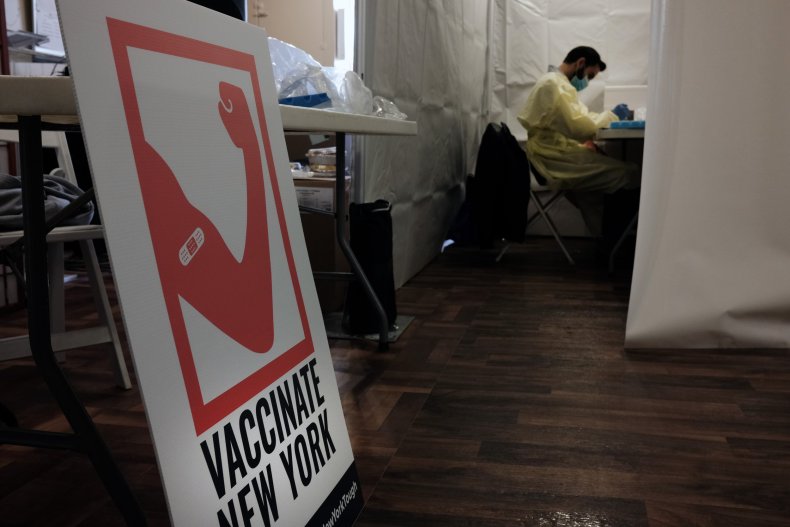 Updated March 2, 2021.