Newsmax Breaks Viewership Record After Conservatives Turn Against Fox News Over Election Coverage
Capitalizing on growing right-wing discontent with Fox News, Newsmax, a conservative-leaning news network, has recently broken a 1 million-person viewership mark for one of its programs while attracting well-known Republican to speak on its airwaves.
In a tweet published Friday evening, the Newsmax Twitter account announced, that its Thursday installment of Greg Kelly Reports averaged 1.06 million viewers at 7 p.m. that night while Fox News averaged 2.06 million views at the same hour.
The talk news program, hosted by a former Marine Corps veteran and daytime news anchor, has attracted high-profile Republican political figures of late including Trump-supporting, anti-lockdown South Dakota Governor Kristi Noem; outspoken Florida Representative Matt Gaetz; former vice presidential nominee Sarah Palin; and anti-LGBTQ author Michelle Malkin.
Kelly's personal Twitter account and show have also recently touted claims echoed by President Donald Trump, namely that Democratic President-elect Joe Biden "stole" the election from Trump using widespread voter fraud—a claim that hasn't been legally substantiated in courts—that mainstream news outlets are "fake news" and the "enemy of the people" and that Fox News is losing its relevance.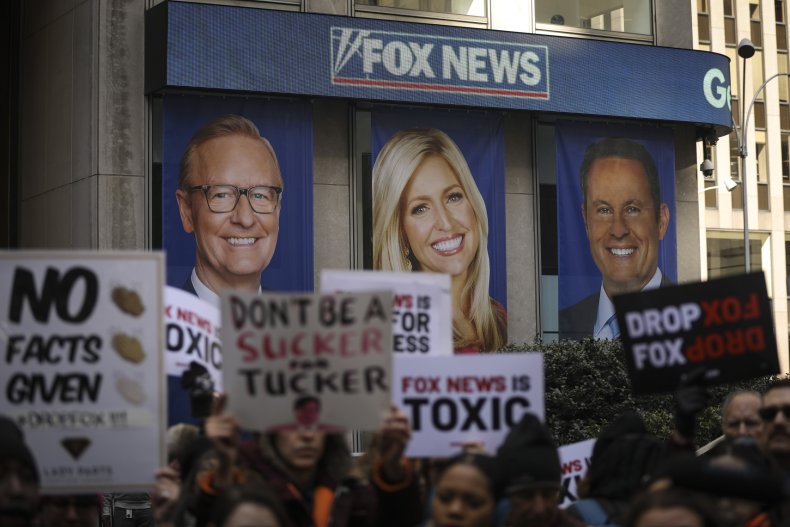 Fox News has gained the ire of the Trump administration and conservative viewers after declaring Biden as the winner of Arizona during Election Night and for declaring him as the winner of the entire election, contradicting Trump's claims that he could still win the election by contesting allegedly fraudulent ballots.
Since then, Trump, his surrogates and conservatives on social media have all publicly railed against Fox News and suggested that others begin watching Newsmax instead. In a November 3 Newsmax interview, Trump aide Andrew Giuliani told the broadcaster, "We have Newsmax on every single TV at the White House."
From November 7 to November 12, Trump himself shared several tweets of conservative Twitter users who said they had ditched Fox News for Newsmax. Trump continues to share clips from Fox News show host Sean Hannity, however.
The week after the election, Newsmax's app also became one of the top three free downloadable apps in the Apple iOS App Store. Though Apple doesn't release download metrics, Newsmax claimed its app had over half a million downloads following the election.
In March 2020, Newsmax sent out an email encouraging readers not to accept an eventual COVID-19 vaccine, claiming that vaccines are a "scam perpetuated among the American people." The email encouraged people to instead buy a book that purported to "boost immunity" and "train your body to deny infection."
The broadcaster later said, "This marketing material was inadvertently published and it does not reflect the views of Newsmax."
Newsweek contacted Newsmax for comment.