California Governor Gavin Newsom's Chances of Being Recalled, According to Bookmakers
Gavin Newsom has less than a one in five chance of being recalled, according to bookmakers who offered odds of 5-1 for the California governor to face a fresh election.
The state's next gubernatorial election is not scheduled until late 2022, but a petition seeking to bring forward a vote has gathered most of the signatures it needs to trigger a contest.
The Recall Gavin Newsom campaign claims to have gathered more than 1.4 million signatures, approaching the 1,495,709 that are needed by March 10 in order for the recall to be confirmed—though they are likely to need more than that to account for any that are thrown out during verification.
Leading UK bookmaker Betfair said Newsom had a 17 percent of facing a recall. A spokesperson for the company said there had been "very little change" in the odds offered on its marketplace in the past week.
Newsom's popularity has waned in recent months. Last spring he was praised for his early response to the COVID-19 pandemic, having issued the nation's first statewide stay-at-home order.
But he has faced growing opposition to further measures aimed at curbing the deadly toll of the virus, including closing schools and businesses, and his popularity has ebbed according to recent opinion polls.
He is also facing questions over a massive unemployment benefits fraud scandal.
In a report released last month, the state auditor said the California Employment Development Department (EDD) had paid around $10 billion in fraudulent claims, blaming failures to boost detection efforts.
The Associated Press (AP) reported that almost $20 billion in further claims were under investigation for fraud after being flagged as potentially suspicious. The sum would account for around one in five of all unemployment claims paid.
Randy Economy, a senior adviser to the recall effort, said: "It has resonated. It's about the arrogance of power."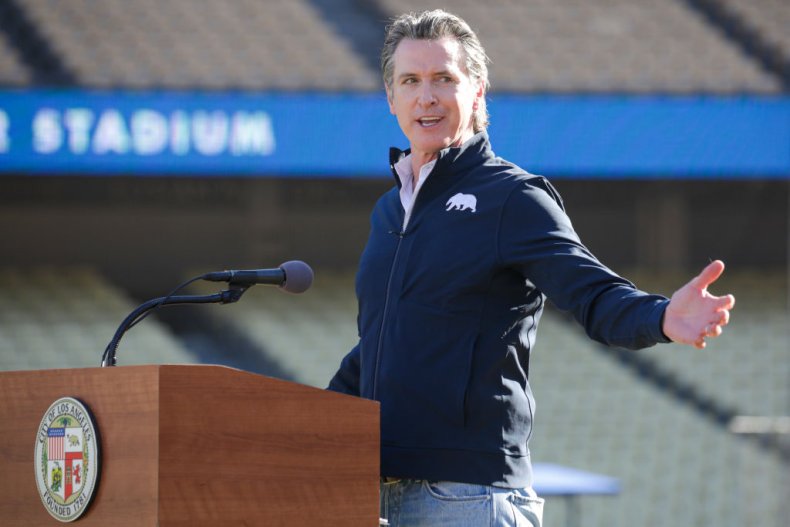 Newsom has said that the recall will cost state taxpayers $81 million and is being led by supporters of Donald Trump.
"Our budget is balanced. Our fiscal reserves are unprecedented. Our economy and employment are historically strong," he said. "Yet a handful of partisan activists supporting President Trump and his dangerous agenda to divide America are trying to overturn the definitive will of California voters and bring Washington's broken government to California with this recall effort.
"The last thing California needs is another wasteful special election, supported by those who demonize California's people and attack California's values.
"Do not be fooled – California's police officers, firefighters, first responders, public school teachers, health providers, and business leaders all STRONGLY OPPOSE this costly recall."
Newsweek contacted Governor Newsom's team for further comment.