Over the last four months, widespread protests against racial discrimination and police brutality have encompassed almost every fabric of American society.
On Thursday, it was the NFL's turn to serve as stage for social protests, with the Houston Texans remaining in the locker room during the performing of the national anthem in the season opener against the Kansas City Chiefs at Arrowhead Stadium.
While Kansas City players and coaches stood on the sideline—defensive end Alex Okafor was the only Chief player to take a knee—the Texans were nowhere to be seen for the renditions of "The Star Spangled Banner" and for Alicia Keys' performance of "Lift Ev'ry Voice and Sing".
Traditionally known as the Black national anthem, the latter will be performed live or played before each game in Week 1.
Jack Easterby, Houston vice president of football operations, told NBC the team's decision to protest was "not about Black or white, it's about change" and that the Texans had opted to stay in the locker room for both anthems so there would be "no misinterpretation of them celebrating one song and throwing shade on the other."
The Chiefs left the field after both anthems, accompanied back to the locker room by a smattering of boos, before both teams returned to the field and locked arms with one another.
A series of social justice messages, including one reading "End racism" were displayed on the the scoreboard as players from Chiefs and Texans linked arms.
A moment of silence dedicated to the fight for equality was held before kickoff, with similar arrangements likely to be in place for the other Week 1 games on Sunday and Monday.
The moment of silence was also met with some boos.
"I thought that that was a nice thing to do, so I'm not sure why they would boo that," Texans coach Bill O'Brien said.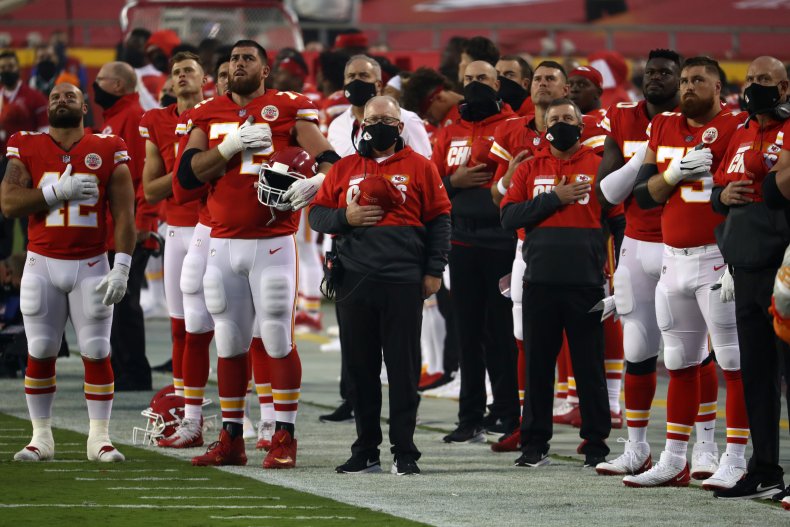 Some, however, believe the NFL hasn't gone far enough. In a video released on Thursday, several Miami Dolphins players condemned the league's decision to play "Lift Ev'ry Voice and Sing" before Week 1 games as a hollow gesture and vowed to remain in the locker room for both anthems ahead of their game against the New England Patriots on Sunday.
"This attempt to unify only creates more divide," the players said.
"So we'll skip this song and dance, and as a team we'll stay inside. We need changed hearts, not just a response to pressure. Enough, no more fluff and empty gestures. We need owners with influence and pockets bigger than ours to call up officials and flex political power."
How the George Floyd protests changed the NFL
In the wake of George Floyd's death while in police custody on May 25, a host of NFL players, coaches and executives have been vocal in demanding an end to police brutality and racial discrimination.
Having initially condemned Floyd's killing and underlined the "urgent need for action," NFL commissioner Roger Goodell was pressured into taking a stronger stance.
In June, several NFL stars, including Patrick Mahomes, Deshaun Watson, Odell Beckham Jr., Ezekiel Elliott and Michael Thomas called the league to support the Black Lives Matter movement and to acknowledge it had silenced players who have protested against racism and the oppression of black people.
In an unprecedented and unexpected turn of events, Goodell agreed.
"We, the National Football League, condemn racism and the systematic oppression of black people," the commissioner said in his response.
"We, the National Football League, admit we were wrong for not listening to NFL players earlier and encourage all players to speak out and peacefully protest. We, the National Football League, believe that black lives matter."
The NFL waded into the social debate again in the wake of the shooting of Jacob Blake, which sparked a fresh wave of protests. Blake was left paralyzed after he was shot seven times in the back in Kenosha, Wisconsin on August 23.
"We will continue to not only use our collective platform to call out racism and injustice whenever and wherever it occurs in our country, but also fight together to eradicate it," the NFL and the NFL Players Association said in a statement last month."
Trump might not watch, but majority of Americans support anthem protests
The shift in dynamic the league adopted in June was predictably seized upon by President Donald Trump, who suggested Goodell could allow players to kneel in protests this season.
Trump subsequently doubled down on his stance, suggesting he would no longer watch the NFL if players knelt during the anthem. Cleveland Browns quarterback Baker Mayfield, Detroit Lions veteran Adrian Peterson and Chicago Bears safety Jordan Lucas made clear they would join teammates and colleagues taking a knee before games.
Meanwhile, New Orleans Saints veteran Malcolm Jenkins hit back at Trump, suggesting the President understood the real motivation behind players kneeling in protest during the national anthem, but deliberately chooses to ignore it.
Goodell insisted players who choose to kneel would do so with his blessing.
"We have never disciplined a single player for anything with the national anthem and in violation [of the policy]," he told former NFL player Emmanuel Acho during an appearance on the latter's Uncomfortable Conversations with a Black Man show last month.
"And I don't intend to. And I will support them."
Earlier this week, Dallas Cowboys owner Jerry Jones made his voice heard on the issue. One of the most outspoken NFL figures, Jones was widely criticized for remaining silent in the wake of George Floyd's killing and for not coming out to support players who planned to kneel this season.
The 77-year-old knelt in 2017, but struck a compromise with his team whereby he and the players took a knee before the national anthem, not during. Last month, speaking on 105.3 The Fan, Jones said he hoped a similar arrangement could be found this season, but on Tuesday he seemed to leave the door ajar for players to make individual decisions.
"I would expect the Cowboys to show great sensitivity," he told reporters.
"I hope fans will receive it, however each individual presents it, that it's a genuine ask for help, because right now in our society, we got some things we need to address."
Meanwhile, a Washington Post poll released on Thursday found that 56 percent of Americans believe it was appropriate for athletes to kneel during the national anthem to protest racial inequality, while 42 percent felt it was not appropriate.
Four years on since Colin Kaepernick first knelt during the national anthem to highlight the issue of racial discrimination and police brutality, the wind of protest is sweeping through the NFL again.
Forget about coronavirus, could this be the new normal for the NFL?