NFL TV Schedule 2019: Week 11 Games, Where to Watch, Live Stream, TV Channel
A season-high six NFL teams were on byes over the weekend, but Week 10 made up for the relatively light schedule by delivering upsets in spades.
The Baltimore Ravens tightened their grip on the AFC North with a 49-13 shellacking of the Cincinnati Bengals, as Lamar Jackson strengthened his candidature to be this season's MVP.
The second-year quarterback completed 15 of his 17 passes attempts for three touchdowns and zero interceptions, finishing the game with a 158.3 rating, the highest attainable mark.
Jackson also, who also added a career-long 47-yard touchdown run, became the only the second player in NFL history along with Pittsburgh Steelers quarterback Ben Roethlisberger to record a passer rating of 158.3 in multiple games within a single season.
"They'll be watching that run for decades and decades," Ravens coach John Harbaugh said of Jacksons 47-yard dash.
"That's one that everyone in the country is going to see by tomorrow afternoon."
Baltimore improved to 7-2 with the win and is now one game behind the 8-1 New England Patriots in the AFC, while the Bengals remain rock-bottom of the AFC North with a 0-9 record.
The Ravens host the Houston Texans in Week 11 and the prospect of seeing Jackson going head-to-head against Deshaun Watson is simply mouthwatering.
While Baltimore's signal caller made yet another case to be named MVP, the league's reigning most valuable player, Patrick Mahomes, endured a surprise loss in his first game in three weeks.
The 24-year-old threw for 446 yards and three touchdown passes as he started his first game since dislocating his right kneecap against the Denver Broncos in Week 7.
However, Mahomes wasn't enough for the Kansas City Chiefs to avoid a 35-32 defeat on the road against the Titans, which saw them drop to 6-4. The Chiefs still lead the AFC West but now have little room for error ahead of a trip to Los Angeles to face the Chargers on Monday Night Football.
The Titans, meanwhile, are third in the AFC South with a 5-5 record and have given themselves a fighting chance of playing football in January, as the Indianapolis Colts suffered a shock 16-12 home loss against Miami to rack up consecutive defeats.
Tennesse is on a bye next week, while the Colts host fellow AFC South rivals Jacksonville Jaguars.
If Indianapolis' defeat was unexpected—the Dolphins had lost every game up until last week—New Orleans' home loss against Atlanta was just as surprising. Drew Brees was sacked six times as the Falcons left the Superdome with a 26-9 win to record their first win since Week 1, while the Saints slipped to 7-2.
New Orleans has a chance to bounce back against another divisional rival on Sunday, when it travels to Tampa Bay to face a Buccaneers team that's won the last two games.
Elsewhere, the Cleveland Browns snapped a four-game losing streak with a 19-16 win over the Buffalo Bills to improve to 3-6. The Browns host the Pittsburgh Steelers on Thursday Night Football in a matchup that will have huge implications for both teams chance of reaching the playoffs.
Pittsburgh improved to 5-4 after extending its winning run to four games with a 17-12 home win over the Los Angeles Rams, who fell to 5-4 and will host the Chicago Bears on Sunday Night Football.
Elsewhere, the Green Bay Packers rebounded from a surprise loss against the Chargers with a 24-16 home win against the Carolina Panthers and now go into the bye with an 8-2 record.
The Minnesota Vikings consolidated second place in the NFC North behind the Packers with a 28-24 win in Dallas over the Cowboys, which boosted their chances of a wildcard spot.
The Vikings host Denver in Week 11, while Dallas travels to Detroit and the Patriots return from their bye when they travel to Philadelphia on Sunday.
Here's all you need to know about Week 11.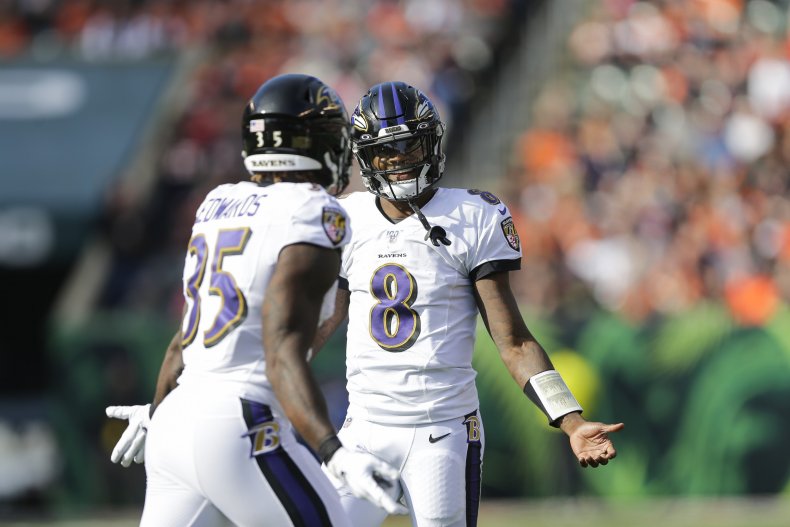 TV coverage
The current season marks the sixth year under the current broadcast contract with ESPN, CBS, FOX and NBC.
Thursday Night Football is broadcast on FOX, NFL Network and Amazon Prime Video, while NBC will broadcast Sunday Night Football and ESPN will carry Monday Night Football.
CBS and FOX, meanwhile, will carry the Sunday afternoon games.
Live stream
Live stream will be available through the four broadcasters' digital platforms, which includes apps on Apple and Android devices as well as via connected TVs. Similarly, NFL Network's game pass will be available via connected TVs and on mobile devices.
Live stream will also be available via fuboTV and DirecTV.
TV schedule (all times ET)
Thursday, November 14
Pittsburgh Steelers @ Cleveland Browns—8:20 p.m., NFL Network, Fox, Amazon Prime Video
Sunday, November 17
Atlanta Falcons @ Carolina Panthers—1 p.m., Fox
Dallas Cowboys @ Detroit Lions—1 p.m., Fox
Jacksonville Jaguars @ Indianapolis Colts—1 p.m., CBS
Buffalo Bills @ Miami Dolphins—1 p.m., CBS
Houston Texans @ Baltimore Ravens—1 p.m., CBS
Denver Broncos @ Minnesota Vikings—1 p.m., CBS
New York Jets @ Washington Redskins—1 p.m., Fox
New Orleans Saints @ Tampa Bay Buccaneers—1 p.m., Fox
Arizona Cardinals @ San Francisco 49ers—4:05 p.m., Fox
Cincinnati Bengals @ Oakland Raiders—4:25 p.m., CBS
New England Patriots @ Philadelphia Eagles—4:25 p.m., CBS
Chicago Bears @ Los Angeles Rams—8:20 p.m., NBC
Monday, November 18
Kansas City Chiefs @ Los Angeles Chargers—8:15 p.m., ESPN