NFL 2020 Schedule: Week 1 Games, Where to Watch, Live Stream, TV Channel
Eight months on since Patrick Mahomes steered the Kansas City Chiefs to a memorable comeback triumph in Super Bowl LIV, professional football is back. The 101st NFL season gets underway on Thursday night and the novel coronavirus pandemic has ensured the upcoming campaign will go down in history before a ball has been kicked in anger.
Football may have emerged relatively unscathed from the initial wave of COVID-19 that ground baseball, hockey and basketball to a halt, but over the last few months the NFL has felt the full force of the pandemic and has had to plan accordingly.
As such, the upcoming season will be different from any of its predecessors. Most stadiums will be almost completely empty as teams comply to social distancing measures, while those allowing fans in will nevertheless operate at reduced capacity.
Behind the scenes, players, coaches and team employees will continue to undergo tests on a daily basis and commissioner Roger Goodell has already admitted there are no guarantees every team will play a full 16-game schedule.
"We're prepared if we have to do that. We've obviously gone through work on that basis with teams," he was quoted as saying in Peter King's Football Morning in America column.
"There will be potential competitive inequities that will be required this season because of the virus and because of the circumstances that we wouldn't do in other years. That's going to be a reality of 2020. If we feel like we have an outbreak, that's going to be driven by medical decisions—not competitive decisions."
If the threat of coronavirus will be virtually ever-present throughout the season, social protests could also feature prominently after the NFL took the unprecedented decision of condemning systematic racism and discrimination in the wake of George Floyd's killing in May.
It has been four years since former San Francisco 49ers Colin Kaepernick first knelt during the national anthem to protest against racial discrimination and police brutality and several players have already pledged to emulate their former colleague.
On the field, meanwhile, there are, as ever, narratives aplenty. Can the Chiefs become the first team in 15 years to win back-to-back Super Bowls or can anyone stop Mahomes and Andy Reid's high-octane offense? The Baltimore Ravens certainly feel they have the right answer to that particular question and reigning MVP Lamar Jackson will be desperate to ensure Baltimore doesn't fall in the first hurdle in the playoffs for the third consecutive season.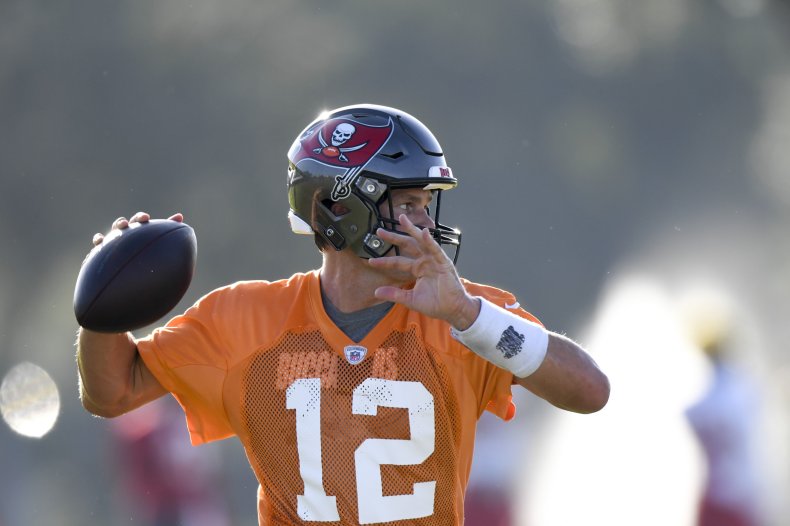 A new era begins for Tom Brady and the New England Patriots, who have parted ways after two decades of unprecedented success.
In Tampa Bay, the six-time Super Bowl winner has been reunited trusted lieutenant Rob Gronkowski, who has cut his retirement short to play with Brady again, and has been furnished with a receiving corps that look far superior to anything he had to rely on during his final seasons with the Patriots.
In New England, meanwhile, Bill Belichick has turned to Cam Newton to replace Brady, betting two injury-plagued seasons haven't extinguished the fire that made Newton the 2015 regular season MVP.
Elsewhere, first overall draft pick Joe Burrow has been handed the keys to the offense in Cincinnati after setting college football alight last season, while there could be trouble brewing in Green Bay after Aaron Rodgers admitted he may not end his career with the Packers and his former coach, Mike McCarthy, looks to bring a first Super Bowl title to Dallas in over two decades.
Here's everything you need to know ahead of Week 1 of the regular season.
Week 1 TV Schedule (All times ET)
Thursday, September 10
Houston Texans @ Kansas City Chiefs—8:20 p.m., NBC
Sunday, September 13
Philadelphia Eagles @ Washington—1 p.m., FOX
Miami Dolphins @ New England Patriots—1 p.m., CBS
Green Bay Packers @ Minnesota Vikings—1 p.m., FOX
Indianapolis Colts @ Jacksonville Jaguars—1 p.m., CBS
Chicago Bears @ Detroit Lions—1 p.m. FOX
Las Vegas Raiders @ Carolina Panthers—1 p.m. CBS
New York Jets @ Buffalo Bills—1 p.m. CBS
Cleveland Browns @ Baltimore Ravens—1 p.m. CBS
Seattle Seahawks @ Atlanta Falcons—1 p.m. FOX
Los Angeles Chargers @ Cincinnati Bengals—4:05 p.m. CBS
Arizona Cardinals @ San Francisco 49ers—4:25 p.m. FOX
Tampa Bay Buccaneers @ New Orleans Saints—4:25 p.m. FOX
Dallas Cowboys @ Los Angeles Rams—8:20 p.m., NBC
Monday, September 14
Pittsburgh Steelers @ New York Giants—7:15 p.m., ESPN
Tennessee Titans @ Denver Broncos—10:10 p.m., ESPN
TV coverage
The upcoming season marks the seventh year under the current broadcast contract with ESPN, CBS, FOX and NBC.
The latter will broadcast the opening game on September 10, as well as Sunday Night Football.
ESPN will broadcast Monday Night Football, while FOX will air Thursday Night Football, which will also be broadcast on NFL Network and Amazon Prime.
FOX and CBS will also carry the Sunday afternoon games, with the latter broadcasting Super Bowl LV.
Live Stream
Live streams will be available through the four broadcasters' digital platforms, which include apps on Apple and Android devices as well as via connected TVs. Similarly, NFL Network's game pass will be available via connected TVs and on mobile devices.
Fans can also live stream via NFL Game Pass, which is currently offering annual subscription for free, with no credit cards required for sign up.
The Pro option allows users access to the NFL RedZone, where every Sunday they can watch every touchdown of the afternoon games.
A live stream will also be available via fuboTV and DirecTV, with Amazon Prime carrying a live stream of each Thursday Night Football game.