Nick Cannon, Dad of 12, Slammed For Parody Show 'Who's Having My Baby?'
Father-of-12 Nick Cannon has been slammed on social media after promoting his game show parody Who's Having My Baby?, a collaboration with fellow comedian Kevin Hart.
Cannon's sizable brood has grown significantly over the past year, with the star welcoming five children with five women in the space of five months. His 2022 baby boom concluded with the birth of his daughter, Halo, with Alyssa Scott on December 14.
The TV personality's large family has seen him become the focus of numerous jokes in recent years, with Cannon himself often publicly laughing along.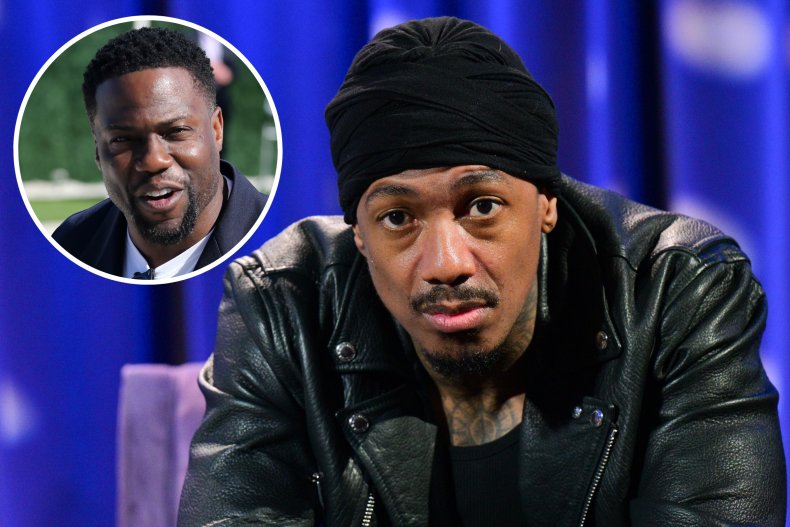 Things were stepped up a notch on Tuesday, when Cannon, 42, and Hart, 43, took to their respective social media accounts to share what was styled as the trailer for a show on E!, where contestants put themselves forward to have his next baby.
"You're going to get some contestants that wanna have your baby," host Hart tells Cannon in the trailer, as a number of excited women step out onto a stage before a cheering audience.
Captioning the clip, Cannon wrote on Instagram: "We're expecting...a new show on E! 👀 🍼 #WhosHavingMyBaby premieres this Spring on @eentertainment! @kevinhart4real."
The post was met with outrage from social media users, a number of whom branded him "corny" and accused the Masked Singer host of making light of his children growing up in single-parent households.
"I don't know whether this is a joke or serious, but regardless it's disturbing," wrote one Instagram user. "I don't find it amusing in the slightest. Women are not a commodity to be peddled on a game show.
"What strikes me is the hypocrisy and double standard related to how the public has reacted to Nick Cannon versus how they would react if we were talking about a woman that had 12 children with five different men."
"So now he's making an even bigger joke of the women with his kids," said another, as comments also rolled in on a mocked up poster of the parody.
"This is so disrespectful of all mothers and the mothers of your children," another detractor said. "This is embarrassing."
"Those kids gonna have such daddy and jealousy issues," wrote another. "What about Christmas? He has multiple babies and baby mommas. Imagine your daddy spending Xmas with his other kids and mommas. Because he has too many on too many cities to spend Xmas with all of them."
"The comedy of creating broken homes," wrote another, "The people gone love it."
Cannon reposted and responded to a number of the negative reactions shared on Twitter, where he said: "These thought provoking 'Think Pieces' about my Penis are riveting!"
However, Cannon also attracted some supporters, with one writing on Instagram: "Omg this would be perfect if it was a spin off of Maury (paternity test) episodes [...] I swear Nick is a hoot."
"Way to work with it, I like the play," said another fan. "Also only in western culture do we worry about anyone else's family decision."
"What's funny it's shows how our people don't use their brains at all to see that these two men are using their talents," said another. "Y'all really have sunk so low to society [to] actually believe Nick would make and actual show to find someone to have a child. Damn shame. Anyway good luck on your comedy show @kevinhart4real @nickcannon."
Variety reported on Tuesday that Who's Having My Baby? is actually a sketch put together to promote an upcoming project that has not yet been announced. Per the publication, the project could be unveiled as early as Wednesday.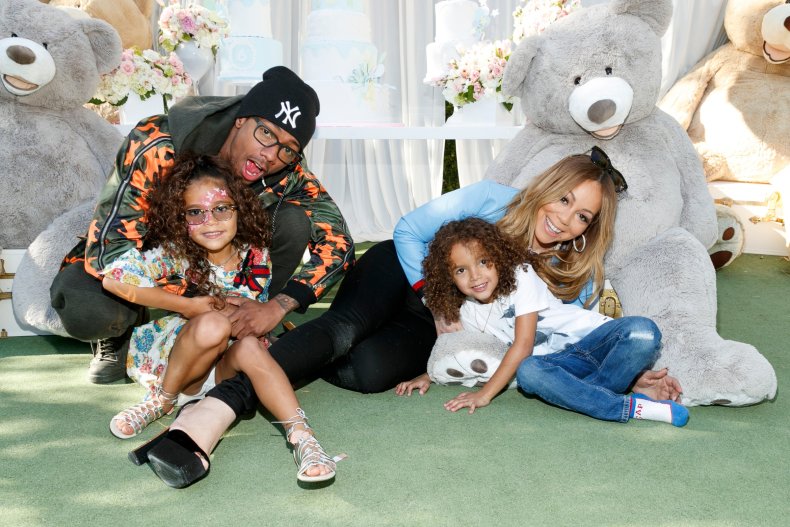 Hart has previously joked about Cannon's rapidly expanded family in the past, renting a Los Angeles billboard in December 2020 to share a banner that read: "For any advice on fatherhood? Call my best friend Nick Cannon."
On December 14, Cannon and model Scott announced the birth of their daughter, Halo. The pair also had a son, Zen, who was born in June 2021. Zen died in December 2021 from a brain tumor caused by hydrocephalus, an abnormal increase in fluid in the brain.
On November 11, weeks before Halo's arrival, Cannon and radio personality Abby De La Rosa welcomed a daughter called Beautiful Zeppelin. This is the third child for Cannon and De La Rosa, as their twins Zion Mixolydian and Zillion Heir were born in June 2021.
Cannon announced via Instagram on September 14 that he and former The Price Is Right model Lanisha Cole had welcomed a girl named Onyx Ice Cole.
Nine days later, on September 23, Wild 'n Out host Cannon had a son, Rise Messiah Cannon, with former Miss Universe contestant Brittany Bell, the pair's third child together.
Amid his busy year, Cannon had a son, Legendary Love, in July with model Bre Tiesi.
Cannon is also the father of 11-year-old twins, Monroe and Moroccan, with his ex-wife Mariah Carey. He shares a son, Golden Sagon, 5, and a daughter, Powerful Queen, who turned 2 in December, with Bell.
In November, Cannon poked fun at himself after a meme predicting what the United States will look like by 2050 started making the rounds on social media.
"National Geographic determined what Americans will look like in 2050, and it's beautiful," the post read, which showed a slew of people with varying hairstyles but all with Cannon's face.
"Wow! Everybody got jokes!" he wrote on Instagram at the time.
The California native admitted in an interview in December that he wishes he could spend more time with his brood.
"Being a father of multiple kids, it's always the biggest guilt on me is that I don't get to spend enough time with all my children," Cannon said during an appearance on The Checkup: With Dr. David Agus. "One, because I'm constantly working and two, because I'm just spread thin."