Nicki Minaj Calls Kevin Federline a 'Clown' Amid Britney Spears Drama
Nicki Minaj is another celebrity who is publicly supporting Britney Spears amid the pop star's public spat with ex-husband Kevin Federline.
The rapper, who has declared herself to be on Team Britney, called the singer's ex-husband a "clown," in a rant about Federline posting videos of Spears arguing with her sons online last week.
"Do you understand what kind of a clown you have to be to be a whole, grown f****** man, and as soon as you see somebody happy and getting married and moving on and being free and feeling good in their own skin, to do the very thing that you know is going to attempt to break them down?" Minaj said during an Amp live stream on Tuesday.
Earlier in August, Federline, who was married to Spears between 2004 and 2007, recently gave an interview to The Daily Mail in which he revealed that their sons Sean Preston, 16, and Jayden James, 15, have chosen not to see their mother in recent months.
The 44-year-old also spoke to U.K. network ITV about the situation in a one-hour interview that will air in the U.K. later this month.
Spears reacted by lashing out at Federline on Instagram, and she accused her sons of engaging in "hateful" behavior toward her in now-deleted posts.
Soon afterward, Federline posted a trio of clips showing Spears appearing to argue with her sons.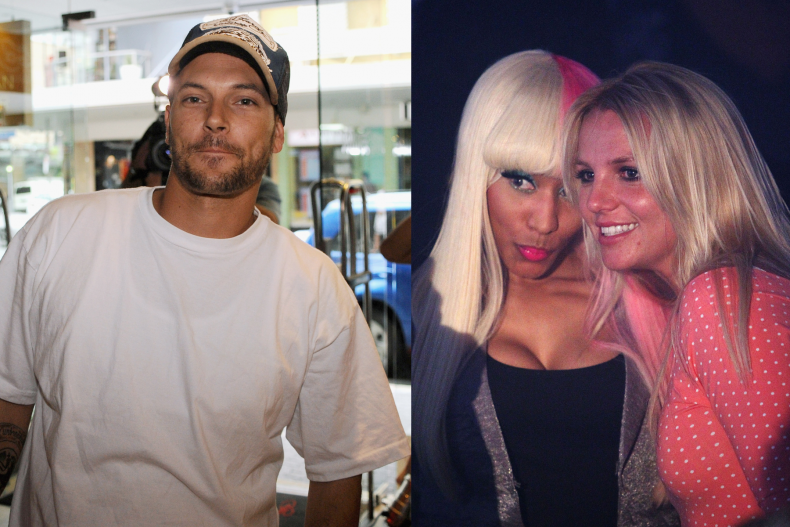 "Only cowards use the media against a famous person who they once loved, they procreated with, they're being taken care of by, they once were being taken care of by, using the person's fame as this constant 'gotcha' moment," Minaj said of Federline's decision to post the videos.
"You think it's OK? You think that anybody's going to feel sorry for you?" she asked Federline.
The "Super Bass" rapper went on to praise Spears and said the singer "loves her kids more than life itself."
The two musicians collaborated on the "Till the World Ends" track remix in 2011.
"How dare you?" Minaj continued, tearing into Federline. "How dare you encourage this woman's children to be a part of your nonsense? When they look back, they're gonna say: 'Why, why, why did we do this?' They're kids. They don't know how detrimental this is. But you know."
Minaj concluded her discussion by telling Federline to "leave" Spears "the f**k alone."
Newsweek has contacted Federline's representatives for comment.
Following the release of the now-deleted videos, Spears' lawyer Mathew Rosengart said that Federline "created various legal issues for himself" and labeled the move "bottom-of-the-barrel stuff."
"Britney has faithfully supported her children, and she loves them dearly. Whether he realizes it or not, Mr. Federline has not only violated the privacy and dignity of the mother of his children, he has undermined his own children, whose privacy he should protect," the attorney said in a statement last week.
Meanwhile, Jennifer Lopez has also publicly shown her support for Spears and tweeted "Stay-Strong," in response to the singer quoting her Instagram.