Nigeria Declares Biafra Group a 'Terrorist' Organization as Civil War Fears Grow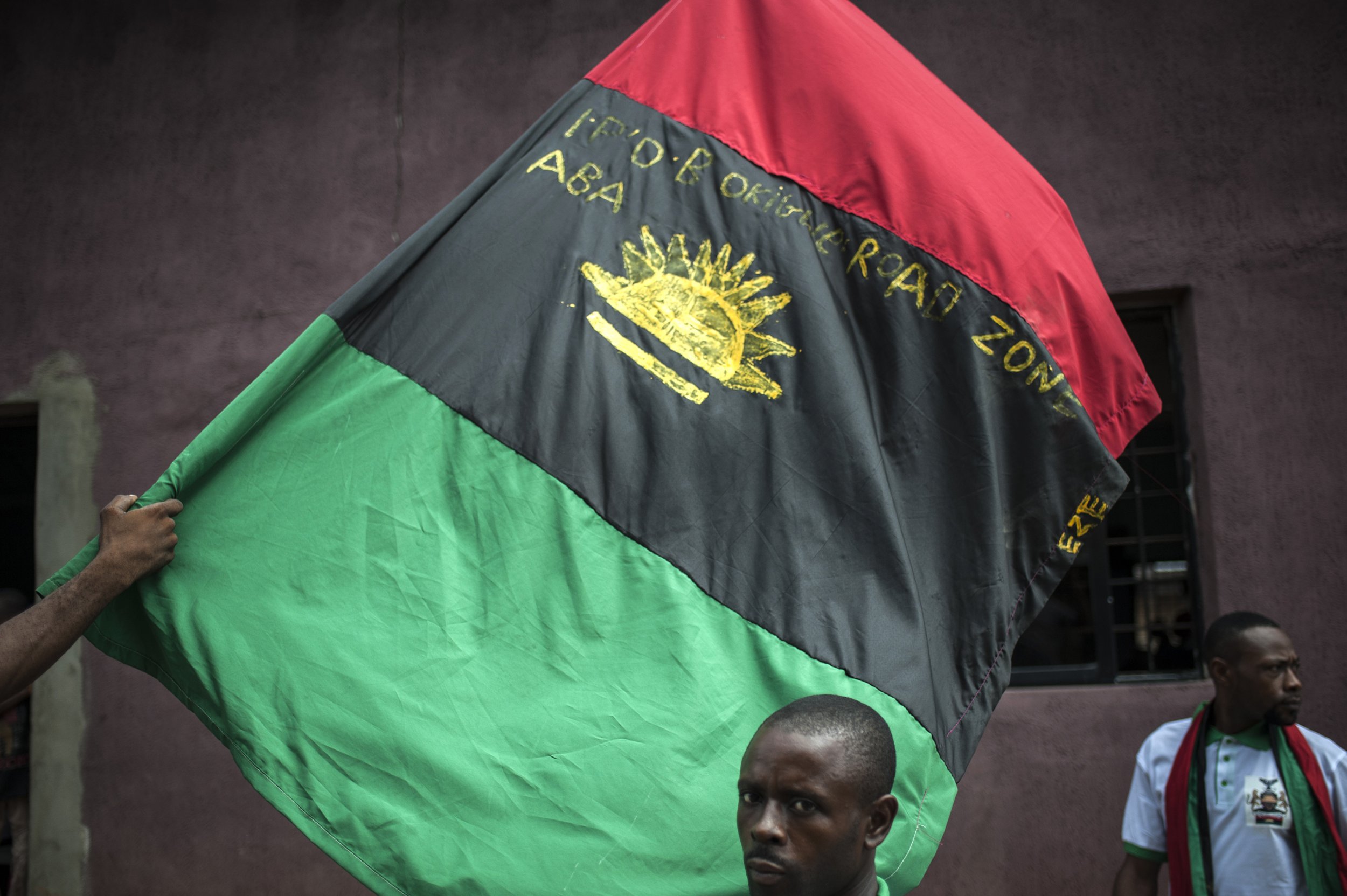 Nigeria has designated a secessionist movement calling for an independent state of Biafra, a republic that existed in the 1960s and witnessed a deadly civil war, as a terrorist organization.
Nigerian defense spokesman Major General John Enenche said on Friday that the Indigenous People of Biafra (IPOB), led by Nnamdi Kanu, had formed a secret militia, used weapons, and extorted money from civilians at illegal road blocks.
"The claim by IPOB actors that the organization is non-violent is not true," said Enenche in a statement.
Nigerian security forces have regularly clashed with IPOB members since Kanu was detained in October 2015. Kanu, a British-Nigerian dual national, was held for almost two years without trial before being released on bail in April. He is facing trial for treason.
IPOB members have accused the military of violently disrupting their demonstrations, while security forces have alleged that the secessionists have used violence.
Related: "There's no easy way out." Nigeria's ex-president Obasanjo tells 'Newsweek' of his fears over Biafra
The Nigerian military statement added that IPOB had claimed to have formed a "Biafra National Guard," illegally blocked public roads, and physically confronted and attacked troops earlier this week in the southeast Abia state.
"The Armed Forces of Nigeria wishes to confirm to the general public that IPOB from all intent, plan and purpose as analyzed, is a militant terrorist organization," said the statement.
"Therefore parents and particularly unsuspecting residents of the southeast and other Nigerians should advise their wards to desist from joining the group."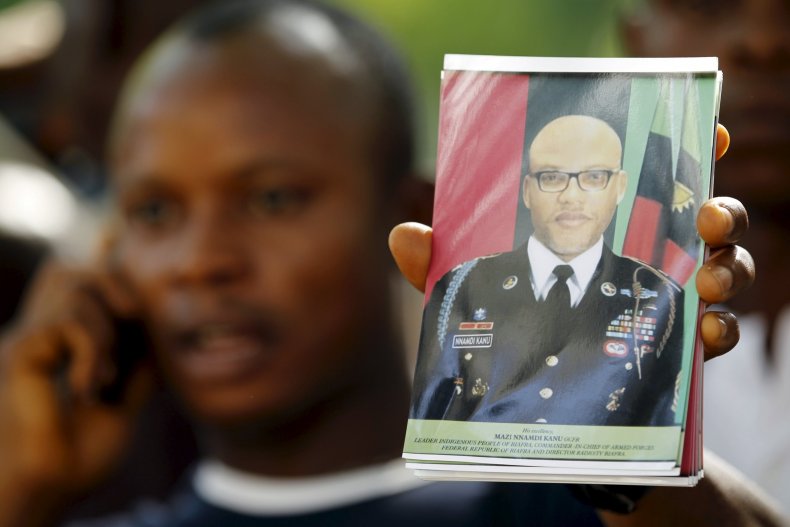 Emma Nmezu, an IPOB spokesman based in the U.K., tells Newsweek that the designation is a "salacious fabrication."
"They have said that to justify the killings of unarmed people," says Nmezu. "How can a group become terrorists when they don't have guns, they don't have ammunition, they've never killed a single soul—how could that be, is it justifiable? They are just talking rubbish, absolute nonsense."
Biafra existed as an independent republic between 1967 and 1970. Its declaration of independence, led by ex-Nigerian military officer Odumegwu Ojukwu, prompted a civil war with the Nigerian state. At least 1 million people died in the war, many due to starvation after the Nigerian military blockaded Biafra's borders.
It was subsumed back into Nigeria after its forces surrendered in 1970 but secessionist sentiment has persisted in Nigeria, a country that is sharply divided among ethnic and religious lines.
Biafra was populated by the largely Christian Igbo ethnic group, who are concentrated in southeast Nigeria. The Igbo is one of three major ethnicities in the West African country. The others are the Yoruba in the west and the Hausa-Fulani in the north.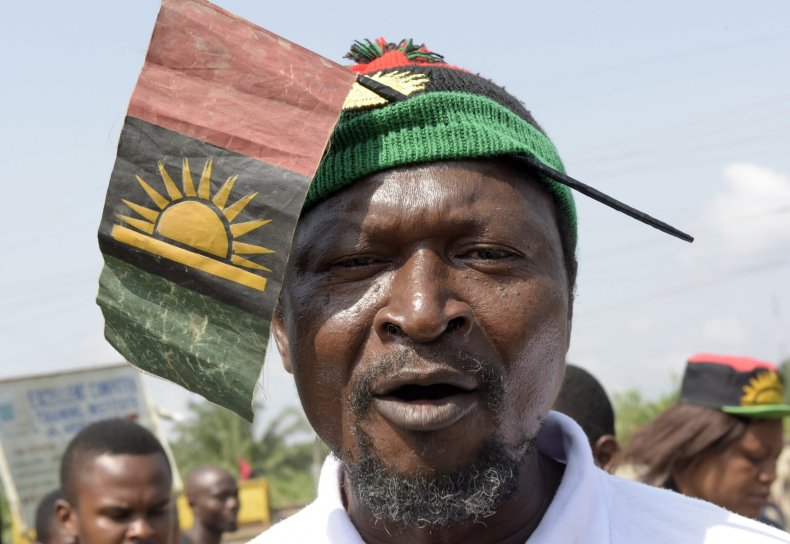 A coalition of northern youth groups issued a notice in June instructing all Igbos to leave northern Nigeria and return to the southeast. The federal government dismissed the notice and advised Igbos not to worry, but it highlighted abiding ethnic tensions in Nigeria.
Nigerian security forces clashed with IPOB members earlier this week in Abia state, where Kanu is currently living. IPOB accused the military of surrounding Kanu's house and killing several of his supporters, but the military denied the allegations and said IPOB activists had pelted patrol vehicles with stones.
The former president of Nigeria, Olusegun Obasanjo, told Newsweek that current President Muhammadu Buhari should sit down with Kanu to discuss the IPOB leader's grievances.
Kanu's wife, Uchechi Okwu-Kanu, who is based in the U.K., tells Newsweek that her husband would be willing to meet with the president if the offer was made.
"Isn't that why people raise issues? I am raising a concern because I want you to look at it and listen to it," says Okwu-Kanu, who last saw her husband in August. "If Buhari would ask for a roundtable discussion—that is what he ought to have done a long time ago."
President Buhari, who served as an officer in the Nigerian military during the Biafran war, has rarely spoken directly on the recent secessionist uprisings.
After returning to Nigeria in August after more than 100 days on medical leave, Buhari said that some Nigerians have "crossed our national red lines by daring to question our collective existence as a nation," in comments that were widely interpreted as a warning to pro-Biafra separatists.