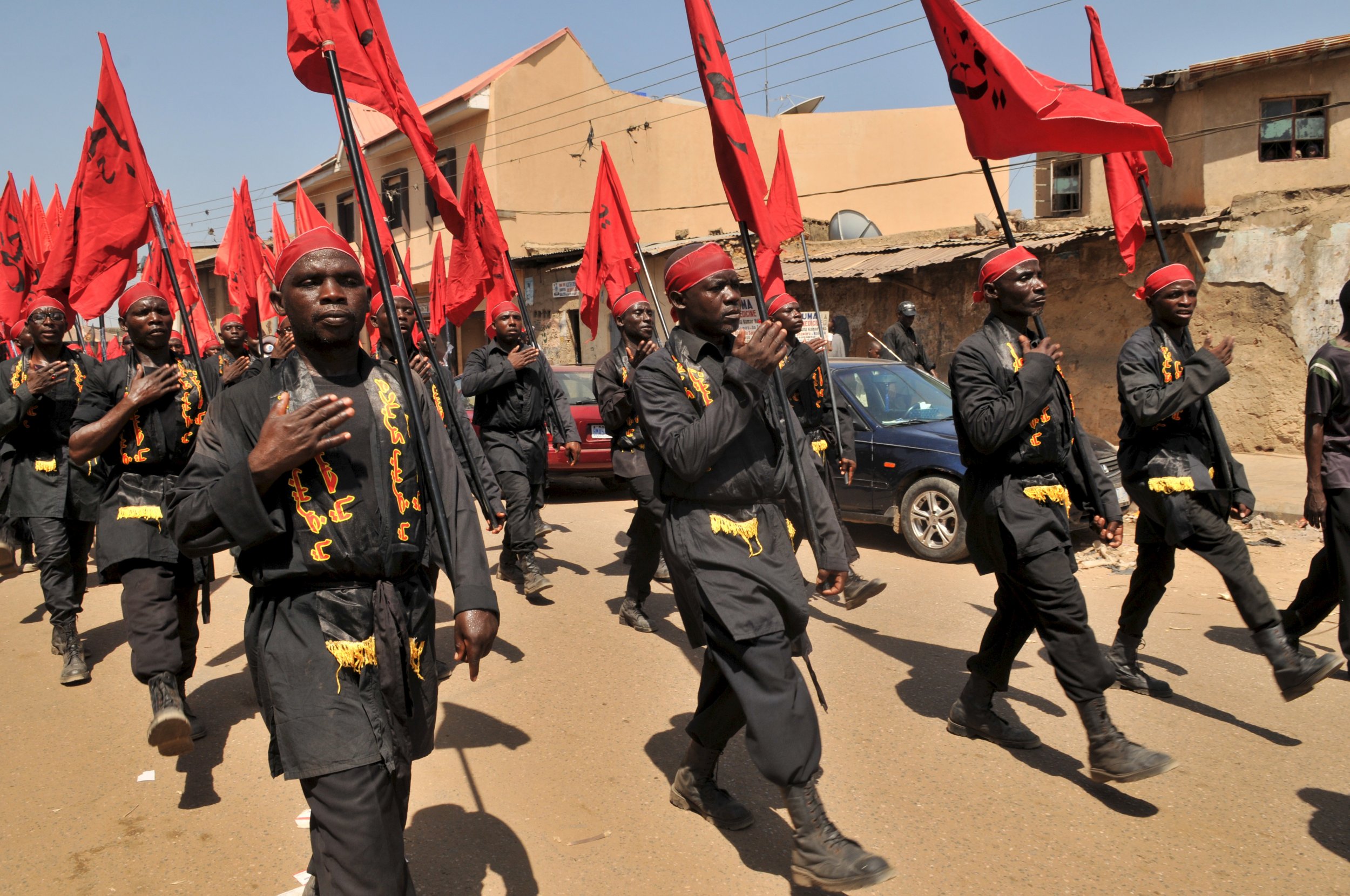 Nigeria's main Shiite group says it has no links with Boko Haram and is not planning a coalition with the militant group.
The Islamic Movement in Nigeria (IMN) clashed with the Nigerian Army in Zaria, Kaduna state in northern Nigeria in December 2015 after the army claimed IMN members attempted to assassinate the Chief of Army Staff. Some 300 IMN members were killed in the clashes, according to a report by Human Rights Watch, while the group's spiritual leader Sheikh Ibrahim Zakzaky was arrested and remains in detention.
The movement released a statement on Monday, claiming that reports were circulating among the Nigerian security services, linking the IMN with the Sunni fundamentalist group Boko Haram, which has killed tens of thousands of people and displaced millions during its six-year insurgency in Nigeria.
Ibrahim Musa, the IMN's media spokesperson, told Newsweek that the reports had been circulated by Nigeria's intelligence agency, the State Security Service (DSS), to give justification for a crackdown on the movement. "The Islamic Movement is totally and completely different from the so-called Boko Haram. Sheikh Zakzaky has said it many times that we only talk but we don't fight," says Musa.
Newsweek attempted to contact the DSS for comment but no one was immediately available.
Boko Haram, which considers Shiite Muslims to be infidels, has previously attacked IMN gatherings, Musa says. He blames the group, led by the elusive Abubakar Shekau, for a suicide bombing at a religious procession in Potiskum, Yobe state, which killed at least 20 people in November 2014.
In 2015, a male suicide bomber detonated his device during a Shiite pilgrimage from Kano to Zaria, killing at least 21 people. Boko Haram released a statement claiming responsibility for the attacks, saying they would continue to fight "against Shia polytheists...until we cleanse the earth of their filth." Sheikh Zakzaky, however, denied that the group was responsible and suggested the Nigerian military may have been behind the attack. According to Musa, this is because Zakzaky and the IMN see Boko Haram as a tool used by the military to persecute their group.
"If a group with such a venomous agenda against us can do this to us, then how can we go into strategic alliance with it? It's impossible," says Musa.
Zakzaky has been in detention since December 2015 and the IMN has claimed that a further 700 of their members are still missing as a result of the clashes with the army. A Kaduna state government inquiry into the events has been criticized by the IMN as biased and Musa says the group is still campaigning for the unconditional release of its leader.
In a previous comment to Newsweek , Nigerian defense spokesman Brigadier General Rabe Abubakar said that it would be inappropriate to comment on Zakzaky's detention but that the army had created a new human rights investigatory committee to investigate alleged abuses, such as the Zaria clashes, and that the military had "nothing to hide."