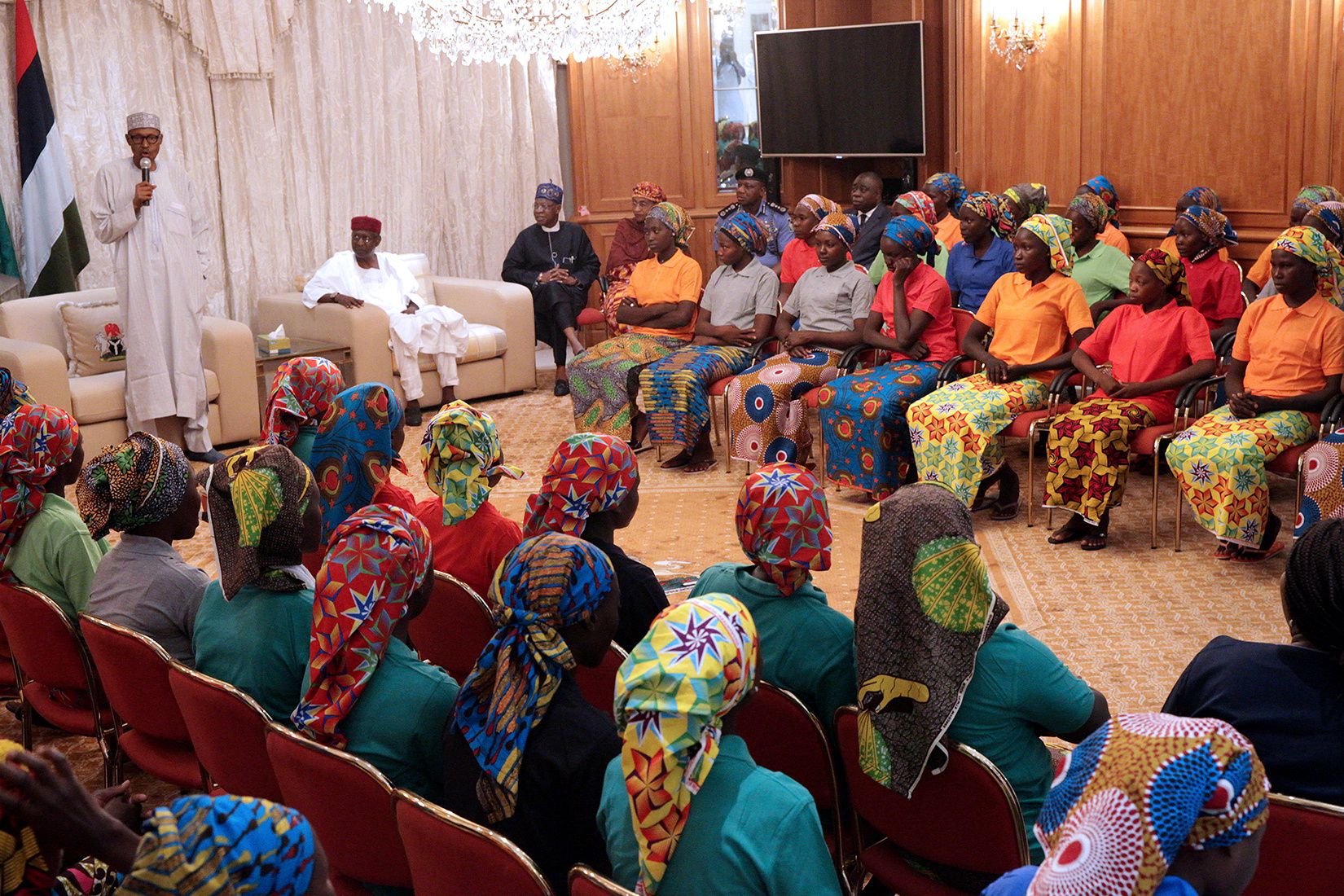 Nigerian President Muhammadu Buhari departed the West African country on Sunday for further health checkups in London, less than two months after an extended medical break in the U.K.
Buhari, 74, left the Nigerian capital Abuja on Sunday evening after welcoming some of the Chibok girls kidnapped by Boko Haram in April 2014, who were freed following negotiations with the militants over the weekend.A statement from the Nigerian presidency said that the trip was for "follow-up medical consultation" and that the "length of the president's stay in London will be determined by the doctors."
"The President wishes to assure all Nigerians that there is no cause for worry. He is very grateful for the prayers and good wishes of the people, and hopes they would continue to pray for the peace and unity of the nation," said the statement.
Buhari traveled to London in January for what was initially described as a short vacation, but ended up staying for almost two months, delegating authority to his deputy Yemi Osinbajo.
The extended trip prompted wild speculation in Nigeria about the state of Buhari's health—or even whether he had died—but the president's team has remained tight-lipped about the nature of his illness. Buhari himself has not disclosed his ailment, though he did indicate he had a blood transfusion during his last stay in London and said he had "never been so sick."
The president's departure followed a significant breakthrough in the long-running saga of the Chibok girls. Boko Haram militants kidnapped 276 girls from their school in Chibok in northeast Nigeria in April 2014, sparking global outrage and a widely supported campaign entitled Bring Back Our Girls. But prior to the weekend's events, 195 of the girls remained missing.
The 82 schoolgirls were handed over to the Nigerian government on Saturday following a prisoner exchange for Boko Haram commanders. Nigerian authorities worked with the Swiss government and the International Committee of the Red Cross on the negotiations, according to a statement from Buhari's spokesman.
The schoolgirls met with President Buhari at the presidential villa in Abuja on Sunday. "I cannot express in a few words how happy I am to welcome our dear girls back to freedom," Buhari told them.
Since his return in March, Buhari has rarely been seen in public and has missed the past three weekly cabinet meetings. The timing of Buhari's departure for London has led some commentators to suggest that the president is using the positive energy gained from the Chibok girls' release to deflect from ongoing speculation about the state of his health.
Buhari's medical absence drew comparisons with former Nigerian President Umaru Yar'Adua, who left the country in November 2009 for medical treatment in Saudi Arabia and did not return for three months. His absence created a chaotic power vacuum, and Yar'Adua died less than three months after his return.