Nike Cancels Store's Orders Until Summer '22 as Supply Chain Issues Wreak Havoc on Holiday Shopping
Nike has canceled orders to at least one retail store until summer 2022 as supply chain issues wreak havoc on holiday shopping.
In a tweet shared by Brendan Dunne, co-host of the sneaker culture podcast Full Size Run on Tuesday evening, Nike reportedly wrote an email to a sneaker retailer announcing the cancelation.
"COVID-19 continues to impact the global supply chain and create transportation disturbances," the email began. "As a result of this dynamic and unprecedented situation, we regret to inform you that Nike Future orders in (spring 2022, Summer 2022), and the balance of (Holiday Season 2021) will be canceled."
This means any holiday orders that haven't been shipped to that store will not be fulfilled. It's unclear if this cancellation will affect other stores. Newsweek has contacted Nike for comment.
"We understand that this decision is difficult to hear. Our goal is to resume supply as soon as possible," the email continued.
Supply chain issues began with workplace shutdowns and the economic downturn caused by the COVID-19 pandemic. The lack of workers caused manufacturing and shipping delays. The delays made people worry about shortages of essential goods amid rising consumer prices.
The crisis has affected holiday purchasing. A majority of Americans in a recent survey said they wouldn't drive for Thanksgiving due to rising gas prices. A recent poll found that a majority of Americans are paying higher prices for items they usually buy—including Thanksgiving dinners—as inflation spikes. The issue has also created shortages of Christmas trees in some areas.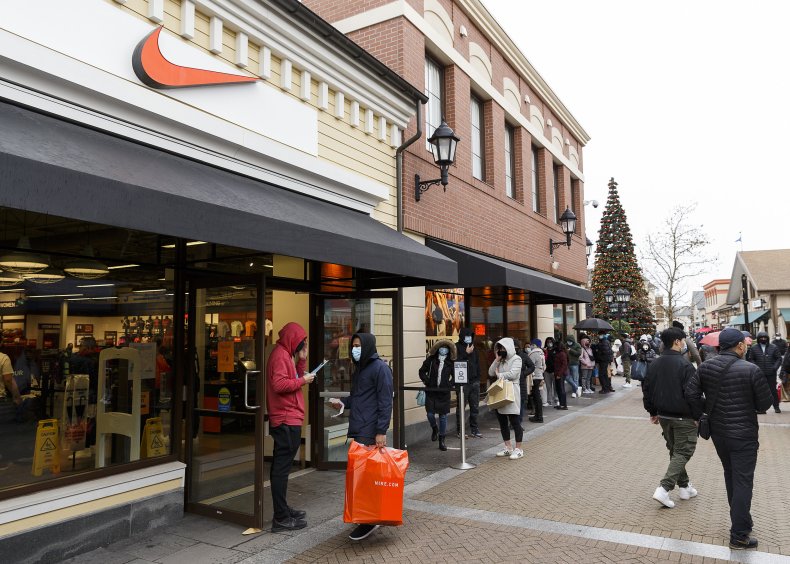 Despite this, the economists predict that Americans still plan on spending heavily during the holiday season. The supply chain issue, however, is likely to continue into 2022 and possibly 2023.
Amid a record-breaking number of container ships unable to unload their freight at California ports, the Biden administration recently brokered a deal to keep major ports open 24 hours a day to help undo the backlog. The administration has also said that it's "working with truckers and labor unions to make sure we have more people driving trucks" to transport the cargo to rail yards and warehouses.
The rail yards and warehouses have suffered from worker shortages, with few people able to unpack cargo containers. Often, these locations have been forced to wait for the freight and then rush to deliver them. Retail companies have also contributed to the issue by ordering and stockpiling more goods than they actually need.
The crisis has also been exacerbated by the fact that different parts of the national supply chain rarely share their commercial data with one another. As a result, the supply chain remains fragmented rather than operating as a streamlined whole, Gene Seroka, executive director of the Port of Los Angeles, told The Washington Post.